Student finds foreign object in food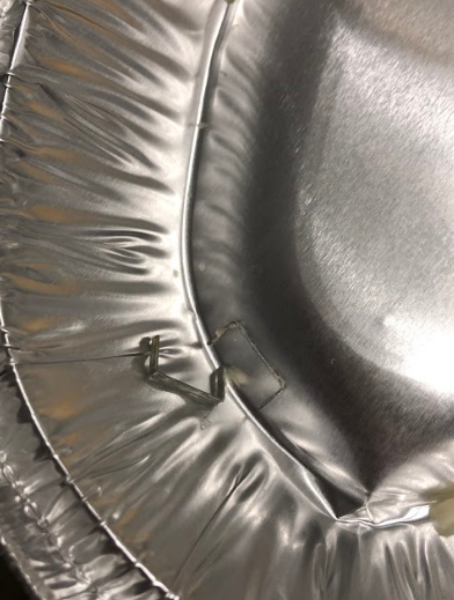 You never expect it to happen to you until it does. It was Fri., Feb. 22, and I just had gotten home from the OMEA orchestra contest. I had not had the chance to eat dinner yet so my mom took me to Chipotle as a reward.
As a Chipotle fanatic, I was quite excited. I went in, ordered my food, and then got back into the car with my mom, like any other ordinary time.
After a short drive, I was at home enjoying my meal until suddenly I bit into something hard.  I spit it out expecting it to be just a bone or some other food-related piece. However, what I found was definitely not what I was thinking.
To my horror, I realized that there were staples in my food. Yes, staples. It took me a minute to process what I had just found, but when I had fully comprehended the foreign object I was truly dumbfounded. How did four staples end up in my meal?
After explaining to my mom the story, she informed me that I should call the Chipotle location and tell them what had occurred. As someone who has a deep hatred for phone calls with strangers, I was opposed to this idea.
However, I realized that other people may end up with staples in their bowl, and I decided my fear was less important compared to other's safety.
I dialed the phone number and waited for a staff member to pick up. Although I was originally terrified of what was about to go down, my terror quickly melted away when I was greeted with a kind worker on the other side.
I detailed to her everything I had previously told my mom, and she was extremely helpful. She explained to me that she was not really sure how the staples ended up in the food, especially because they do not use them with any of the food preparations. But, even though neither of us knew what had lead to the staples being in my bowl, the staff member explained that tomorrow Chipotle would call me discussing reparations.
On the next day I had a Color Guard competition and sadly when Chipotle had tried to reach me I was unable to pick up the phone. I called them back following guard and left my name and phone number.
 A few hours later, while in the car with my mom I commented on how I wanted Chipotle to call me back because I felt bad for missing their call. Not even a minute after, my phone lit up and to my surprise it was Chipotle. Once again the worker was very sweet and helped me sort out how a staple had found its way into my dinner.
Following this call not much more happened regarding the strange meal. But, this event made me question just how dependent humans are on others for their food. I thought about my life as a 17-year-old high school student, and when I actually put time into this idea it startled me.
Now, as someone who has their fair share of AP courses, as well as extracurricular activities, I am no stranger to the hustle and bustle of busy family life. On average, my family goes to a restaurant for dinner at least twice a week.
But, according to The Simple Dollar, "as a nation, we eat out between four and five times a week, on average."
This might be quite shocking to you, however, most families feel as if they just do not have the time anymore for a full sit down meal.
Also, 61.1 percent of American families have both parents employed, as found by the United States Department of Labor. This means that often times both parents get home at least no earlier than 5 p.m., and by then cooking a 30 to 40-minute meal seems way too tiresome.
So, what can you do to help break the cycle of always going out? There are five steps you can try to make cooking at home just a little simpler.
Create a meal plan

Prep, cook, and freeze in large quantities

Set one night for eating out

Make use of prepared boxed foods (such as the Home Chef Fresh Meal Kits found at Krogers

Use appliances like the crockpot slow cooker
I hope these tips can help you get away from feeling as if you have no time for a good meal. And, I hope you never find staples in your dinner
Sources: