Why I Love Thanksgiving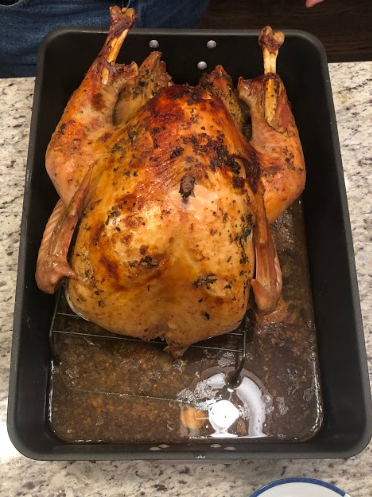 When it turns midnight on Nov. 1, most people start getting ready for the holiday season and skip Thanksgiving.  They either forget about the holiday itself, or really just do not care for it—they are ready to get presents.  
   Thanksgiving for my family does not start at dinnertime, but instead we celebrate for the entire day. On Thanksgiving day, my family and I usually go to a movie, hangout, or do other activities.  This is usually so my parents can get the house and all of our food ready for the 50 family members that we have coming over for dinner.
   "I love getting to see my family, and being able to cook for them makes me so happy," said Julie Ruskin.
  My parents make a great team when it comes to cooking, and together, they make an amazing Thanksgiving dinner!  This is one major part of Thanksgiving that I look forward to all year.
   My parents are the ones to make the giant turkey for our family to feast on, while my aunts, uncles, and grandparents make side dishes such as stuffing and potatoes. Every year, my aunt makes the best pumpkin bread that our whole family waits for throughout the year. In my opinion, it is one of the best parts of Thanksgiving!
   This year is the first time in a long time that my family will be going to my cousins' house in Detroit to celebrate Thanksgiving instead of hosting it ourselves.  I am a little sad about this because I like hosting and having everyone come to us, instead of my family travelling, but I am excited to see my grandpa that I have not seen in almost a year, along with my cousins as well! 
   No matter where I am for Thanksgiving, as long as I am with my family I am happy!