Coronavirus update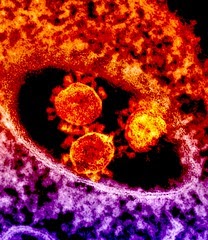 17 years ago, people thought SARS would be the biggest virus outbreak ever, infecting 8,000 people and killing 774. Doctors never found a cure to SARS, and people never expected another virus outbreak just a decade later. The coronavirus' numbers have already exceeded that of SARS. According to worldometers, more than 24,000 have been confirmed to be infected and almost 3,000 are in critical condition; clearly, this virus has impacted families all over the world. 
   Upon first hearing the coronavirus, the obvious effects are people getting sick and hospitals lacking beds and resources to cure the patients. But, there is also another impact that can strongly affect China- economic impacts.
   To prevent coronavirus from further spreading, lots of stores have closed in China. For example, Apple is temporarily closing all its 42 stores. Apple told CNN business that "Out of an abundance of caution and based on the latest advice from leading health experts, we're closing all our corporate offices, stores and contact centers in mainland China through February 9."
   This is not the only evidence suggesting that the coronavirus will cause a strain on the Chinese economy. According to The Wall Street Journal, "The benchmark Shanghai Composite closed down 7.7%, wiping out nearly $400 billion in value. Retail, consumer services, and transportation stocks led the declines. The Shenzhen Composite dropped 8.4%." 
   Not only will the Chinese economy suffer, but it will also have an effect on the global economy. "China is the world's biggest oil importer and the locked-down city of Wuhan, where the virus emerged, is one of its key oil and gas hubs." When the biggest oil importer opted out of the race, there will be a rise in oil prices, affecting every economy that imports oil.
   Even though the Coronavirus has brought lots of problems to China, it is slowly resolving. Close to 800 people have already been cured, exceeding the number of deaths. As China builds more hospitals and implements better regulations, the contamination and death rates will decrease.