Cincinnati's Fantastic Fowl
Three Best Fried Chicken Sandwiches to Devour this Winter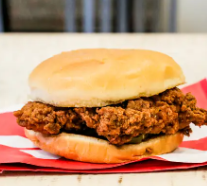 1.)The Eagle OTR- Fried Chicken Sandwich
This sandwich is crispy and perfectly moist. What sets it apart from our other restaurants is the bread. Instead of your typical bun, the crispy chicken lies on toasted bread, adding an extra crunch to every bite. Vinegary coleslaw adds a dash of needed acidity, and spicy mayo tops it off to add a kick of flavor for an amazing sandwich.
2.) City Bird- Spicy Chicken Sandwich
For those of you that love a kick, this is the sandwich for you. The chicken is crisp, as to be expected, but sauces are the star of the show. Not only are the tenders topped with a rich, ranch coleslaw, they are slathered with a house-made sriracha mayo. When you bite into this sandwich, don't be surprised if it's dripping with flavor.
3.) Chick-fil-a Crispy Chicken Sandwich
Of all of the places I recommend, this comes in third for its polite, efficient service and consistent taste. While they may appear simple, as seen in the image to the left, these sandwiches are a great value for their convenience. They are always crispy, taste fantastic topped with a dab of Chick-fil-a's secret sauce, and are paired with the perfect waffle fries. Add a chocolate shake to the order and you're good to go.