The Weekly Rundown
March 25 – March 30, 2023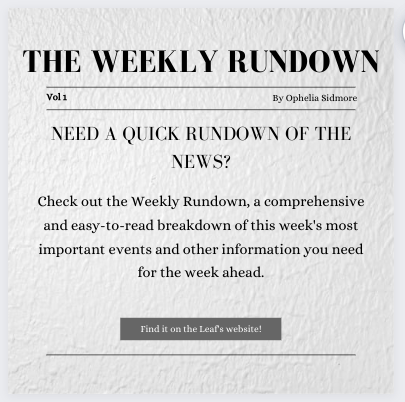 Welcome to the first ever Weekly Rundown! The current constant stream of events and news can be really confusing and hard to navigate, so every week I'm going to try to provide an unbiased and comprehensive review of the biggest events that happened this week, along with some information for your week. I hope that you will use this as a resource to stay informed and educated.
General News
Perhaps the biggest headline this week has been the indictment of former president Donald Trump by a New York grand jury. This makes him the first president to face criminal charges. This investigation has been going on for months, and it revolves around Trump's role in paying an alleged 130,000 dollars in "hush money."
An indictment is not an arrest or a conviction. It is a formal accusation by a grand jury, and it likely results in a trial. If charged, it will likely be for up to thirty counts of falsifying business records. The next step in the indictment process is for Trump to either voluntarily surrender or risk arrest.
If convicted, the maximum sentence for his alleged crime would be four years in prison, but it is unlikely he will serve that amount, if any. Additionally, Trump is still able to run for president if under indictment, even if he is convicted.
On March 27, a school shooting in Nashville left six dead, including three children. It marked the 89th shooting on school grounds this year, and it was 86th day of 2023. After the horrific event, President Joe Biden again called on Congress to pass an assault weapons ban, saying we "need to do more to protect our schools."
Good News of The Week
In more uplifting news, the FDA approved Narcan for over the counter sales, a nasal spray that reverses opioid overdoses. This will help save many lives, and hopefully lessen the current amount of overdose-related fatalities.
Sports
In sports, March Madness continues with the final four beginning on March 31st, with UConn, Miami, FL Atlantic, and San Diego State in the Men's tournament, and LSU, Virginia Tech, Iowa and South Carolina in the Women's tournament. Biden met with Damar Hamlin to commend him on his courage and resilience after a cardiac arrest during a football game.
Weather
Looking ahead to next week, we can see scattered showers and thunderstorms for most of the week, with the lowest temperature being 28 degrees fahrenheit on Saturday, and the highest temperature being 75 degrees on Tuesday. Make sure to bring a raincoat!
Local News
The Joe Burrow Foundation helped supply food to 8,000 kids across Greater Cincinnati. The Reds celebrated Opening Day on Thursday by playing the Pittsburgh Pirates.
Today in History…
Today, Friday, March 31, clocks in the United States were set one hour ahead as Daylight Saving Time went into operation for the first time.
Have a great week! You got this!