Freshman hazing, harmful or harmless: opinions from underclassmen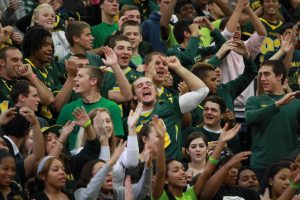 Freshman "hazing" is something that graduating eight graders hear left and right as they journey on to the high school.
There are numerous cases in the news in which hazing has led to disastrous consequences; however, students at SHS believe that this practice is, and never was, harmful.
"It shouldn't even be called hazing. It's just like how older siblings make fun of you," said Jacob Habib, 10.
"We're not stealing their money or shoving their heads down toilets. It's just when a freshman does something dumb it's, 'come on freshman,' and then everyone laughs and forgets," said Reed Bie, 11.
In fact, for many of the class of 2016, anti-freshman activities went completely unnoticed.
"If there wasn't a big deal about 'stop hazing' and stuff, I honestly don't think I would have noticed it at all," said Habib.
And although others have felt the taunting nature of the upper classes, they said that they were never affected negatively. For example, during the fall, winter, and spring pep-rallies, freshmen are often booed and given disadvantages during class games.
"It doesn't feel good to get booed, but none of us actually cared. It's not to crush our feelings and actually hurt our feelings; it's all good fun," said Daniel Mills, 10.
Moreover, it has been a tradition for graduated seniors to pay a visit on the first day of school and throw water balloons at the new members of the SHS family.
"From time to time, someone might get pegged really hard in the face or something, but otherwise, it's more fun and exciting for the freshmen then it is painful or terrifying," said Noah Yasgur, 12'.
Although the school board is working hard to emphasize the prevention of this pernicious practice, new SHS students shouldn't expect to witness any sever harassment of any sort.
In the end, we can all recognize that the four classes combined make the SHS family. Freshman and senior play equal parts in making this school great. But that in no sense means that we can't have a little fun with the 'froshies.'