Engineers compete, create, innovate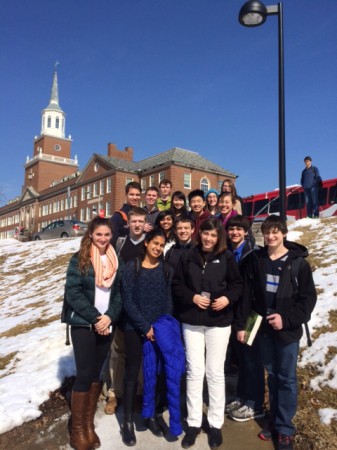 The UC college of Engineering was buzzing with high school students on Mar 5. From 8:00 am to 2:00 pm they were hosting the nationwide TSA TEAMS competition for high school engineers.
"It was fun to skip school and do something academically challenging with my friends," said Maya Sheth, 10.
During the competition teams of eight students from high schools across the Cincinnati area took an 80 question multiple choice test and wrote five essays. The questions and essays all had themes that centered around the central idea of the competition; Engineering Tomorrow's Cities – Improving Urban Infrastructure.
"It was really cool to apply things we already knew to try to solve real life problems," said Raquel Levitt, 10.
SHS was represented by both a 9/10 grade team and an 11/12 grade team. The teams where as follows:
9/10 grade team
Maya Sheth, 10
Raquel Levitt, 10
Chris Segar, 10
Eli Zawatsky, 10
Josh Pelberg, 10
Kevin Fitzgerald, 10
Priscilla Wu, 10
Julia Kumar, 10
11/12 grade team
Jacob Wang, 11
Megan Jiang, 11
Brennon Shanks, 11
William Hobart, 11
Katie Steinberg, 11
Joseph Vaz, 11
Shannon Thomas, 11
Lila Englander, 11
The scores for the multiple choice section were announced at the end of the competition. The 11/12 team scored a 61/80, and won second place in their division. The 9/10 team scored a 46/80, and won first place in their division. Each score will now be compared at the state and national level to see how well SHS did in comparison to all the other high schools who took the TSA TEAMS competition.
"The test was extremely challenging, but I feel like we did well on the essays. Overall, I'm happy with our score," said Segar.
SHS teams have done very well in past years. Last year the 11/12 team placed second in the state.
"I really hope we did well on the state and national level," said Sheth.