Schmid performs in Aida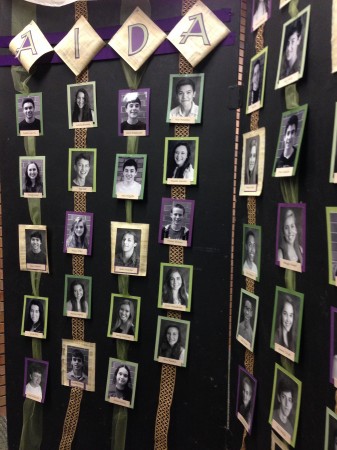 Q&A with Eleanor Schmid, 9.
What got you interested in performing?
I first discovered my interest in the theatre through dance. By dancing I became comfortable on stage. I then was part of a few elementary productions and realized how much I enjoy acting.
How much work goes into putting on a performance like "Aida"?
Besides weekday practices, which can take up to four hours or go till 11 :00 p.m., we have multiple all day practices on Saturdays. Aside from getting the on stage performance ready we prepare all the technology used in the show.
Who do you play in Aida?
I play two parts: an Egyptian and a slave.  The parts are very different which makes it interesting to go from playing a rich and powerful Egyptian to a poor slave in the same show.
Will you continue performing?
I will continue performing because it is what I love to do. It has become a big commitment in my life, but I enjoy every second of it.