Aviators gather for lacrosse and tennis send off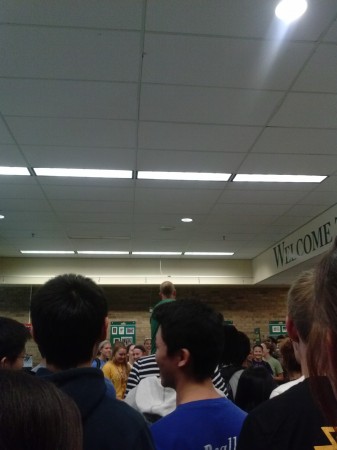 Today during seventh bell, the Varsity girls lacrosse team and Boys tennis teams got their own special rally.
Students from different classes gathered in the lobby and cheered and chanted for a good fifteen minutes under the direction of Jim Stohl, athletic director.
"We have these clappers for the girls lacrosse team to show them that teamwork and winning means everyone working together," said Stohl, as he demonstrated one of the team's bonding strategies.
The excitement came to a breaking point when Daniel Chiodo, 11, stood in the center and led everyone around him in singing the Sycamore Fight Song.
Despite its impromptu occurrence and small number of participating students, the send off appeared to have more success than other school-sponsored spirit events this year, including pep rallies.
Perhaps it will be a good sign of school spirit to come.