Top sweet 16
Mock trial team returns from state competition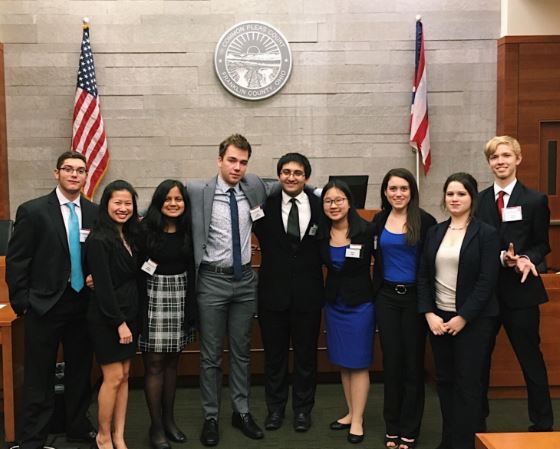 Mock trial students place in the top 16 at State after the plaintiff team won their first trial against Lake High School.
The students that competed were seniors Cali Colliver, Sarah Horne, Umang Joshi, Josh Patterson,12, and Emma Traylor, juniors Jenna Bao, Adam Meller, and Dylan Sleyo,  and sophomore Swati Bhageria. Their adviser was Mr. Andrew Oakes.
This year was the first year in about ten years since SHS' Mock Trial team had made it to the state level. In order to make it to state, the team won both their district trials for the plaintiff and defense, and then also won both their trials at the regional level.
"State was a manifestation of all of our hard work and dedication. I am extremely proud to have been the first team to go to state for a considerable amount of time, and it was one of my aspirations for my senior year," Traylor said.
While at Regional they also made SHS history by being the number one team in the region. This meant they had the highest scores on their performance on a one to ten scale.
"I get such an incredible rush every time I'm competing. It's basically two hours of constant arousal and adrenaline and focus but, like, accompanied with the opportunity to verbally destroy others in a structured way," Bao said.
The team had to overcome many new challenges. Oakes took on his first year of running the team and had to manage keeping the program going after many of the team's past attorneys dropped out.
Rob Razzano, varsity attorney, and Bernie Wong, JV attorney, stayed with the team and each guided a set of students. They instructed on court procedures and the proper way to develop this year's case.
  Honestly, at the beginning of the season I was pretty sure that I'd been dropped into a flaming disaster. But soon enough, I forgot about all of that and bonded with everyone and I was constantly inspired by this team," Bao said.
Throughout the season, the team would meet in the evening to review their material with their attorney. As the season progressed, the varsity team began meeting at team members houses in order to review their material more often.
Additionally, the plaintiff attorneys, Bao and Horne, presented their opening and closing statements to multiple Ace bells in order prepare for the next level of competition they would be facing.
The team left midday Thursday in order to head up to Columbus for the state competition They competed at the Franklin County Municipal Court.
"It was really amazing to go to state since Sycamore hasn't done it in so long. It was a completely different experience from anything else I've done, and, from working with everyone, I learned the effort that it takes in order to get to state," Bhageria said.
For the seniors it was their last trial with SHS, and they reflected on their high school mock trial career. After their final trial, the team celebrated their accomplishment by going out for pizza
"The highlight of the experience at state for me was probably competing, but you know, skipping through downtown Columbus at night after consuming the better half of a hot dog wrapped in a slice of pizza takes a close second," Bao said.
In the end Bao received three outstanding attorney awards, Taylor received three outstanding attorney awards, Meller received four outstanding witness awards, Joshi received three outstanding witness awards, and Sleyo received one outstanding witness award throughout the season. These are awarded to the best attorney and witness each trial.
Going to state has shown me that there are a lot of interesting schools out there. Mock trial State was a fun experience and was symbolic of the hard work that everyone in our team had put in to this season," Joshi said.