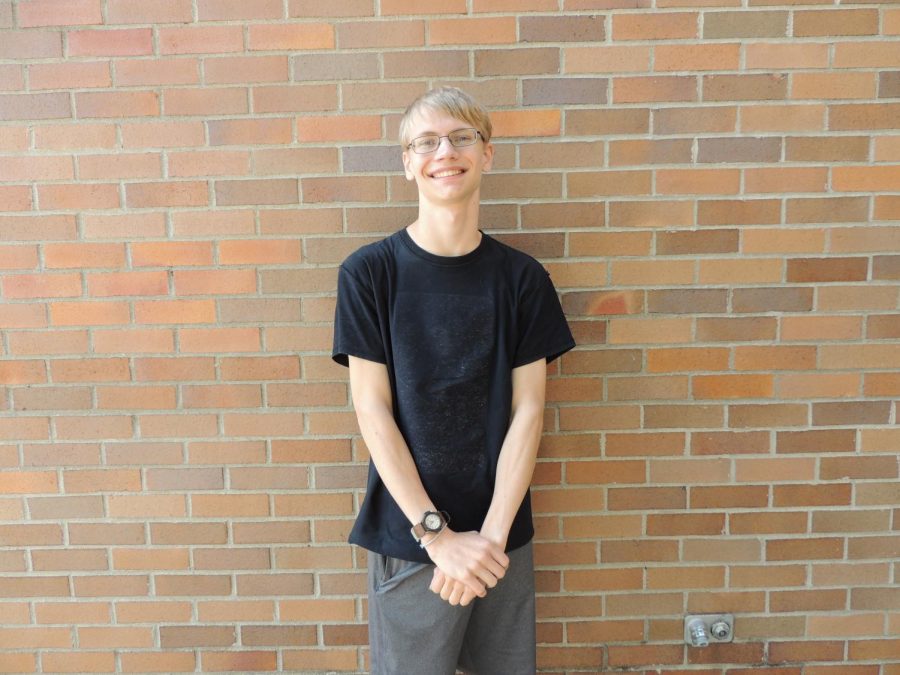 Hi! My name is Alex Jowanovitz and I am a current senior at SHS. This is my first year in journalism, and seeing how it will be my only one, I plan to make the most of it. 
I am the Associate Video Editor for the journalism program, which means I will be working on the creation and editing of any video that goes on our website. I love film and filmmaking, and am interested in going to the film industry, so this is an excellent opportunity for me to have hands-on experience with different video editing programs as well as experience with making film in general. 
Besides journalism, I partake in many other SHS activities outside the classroom. I am a cellist playing in the Sycamore High School String Orchestra, and have been playing the instrument since the fifth grade. I am also heavily involved with Aves Theatre, having performed onstage, as well as in the orchestra pit, for a number of shows including "Into the Woods" and "Addams Family". 
Outside of school, I am an avid reader enjoy analyzing books and movies.  I love criticizing film and works of fiction, and take enjoyment in sharing my opinions with others. Additionally, I enjoy writing fiction as well as scripts for potential short films I want to make sometime. 
I am also a third-degree black belt in the Taekwondo martial art, having been a student at Ohio Taekwondo Academy for nearly ten years. I am hoping to test for my master degree black belt before I head off to college. 
I hope that participating in journalism will help me grow not just as a writer or video editor, but as a person as well. I really want to expand my social skills, and I think journalism will be a great way to do so. 
I am so excited for my senior year of high school and look forward to what the future is going to hold for me.  I can't wait to bring my set of skills to the journalism program at Sycamore, and I hope I can learn a few more in the process.
Enjoy the rest of the website!
Alex Jowanovitz, Associate Video Editor
May 16, 2019

Dylan Whittemore, 12

(Story/Media)

May 13, 2019

'Kingdom Hearts III' lives up to the hype

(Story/Media)

May 01, 2019

Aves Theatre presents: "Fiddler on the Roof"

(Story)

Apr 11, 2019

The email heard 'round the school

(Story)

Mar 15, 2019

'Spider-Verse' spins a unique new web: Review

(Story)

Mar 12, 2019

Annamarie Jowanovitz, 9

(Story)

Mar 07, 2019

Netflix's 'Umbrella Academy' is equally weird and wonderful: Review

(Story)

Jan 24, 2019

Olive Bringle, 11

(Story/Media)

Dec 17, 2018

Alan Meili, 11

(Story/Media)

Dec 10, 2018

Orchestras shine at winter concert

(Story/Media)

Nov 28, 2018

Stan Lee remembered

(Story)

Nov 20, 2018

Josh Williams, 12

(Story)

Nov 15, 2018

Netflix's "Sabrina" scares up new kind of magic: Review

(Story/Media)

Oct 29, 2018

Aves Theatre presents: 'Grease: The Musical'

(Story)

Oct 23, 2018

2019 Oscar race starts shaping up

(Story)

Oct 10, 2018

Cameron Wallace, 12

(Story/Media)

Oct 09, 2018

'Deadpool' goes PG-13

(Story)

Oct 03, 2018

Fukunaga's "Maniac" is too much plot: Review

(Story)

Sep 27, 2018

"Marvel's Spider-Man" Swings Above the Competition: Review

(Story/Media)

Sep 20, 2018

'A Quiet Place' vs. 'The Nun': How to Make a Successful Horror Film

(Story/Media)