Q&A with Cincinnati Women's March Organizer Billie Mays (Part 1)
February 16, 2017
What did the women's march mean to you?
Me personally, it was inspiring and I think it gives all of us hope that we see everyone else ready to stand up and now that that has been three weeks and to see people still getting out and wanting to get involved and trying to make a difference in what is happening is really inspiring to me, and to see 12,000 people show up at the event is amazing.
What do you think was the most important thing to take away from the marches?
To come out like that in the numbers around the world is a start, but now it is to keep that movement going- that will be key for all of this too. It has only been a few weeks, and we have a long way to go.
Was organizing this march a reaction to the Presidential election?
Totally. It was unique because yes, of course it was because of [the election], but we in the national movement try to make it more issue based with what is happening instead of just anti-Trump, which is why I think it drew so many people out. And of course [the election] was the underlying issue, but we try to keep it focused on the issues more than just talking about Trump, because now it is so much more than just one man, it is the whole administration.
What do you want the new Presidential administration to take away from these marches?
I hope that they see- now that literally every weekend and almost every other day I've been at a rally or a meeting to plan a rally or march- that we are not going anywhere, that we want to be heard, we will be heard, and that people have to remember that we actually are in charge. It is not these people at the top who think they are in charge, but it is going to take all of us to make that known.
What do you think was the main purpose of the march in Cincinnati, and do you feel like this was achieved?
I think that it shows we have the numbers. I knew a lot of people were going to come, and being on stage that day and looking out- everywhere I looked there were people on the sidewalks, roads, everywhere, that is just mind blowing to me, because I just had no idea that Cincinnati was going to come out like that.
What did it feel like to see so many men come out to support the event?
When we did this it was kind of women in the pink hats. For me, I pushed it to where it was women's rights and human rights. I kind of put it out there like, you need to be with us, this is going to take everybody.
What do people say to young boys who do not understand the meaning of the march?
I have different people surrounding me, especially people who think that it is ridiculous we are continuing to do all of the rallies and things we are doing.
When people don't want to get involved, I really question whether they are not paying attention, whether they are not paying attention to current events, or they don't understand politics. Really it is not so much politics but so much as if you look around and see people suffering, you can't be neutral in that situation. People that are indifferent about it- it comes to a point where you are going to have to make a choice on where you stand with some of this stuff. I think that is how serious this is going to be.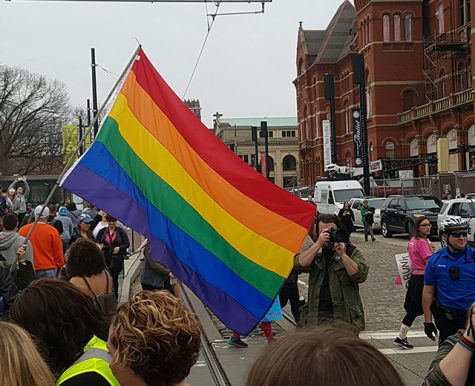 Are you planning future marches or any other events?
Our group has an admin page- United We Stand Cincinnati and surrounding areas. What's happening is our group is going to stay non-partisan and were really going to try to stay issue based, which is how we did the march. And so we have a lot of groups, like we just did a Planned Parenthood rally. And I would love for other people to get involved. What's happening is there are so many events that people can't even keep track of them. Literally I had seven events yesterday. We are going to do a event where we promote doing a random act of kindness for a woman in your life. And were going to meet from five to seven down at Pier Park, which is downtown and that's going to be kind of a smaller event. I'm hoping maybe 500 or less. We are doing some events where, along with the national women's march, were going to have all kinds of small group huddles all over the city. And that's just people who want to get involved.We set out the guidelines of what the women's march is kind of going forward with. Like I said it's kind of staying more issue based and I'd say there probably been six, seven, or eight of those. I went to the first one. But it's kind of just that people will have to lead their areas, which is great. And then we're going to plan some bigger meetings. One is going to be March 2. And then we're going to do, we are organizing the tax march, which is going to be a tax economic issue. We're going to have the rally at Fountain Square on April 15 at noon. We're going to go into a march and do something where we spread out all over downtown. Were still working on that and then I am working with the scientist march, which is April 22, and then there is a climate change march on April 29.
After the women's marches there has been a lot of debate about who could be a part of it or not, especially with the issue of abortion. What is your reaction to that?
I actually do not support people that are hateful about it because most of the people that I know that are really far right on that side don't believe in health care, funding the education system. So what I try to tell people is, that is not the main issue. It is, to many people because they make it like that, but I don't think that is actually the main issue.
You can still be a part of us and come out to those event and support things that you agree with us like the immigration ban, people being rounded up. You can stand with us, but we are still going to stand up for women's choice and bottom line is we had a lot of that on the event page.
It is just not logical. The fact that you want to ban abortion and you want to ban or make it difficult to get birth control, and you want to take away sex education, that does not make any sense.
"
I met women who are 70, 80 years old, and they have marched with the civil rights movement, stood up for Planned Parenthood, they have done all of this stuff in the past and the fact that we have to do it all over again is terrifying."
— Billie Mays
With the new government and their disregard for hard facts and science, what have you personally had to do?
I've been partly devastated because I do care so much and then feeling like many people don't get it and they hear all the negativity. Like I've been on the news recently and I don't try to read the comment because they are so negative and hateful. Maybe they are just uninformed, but people not getting it is a problem as we go forward because I think it's going to get worse before it gets better. And every time I turn on the new I think what else are we going to hear today. It's always something more horrible.
What kind of opposition did you receive to the original women's march, and what opposition have you received since then?
I was pleasantly surprised that it was not nearly what I thought it was going to be. When the first "Enquirer" article went out, like a week after we decide we're going to do this, my name was out there. I had a panic attack for a few days because I was afraid that people would come outside my work and it was going to be insane. But there was, even on the event pages, relatively little negativity. Like every time someone would say something negative, people, I keep calling them love warriors, would go at them with facts and honesty and kindness, and what can somebody say to that.
For part 2 of the interview with Billie Mays, click here.