Kara Walker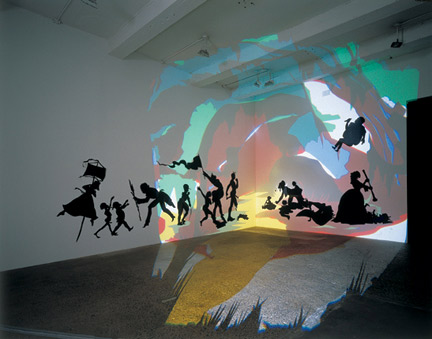 Kara Walker is a contemporary painter, print maker, installation artist, and film-maker. Her work is known for its deep exploration on many topics, including race and gender.
Walker was born in 1969 in Stockton, California to Larry and Gwendolyn Walker. She received a Bachelor of Fine Arts from the Atlanta College of Art, and later received a Master's of Fine Arts from the Rhode Island School of Design (RISD). It was at RISD that Walker started to explore race in her art.
Her art employs distinctive cut-paper silhouettes that portray various scenes, typically black figure against a white wall. Walker utilizes the traditionally Victorian medium of silhouettes to depict scenes of racism and inequality, and as a result, her life-size, simultaneously nightmarish and fantastical scenes draw the viewer into the stories.
In these scenes, Walker often explores racism in the context of America's past, depicting scenes of violence, slavery, and inequality during the Antebellum South.
Walker's work has been exhibited at the Museum of Modern Art (New York and San Francisco), Guggenheim Museum (New York), and Whitney Museum of American Art (New York).
She is also a 1997 recipient of the MacArthur fellowship.