Pereda strives for success
With endless academic options, numerous sports, and other extracurriculars, there seems to be a niche for everyone here.
Freshman Gabriela Pereda has had no problem finding her place in the crowd. Pereda has challenged herself with multiple academics and extracurriculars.
Her courses include Accelerated English 9, Accelerated Geometry, Accelerated Biology, Accelerated World History, French III, Marketing, Law Studies, and AP Computer Science Principles. Pereda has a hard time picking a favorite.
"I actually have a pretty hard [time] choosing which class I like the most.
"History has never really been one of my favorite classes, but this year I got lucky and got Mr. Andrew Ovington, who is one of my favorite teachers ever and he makes history fun and enjoyable.
"I also really, really enjoy studying the aspects of biology, law, and marketing. Lastly, I love speaking different languages so French is also one of my favorite classes," Pereda said.
Speaking a different language follows her home, as she and her entire family fluently speak Spanish.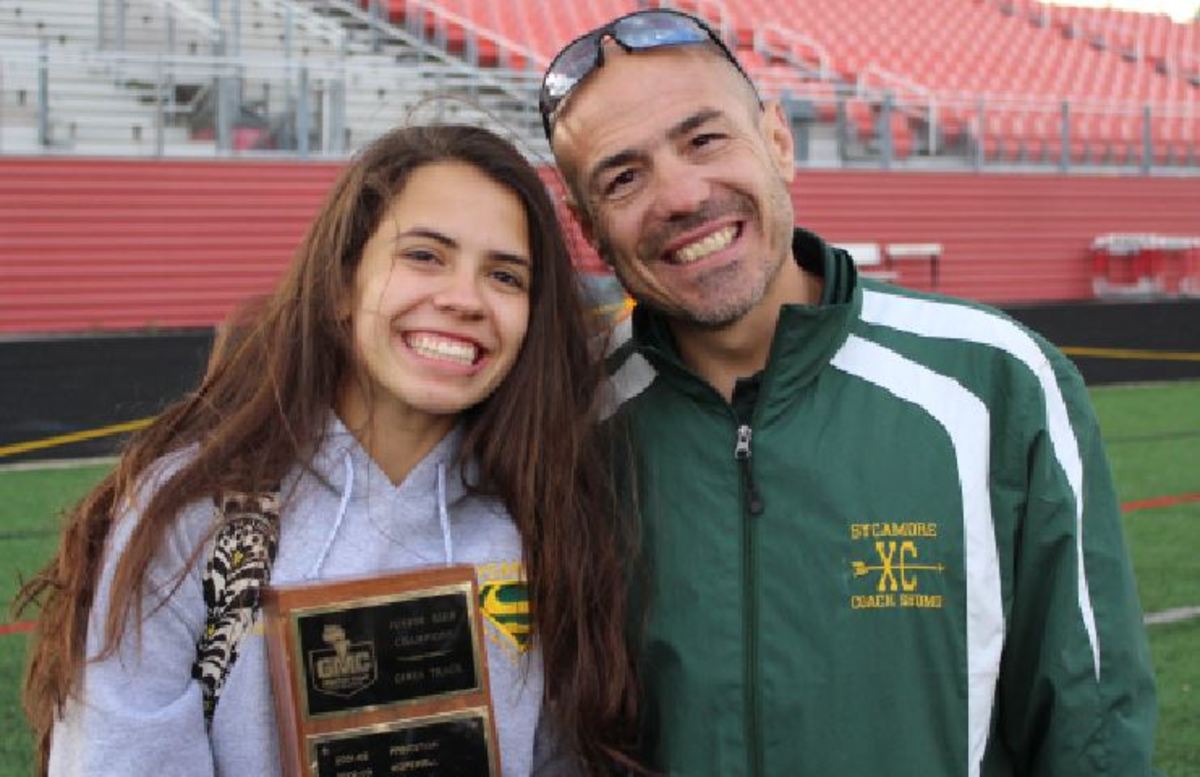 The bell ringing at 2:20 p.m. signals a continuance of activities for Pereda. Her extracurriculars include indoor and outdoor track, the volleyball team, DECA, international club, and Unified for Uganda.
Involving sports, one teacher has been a huge encouragement for Pereda.
"One of the coaches who has had the biggest impact on my involvement [with] the Sycamore track team is Coach Richard Shomo.
"Anyone who has him knows how great a coach he is and knows that the relationship you create with him is like father and daughter," Pereda said.
Even her weekends are filled with multiple activities.
"Outside of school I love to spend time with my family and friends, run, work out, sing, and volunteer helping little kids," Pereda said.
One of her favorite things to do on the weekends is work with kids at the downtown YMCA.
To keep up with all these involvements, Pereda seeks inspiration from her family. Without their support, she would not be who she is today.
"I think the main people who have inspired my heavy involvement in school and sports [have] to be my parents because they have both given me everything in order for me to succeed in life.
"Therefore, I want to thank them for everything they have given me by taking every opportunity I can and succeeding," Pereda said.
Another activity the Pereda family enjoys is traveling.
This summer her family plans on traveling to Thailand. They all love learning about different places and cultures.
Pereda has been to places such as Spain, Italy, France, Germany, Prague, and the Czech Republic.
Pereda leads a busy life, but the important thing is that she fills it with the things she loves most.