High School Nation comes to SHS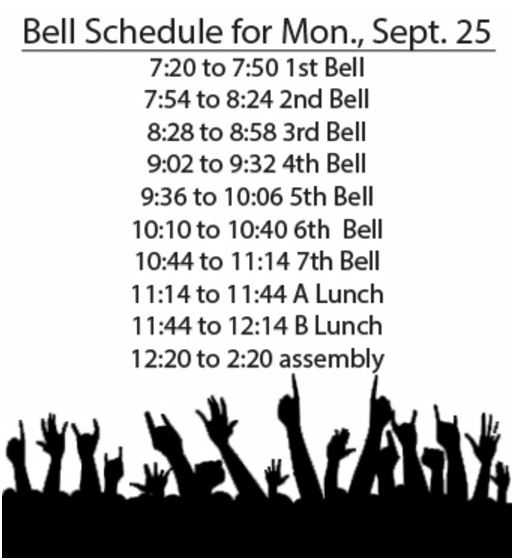 Advertisement
Hang on for a minute...we're trying to find some more stories you might like.
  The rumor that began spreading around SHS on Tues. Sept. 19 about the actor Drake Bell coming to the school next Monday and set the school abuzz with excitement has been confirmed.
  On Mon. Sept. 25, High School Nation invites SHS to an interactive assembly for the final two hours of the school day. HS Nation is an organization created to advance music theater, fashion, dance, visual design, and many other artistic mediums.
   The assembly will start at 12:20 p.m. directly after lunch and will be held out on the practice field.
  "It will be high energy and a lot of fun and a chance for career exploration," said principal Mr. Doug Mader.
  Originally HS Nation's schedule was full, however a problem arose at another Cincinnati school.  A principal who had originally agreed to let HS Nation come to his school stepped down before the concert occurred.
  The person replacing him decided against having the assembly, so HS Nation had to find another place that fit the type of school they wanted in the Cincinnati area.
  After seeing the district website for SHS, HS Nation emailed Mader, who then asked Music Synthesizing teacher Mr. David Swift and the Music Department to look into the opportunity.
  After calling the co-founder of the organization and convincing the administration to allow HS Nation to come, SHS was on its way to having the assembly.
  The assembly is extremely self-contained, and HS Nation will only be relying on SHS to bring their students and their excitement.
  Mader will send an email about the event to SHS parents on Thurs. Sept. 21.
  Students will have all seven of their classes in order before eating lunch, and then will head out to the assembly.
  During the assembly, there will be multiple stations set up, geared to teach students about the music industry, graphic design, and a multitude of other artistic pursuits.
  "I think it is going to be a showcase for our students to see opportunities in the arts," Swift said.
  Furthermore, there will be dance and karaoke contests going on throughout the assembly.
  Students will also have the opportunity to design and create their own t-shirts and hats to have as souvenirs after the day is over, and they will get to learn to play both digital and normal instruments set up on the fields.
  "I think it is really cool, and it is going to be a treat for our students," Swift said.
  SHS will also be treated to performances by artists Bell and the Plain White T's.
  "Hopefully the student body will have fun and enjoy themselves, but not in an inappropriate fashion," Swift said.
  After the assembly, the school will receive $30,000 worth of software and equipment geared toward SHS music classes, one such class being Swift's Music Synthesizing.
  "The equipment will be things that are going to be really beneficial to all SHS students," Swift said.
  Some of the equipment will include software such as Pro Tools and DJ type equipment. The equipment is donated by some of HS Nation's many sponsors including Gibson, Yamaha, and Teenage Engineering.
  Mader also hinted that SHS could develop a new class based on all the new equipment they receive.
  "It could be used to enhance [Mr. Swift's] class or another class could emerge out of this," Mader said.
  Both students and staff at SHS are anxiously waiting for the assembly and will be exposed to countless new technologies during this once in a lifetime event.