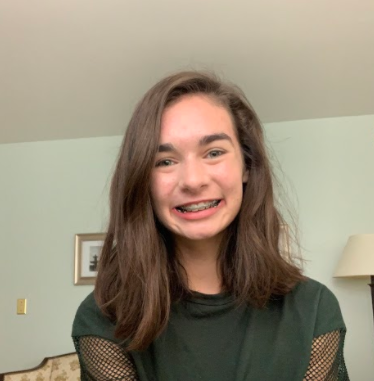 Hello everyone! I'm Claire Berlier, and I am a sophomore. This is my second year being a part of the journalism program, and I am so excited about my role as Feature Editor!
I joined the program last year because of my love for writing, and I am back again because it was such a wonderful experience that I needed to do it again. I love all the opportunities it gives me to learn new skills, know what's happening around SHS, and fine-tune my writing. Speaking of writing, this past year I won an 'Excellent' OSMA award for a Sports-Opinion piece.
Besides working on The Leaf, I am also involved in cross country and winter and spring track. I've been running every year since 7th grade, and I'm on my fifth pair of running shoes! Who knows how many shoes I'll go through by senior year? Another thing I'm involved in is the Women in STEM club, which I started last year with Maddie Suh. We bring in women speakers from various STEM jobs that you might not have known existed to help you learn about all the different career options you have and the experiences women have working in a male-dominated field. Personally, I want to go into a STEM job (probably statistics) so I love hearing all the advice our speakers share!
Outside of school, I spend most of my free time sewing and crocheting. The list of clothes I have sewn continues to get longer and longer, including a romper, multiple skirts, a jacket, a top, and, of course, masks. I even sewed a mini bucket hat for one of my dogs (although she's not the biggest fan of wearing it—clearly she is not going to be a fashion icon anytime soon). 
I am so excited for another year at SHS and writing for The Leaf, even if it is off to a bit of a crazy start!
Claire Berlier, Feature Editor
Dec 11, 2020

The Queen's Gambit Review

(Story/Media)

Nov 29, 2020

Administrators' advice for remote schooling

(Story/Media)

Sep 26, 2020

Positive reinforcement training is the way to go

(Story/Media)

Mar 30, 2020

Teachers discuss their thoughts on remote learning

(Story)

Mar 09, 2020

4 fun and easy nail designs

(Story)

Mar 09, 2020

Are snowball fights a thing of the past?

(Story)

Feb 04, 2020

Royal shakeup: who's watching?

(Story)

Jan 26, 2020

My First Indoor Track Meet

(Story)

Nov 25, 2019

A welcomed change

(Story/Media)

Nov 05, 2019
Oct 07, 2019

Trump Impeachment Explained

(Story)