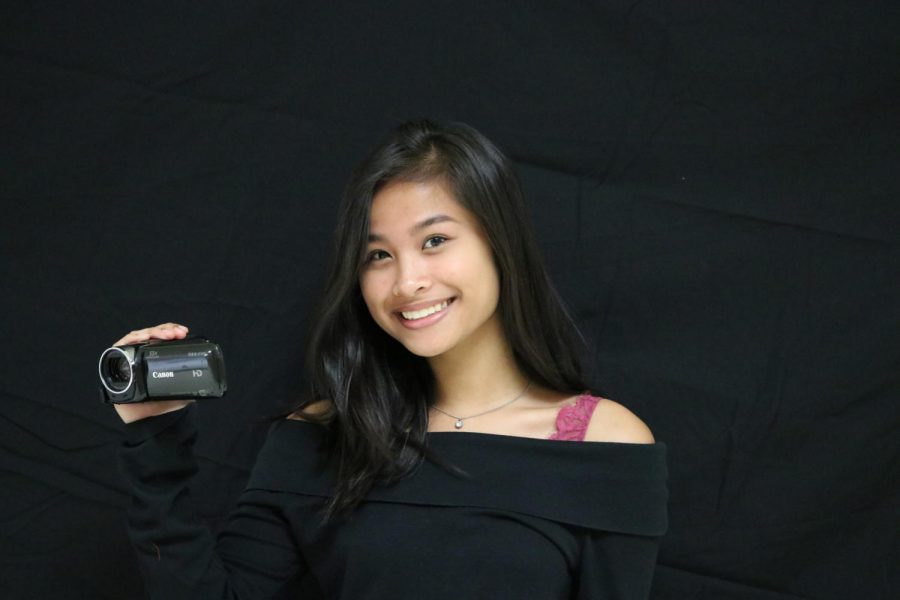 Hello!
My name is Yvanna Reyes. The class of 2017-2018 marks my final year of high school, third year at Sycamore High School, and second year on the journalism staff.
Through journalism, I have been able to creatively express myself through three of my passions; making films, writing, and instilling a sense of community in others.
With the exception of my conquests in journalism, I look to subjects like psychology, English, and chemistry to express these three things.
As high school has progressed, my extrovertedness has, to my own surprise, grown exponentially. In doing so, I found myself going from a Model UN attendee to President of the club; from having an interest in medicine to interning at the Mercy Health Explorers program; and from being a regular ol' journalism student to Video Chief and Social Media Director.
Outside of school, I unwind by playing music and making short films. I enjoy singing, practicing guitar (acoustic and electric), and playing the ukulele.
By being a part of the journalism community, I hope to not only practice rigor and discipline, but also find pride in the work that I contribute to this school.
Cheers to a great year!
Yvanna Reyes, Video Chief
Apr 25, 2018

Childhood websites

(Story)

Apr 23, 2018

3 easy ways to become a more HEALTHY student

(Story)

Apr 20, 2018

Feel sweet when you eat

(Story)

Apr 12, 2018

AP Literature students ponder their existence

(Story)

Mar 21, 2018

Walkout warriors say #enough

(Story)

Mar 14, 2018

National WALKOUT at SHS

(Story)

Mar 08, 2018

SHS plans March 14 walkout

(Story)

Feb 26, 2018

TEAMS of young engineers achieve victory

(Media)

Feb 21, 2018

'Why journalism matters (to high schoolers)'

(Story)

Feb 14, 2018

Valentine's Day shares love

(Story)

Feb 14, 2018
Feb 12, 2018

What is colorism?

(Story)

Feb 09, 2018

Model UN thrives in Chicago

(Story)

Jan 31, 2018

Failing to see color

(Story)

Jan 26, 2018

Intersectional movement promotes solidarity

(Story)

Jan 23, 2018

True or False: Women in STEM

(Story)

Jan 10, 2018

Richard Spencer sues UC

(Story)

Dec 14, 2017

I Am…Creating: Thea Ferdinand, 12

(Story)

Dec 05, 2017

30 seconds of SHS Sunshine

(Story)

Nov 30, 2017

Alt-right speaks in Cincinnati

(Story)

Nov 14, 2017

Local honorable leaders induct juniors into prestige

(Story)

Nov 03, 2017
Oct 24, 2017

I Am…In Motion: Daniel Leong, 10

(Story)

Oct 21, 2017

Which SHS AP class are you?

(Story)

Oct 10, 2017

Lending a Helping Hand

(Media)

Oct 10, 2017

I Am…Bold: Sara Bolger, 9

(Story)

Oct 07, 2017

Spotlight shines on senior string soloists

(Story)

Sep 26, 2017

I Am… a Musician: Nehalem Chudnoff, 11

(Story)

Sep 22, 2017

Spirit Week Vote: 9/22

(Story)

Sep 21, 2017

Spirit Week Vote: 9/21

(Story)

Sep 20, 2017

Spirit Week Vote: 9/20

(Story)

Sep 19, 2017

Spirit Week Vote: 9/19

(Story)

Sep 18, 2017

Spirit Week Vote: 9/18

(Story)

Sep 08, 2017

Homecoming Spirit Week Themes 2017

(Story)

May 24, 2017

Psychology students shatter social norms

(Story)

Apr 28, 2017

Prom Cliches: Yes or No?

(Story)

Mar 31, 2017

Physics students launch into Cornholapalooza

(Story/Media)

Mar 16, 2017

March Madness Poetry 2017

(Story)

Mar 03, 2017

Rosalind Franklin

(Story/Media)

Mar 01, 2017

1 Minute Egg Drop Fail at TEAMs

(Story)

Feb 27, 2017
Feb 17, 2017
Feb 14, 2017

Cabaret celebrates choir members

(Story)

Feb 10, 2017

The Perfect Valentine's Day Date

(Story)

Feb 03, 2017

Ending the R-word as a bullying tactic

(Story)

Feb 01, 2017

Demon Drop in Accelerated Physics

(Story)

Feb 01, 2017

The Leaf Tries: Flyerettes

(Story)

Jan 23, 2017

AP Chemistry charges into second semester

(Story/Media)

Jan 18, 2017

Thrifting 101: Inexpensive winter fashion

(Story)

Jan 12, 2017

Talent aglow at Variety Show

(Story)

Dec 20, 2016

Young the Giant releases new album

(Media)

Nov 30, 2016

Facebook faces fake news

(Story)