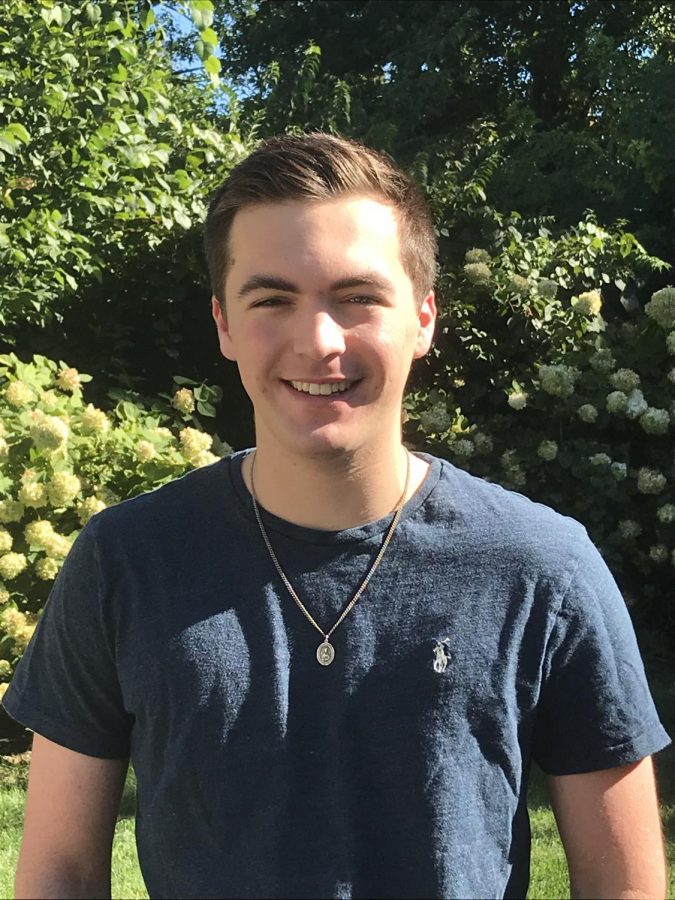 "Doc, are you telling me that you built a time machine, out of a Delorean?"- Back to the Future
Hello, my name is Jack Wolfe and I am a Senior at SHS. This is my fourth year writing for the Leaf and I could not be happier with my decision to join the class once again. These past four years in the journalism program have surely been one of the best classes I've taken. Not only have I gotten acquainted with being able to express oneself through writing, but as the years have gone on I've also learned my capability to take on leadership roles. During my first two years of the program, I wasn't entirely sure what I wanted, I knew I liked writing but I never thought I was good enough. I thought that all I could do was write about movies and that I should stray away from my inherent interest and write about "real news". Now as I have grown as a person and a writer, I've realized how much I am capable of. I know now that I can take on leadership roles, and I can bring value through my writing.
I am currently the Business Manager of the Leaf, meaning that I oversee the general costs and sales the leaf makes throughout the year. Every day that I go into the Journalism classroom I want to ensure that the writers of the Leaf and our readers, get the best experience with this newspaper as they possibly can. I hope to make sure the Leaf gives the student body their school news smoothly and efficiently.
One of the subjects that I frequently write about, as I've said before, is film and cinema. In fact, last year I received a Best of S.N.O award for my review of
The Peanut Butter Falcon
. Part of why I love film (or more accurately film analysis) is because there are so many minute details that can add to the overall story. While it may seem silly to go so in-depth on the subject, our modern entertainment reflects the status of today's culture. To see the progression through film is to me, a progression of our culture. Besides picking apart at movies, I'm also a student-athlete. I have been part of the  Track and Field team for the past 3.5 years. Mainly, I've competed in the high jump and sprinting events. 
With four years into this program, I strive to make use of the knowledge I've gained through this class. Writing will continue to be a passion of mine and I hope that when I look back on this portfolio with my Delorean style time machine I'll have grown into the person I aspire to be. 
Jack Wolfe, Business Manager
Oct 02, 2020

Ted Lasso Review: The Power of Positivity

(Story)

May 04, 2020

History repeats itself

(Story)

Apr 14, 2020

Celebrity complaints during COVID-19

(Story)

Mar 07, 2020

The Invisible Man: Movie Review

(Story)

Feb 10, 2020

'A Marriage Story': love story though divorce

(Story)

Dec 22, 2019

Star Wars: The Modern Myth

(Story)

Nov 13, 2019

"Living with yourself"

(Story)

Oct 15, 2019

 Raising Dion: a review

(Story)

Sep 14, 2019

Peanut Butter Falcon flies into theaters

(Story/Media)

Sep 03, 2019

Amazon Rainforest on fire

(Story)

May 14, 2019

Marcelo Morillo, 10

(Story)

May 14, 2019

FDA warns users of sunscreen

(Story/Media)

Apr 09, 2019

Remembering 20 years ago

(Story/Media)

Mar 05, 2019

Andrew Sulfsted, 10

(Story)

Feb 06, 2019

'Spider-man: Into Spider Verse' review

(Story)

Dec 10, 2018

Clinton Beeler, 10

(Story)

Nov 13, 2018

 Esports calls students to play

(Story/Media)

Nov 05, 2018

Sekani Cole, 10

(Story/Media)

Oct 24, 2018

Dogs bark up Maple Dale

(Story)

Sep 26, 2018

Cincinnati aids Florence survivors

(Story)

Sep 25, 2018

Spider-man PlayStation 4 hides secrets

(Story)

May 18, 2018

Jonathan Walker, 9

(Story/Media)

May 15, 2018

Need to know for 'Infinity War'

(Story)

May 01, 2018

'The New Yorker' article speaks against Chick-Fil-A

(Story/Media)

Apr 16, 2018

Ian Minton, 9

(Story/Media)

Mar 11, 2018

Dangers of television affects viewers

(Story/Media)

Mar 05, 2018

Colerain stands against walkout

(Story)

Feb 28, 2018

Wesley Vue, 9

(Story/Media)

Feb 22, 2018
Jan 26, 2018

Elvis supports school arts

(Story/Media)

Jan 24, 2018

Gaming leads to gambling

(Story)

Jan 24, 2018

Which superhero franchise is your favorite?

(Story)

Jan 19, 2018

Knowing the importance of sleep

(Story)

Oct 27, 2017

Strange in 'Stranger Things'

(Story)

Oct 09, 2017

'Sisters' bond beyond court

(Story)

Sep 21, 2017

Favorite Horror Movie

(Story)