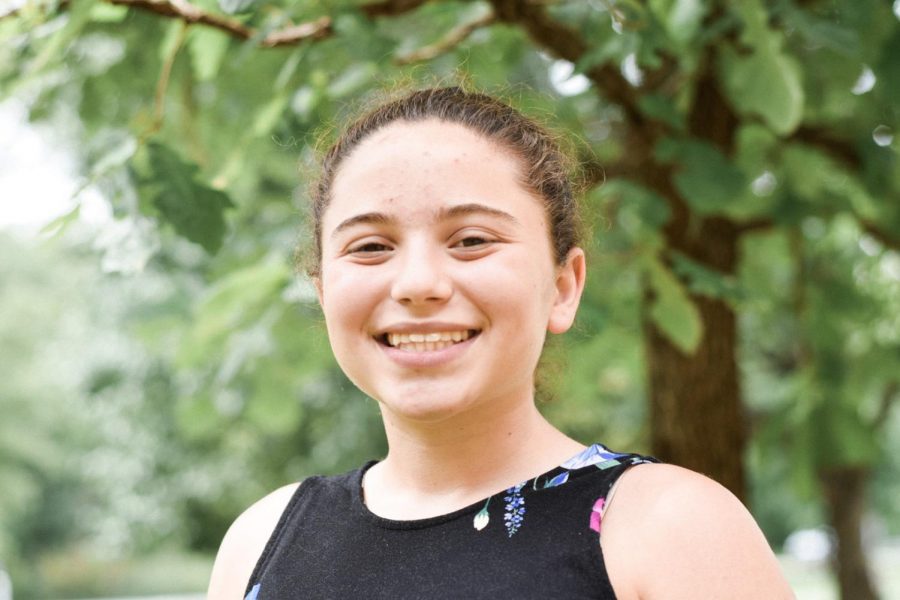 Welcome! My name is Charlotte Weiss and I am a Sophomore at SHS. As a second-year staff member in Room 115, I will spend lots of time perfecting our student newspaper, The Leaf. After lots of aviator bells spent in Journalism last year, I am pleased to announce my role as Feature Chief. 
Although this class may seem easy and fun, it is only one of those. It took me over a semester to get acclimated to this high-stress environment. With a new issue of The Leaf being published every six weeks, the staff is kept busy, especially with extra coverage on social media and the amazing website. As well as managing Feature, I also design Fun and Games, a job I began last year. It may seem like a silly job, but it greatly improved my design skills that later helped me when I was told to design or make my own pages of The Leaf. 
With all of the work and issues of The Leaf coming in and out of the open door of Room 115, it seems as if I have no time to participate in other activities at SHS, but that is far from true. Most of our staff participate in sports or have high leadership roles in clubs. I am running cross country for the second time in my high school career and hope to get a new personal record (PR) this season. I am also starting the Friendship Bracelet club this year, which can be difficult to think considering there are more than 80 clubs at SHS. 
I also am continuing to snap photos of my friends, dogs, and family for Advanced photo this year. I hope that I will be able to explore this new passion in Journalism as well by taking pictures of events or other school activities. Another one of my interests outside of the long school day is playing with my two dogs, Fitzy and Cubby. Mostly they lay around the house, but every once in a while they get a spurt of energy and run around like crazy. I also enjoy cooking and baking, especially brownies and cookies. 
I like to consider myself a food connoisseur, what with me eating for the past 15 years. Some of my favorite foods, in no particular order, include monkey bread, guacamole, blue cheese dressing, applesauce, apples with peanut butter, mango sorbet, and any kind of ice cream, but especially coffee ice cream. 
I hope my writing this year will improve and be enjoyable to all ages at SHS and in our community. Enjoy!
Charlotte Weiss, Feature Chief
Nov 25, 2020
Nov 02, 2020
Sep 24, 2020

Nature Improves Homework and Health

(Story)

May 21, 2020

Photoshoots fill quarantine time

(Story/Media)

Apr 22, 2020

Lockdown sparks emotions

(Story)

Mar 29, 2020

Conquering online school

(Story)

Feb 04, 2020

Phone notifications causing chaos

(Story)

Dec 05, 2019

Study smarter not harder

(Story)

Sep 23, 2019

Upgrading Iphone photography

(Story)

Sep 13, 2019

Do we have time to sleep?

(Story)

May 23, 2019

Summer road trip playlist

(Story)

May 22, 2019

Shashank Obulasetti, 9

(Story/Media)

Apr 24, 2019

Jake Hertzman, 9

(Story/Media)

Apr 15, 2019

Sycamore families gather for art

(Story)

Mar 25, 2019
Mar 14, 2019

Olga Ladyzhenskaya

(Story)

Mar 07, 2019
Mar 04, 2019

Ruth Bader Ginsburg

(Story)

Feb 14, 2019

How to care for your pet

(Story)

Feb 14, 2019

Madam C.J. Walker

(Story)

Feb 13, 2019
Feb 13, 2019

Thomas L. Jennings

(Story)

Feb 13, 2019

How to get a furry friend

(Story)

Jan 31, 2019

Lily Armbruster, 9

(Story)

Jan 21, 2019

German Shepherds facts

(Story)

Jan 16, 2019

Want some love? Get a Dog!

(Story)

Jan 08, 2019

Patrick Thompson, 9

(Story/Media)

Dec 16, 2018

Christmas is focused on presents

(Story)

Nov 27, 2018
Nov 19, 2018

Grace Caldwell, 9

(Story/Media)

Nov 15, 2018

SHS sings with 'Glee'

(Story)

Nov 08, 2018

Service dog goes to school

(Story)

Oct 30, 2018

Does 'Mean Girls' discourage or encourage bullying?

(Story)

Oct 28, 2018

Seniors dress up, enjoy tradition

(Story)

Oct 23, 2018

Megan Radakovich, 9

(Story/Media)

Oct 15, 2018

Running into homecoming weekend

(Story/Media)

Oct 10, 2018

'Parks and Recreation': intriguing or disappointing?

(Story)

Sep 19, 2018

Sarah Lynn, 9

(Story/Media)

Sep 17, 2018

Girls Varsity Soccer plays, bonds

(Story)