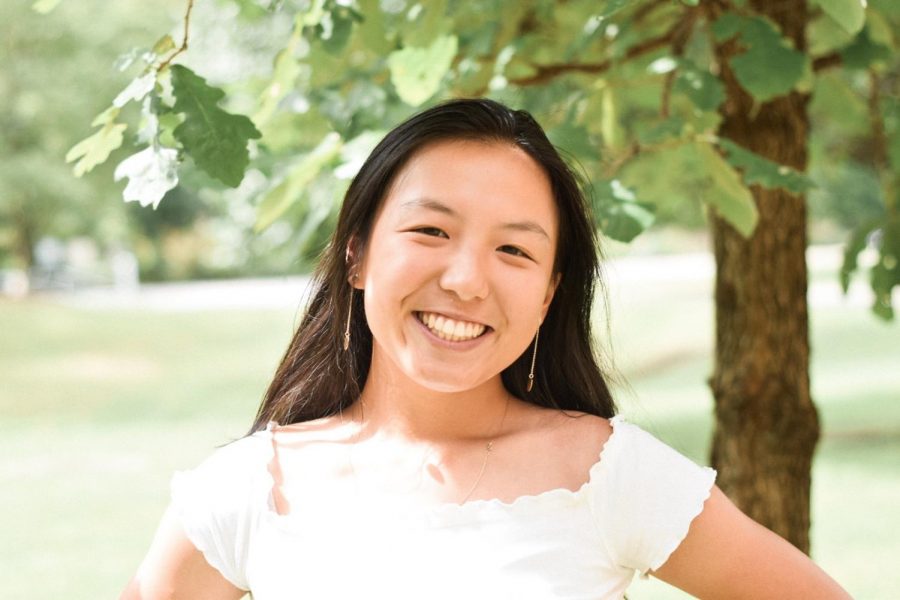 Hey there! My name is Grace Zhang and I am currently a junior at SHS. I'm thrilled to continue my work through my second year on staff. 
You see, although I've always enjoyed writing, I never found my "niche." After joining journalism on a whim last year, the creative and encouraging atmosphere in room 115 helped me discover where my true passion lies: fashion journalism.
Why fashion?
Generally, many believe there's no purpose behind fashion and I hope to change the minds of those who think this way. The truth is, there's something empowering about wearing outfits that fit your personal style, outfits that make you feel confident...some just haven't figured out exactly what their personal style consists of, which is something I hope I can help with through my articles.
Now not only will I continue my journey of writing articles, but I have also earned the role of Associate Web Editor this year, where I will help manage our website as well as consistently post content. 
As for how to find me outside of school, just look for the girl who's eating an absurd amount of grapes, laughing on the golf course, making another checklist or giving speeches in mock trial. And of course, typing away at her laptop while she finishes her latest article.
So with that, 
Happy reading! 
Grace Zhang, Associate Web Editor
Grace Zhang, Associate Web Editor
Sep 21, 2020

8 Creative Volunteer Opportunities

(Story)

May 17, 2020

7 fun activities to do at home

(Story)

Apr 30, 2020

Quarantine crafts

(Story)

Mar 26, 2020

Local sewing community pays it forward

(Story)

Mar 12, 2020

Fashion for the Cure

(Story)

Mar 05, 2020

Hair donations for the cure

(Story)

Nov 09, 2019

Forever 21 files for bankruptcy

(Story/Media)

Sep 12, 2019

SHS Chinese class takes learning to a new level

(Story)

Sep 05, 2019

11 ways to study smarter

(Story/Media)

May 10, 2019

Last Minute Mother's Day

(Story/Media)

May 06, 2019

Asalya Samieva, 11

(Story/Media)

Apr 26, 2019

Prom Procrastination

(Story)

Apr 17, 2019

Moments from Fashion for the Cure

(Story)

Apr 08, 2019

Living in the dreamland

(Story)

Apr 05, 2019

AP Euro Students Explore Europe

(Story)

Mar 14, 2019

New era of fashion

(Story/Media)

Feb 22, 2019
Feb 13, 2019

2019 FFTC Designer Profile

(Story)

Feb 08, 2019
Feb 04, 2019

What your clothes say about you

(Story)

Jan 31, 2019

Fashion Psychology piques interest

(Story)

Jan 24, 2019

Student-managed fashion show benefits The Dragonfly Foundation

(Story)

Jan 16, 2019

Retail therapy reduces stress

(Story)

Dec 13, 2018
Nov 30, 2018

Samantha Youngquist, 10

(Story)

Nov 21, 2018

Trend watching: earring edition

(Story)

Nov 12, 2018
Nov 02, 2018

Trend watching: colors, cutouts

(Story)

Oct 24, 2018

Anna Schulte, 10

(Story/Media)

Oct 23, 2018

Trend watching: denim

(Story)

Oct 11, 2018

Fall color pallette

(Story)

Oct 08, 2018

Alyssa Jones, 12

(Story/Media)

Oct 04, 2018

Pose: how to look photogenic

(Story)

Sep 27, 2018

Homecoming season: stand out with unique styles

(Story)

Sep 24, 2018

Shopping for Fall

(Story)

Sep 12, 2018

Fall brings fashion

(Story)