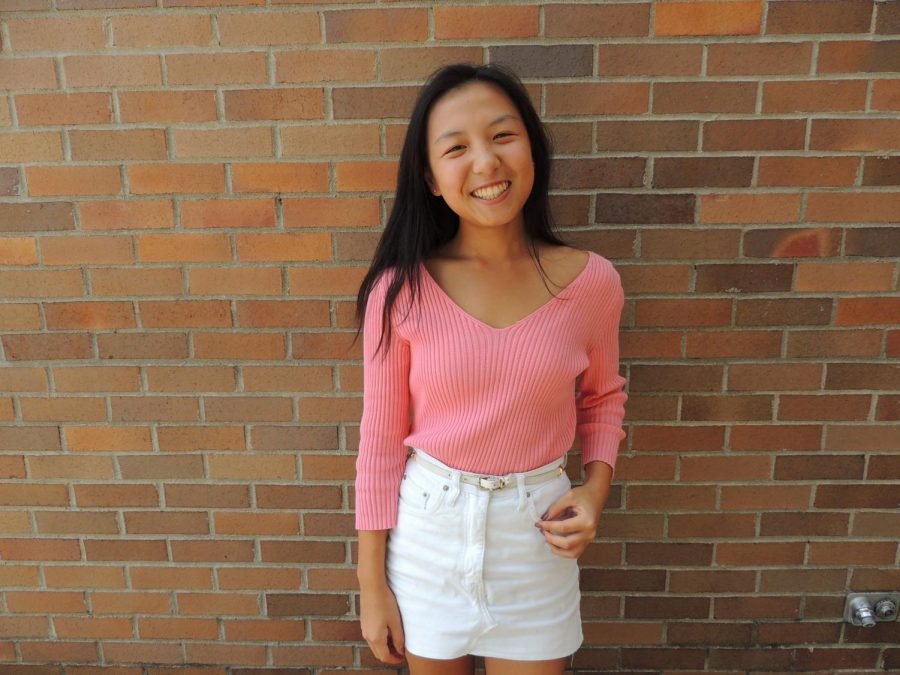 Hey there!
My name is Grace Zhang and I am currently a sophomore at SHS. This is my first year on staff so I am very excited for a fabulous year to come. I currently hold the position of a staff writer and a copy editor; essentially, I write for the newspaper and online platform as well as making sure writers are adhering to the AP style.
Okay, as for a little bit about me. 
At SHS, I love being involved! Athletic-wise,  I am a varsity golfer as well as captain of our dance team, the Flyerettes. Additionally, I am a lead mentor in fast track, one of my favorite programs where students help students, whether it be in organization, academics or just everyday life. My two equal loves here at SHS are the fashion program and the law extracurriculars. 
So enough about what I do. Maybe you would like to know some of the why's? 
As I mentioned, a huge part of me is my absolute love for law. I am so thankful I was able to experience mock trial and moot court last year to truly affirm my desire for a profession in law. I always find a thrill when I assume the position of a lawyer; to critically analyze every aspect of an argument, especially knowing that rarely will it be black and white, not only is so exciting, but I probably consider it my favorite part about the law. Plus, the idea that there will always be two (or more) sides to anything reminds me how in journalism too, there will always be multiple perspectives as long as you have the facts to back you up. 
Now, let's take a complete 360 to a different side of me, which is my love and passion for fashion. This often comes as a surprise to most since it really is quite different from my other passions but if you have not noticed yet, surprising people is something I really enjoy doing. Anyways, I have always been inspired by classic designers and I have recently found a happy place in fashion journalism for I enjoy using style as a way of expression; so with joining journalism, I hope to get my style voice out there, as well as learning more about the intricacies in fashion journalism. Plus, I have always looked up to fashion bloggers and if there's any place to explore this dream, I would believe it would be here, in room 115. 
Now that I've (hopefully!) surprised you with my two different personalities, I just have a few more things to say. You have made it this far so you might as well finish! Alright, first up? My current obsessions are blush pink and 2012 music. Also, I LOVE ice cream, like I literally have not found a flavor I didn't like. And lastly, NYC and Washington DC are my absolute favorite cities. 
One last thing, as a true inspiration always says,
"Just be true to yourself, and listen as much as one is able to other people whose opinions you respect and look up to but in the end it has to come from you. It has to be a true vision." -Anna Wintour, editor-in-chief of Vogue. 
So with that,
happy reading!
Grace Zhang, Copy Editor
Sep 21, 2020

8 Creative Volunteer Opportunities

(Story)

May 17, 2020

7 fun activities to do at home

(Story)

Apr 30, 2020

Quarantine crafts

(Story)

Mar 26, 2020

Local sewing community pays it forward

(Story)

Mar 12, 2020

Fashion for the Cure

(Story)

Mar 05, 2020

Hair donations for the cure

(Story)

Nov 09, 2019

Forever 21 files for bankruptcy

(Story/Media)

Sep 12, 2019

SHS Chinese class takes learning to a new level

(Story)

Sep 05, 2019

11 ways to study smarter

(Story/Media)

May 10, 2019

Last Minute Mother's Day

(Story/Media)

May 06, 2019

Asalya Samieva, 11

(Story/Media)

Apr 26, 2019

Prom Procrastination

(Story)

Apr 17, 2019

Moments from Fashion for the Cure

(Story)

Apr 08, 2019

Living in the dreamland

(Story)

Apr 05, 2019

AP Euro Students Explore Europe

(Story)

Mar 14, 2019

New era of fashion

(Story/Media)

Feb 22, 2019
Feb 13, 2019

2019 FFTC Designer Profile

(Story)

Feb 08, 2019
Feb 04, 2019

What your clothes say about you

(Story)

Jan 31, 2019

Fashion Psychology piques interest

(Story)

Jan 24, 2019

Student-managed fashion show benefits The Dragonfly Foundation

(Story)

Jan 16, 2019

Retail therapy reduces stress

(Story)

Dec 13, 2018
Nov 30, 2018

Samantha Youngquist, 10

(Story)

Nov 21, 2018

Trend watching: earring edition

(Story)

Nov 12, 2018
Nov 02, 2018

Trend watching: colors, cutouts

(Story)

Oct 24, 2018

Anna Schulte, 10

(Story/Media)

Oct 23, 2018

Trend watching: denim

(Story)

Oct 11, 2018

Fall color pallette

(Story)

Oct 08, 2018

Alyssa Jones, 12

(Story/Media)

Oct 04, 2018

Pose: how to look photogenic

(Story)

Sep 27, 2018

Homecoming season: stand out with unique styles

(Story)

Sep 24, 2018

Shopping for Fall

(Story)

Sep 12, 2018

Fall brings fashion

(Story)