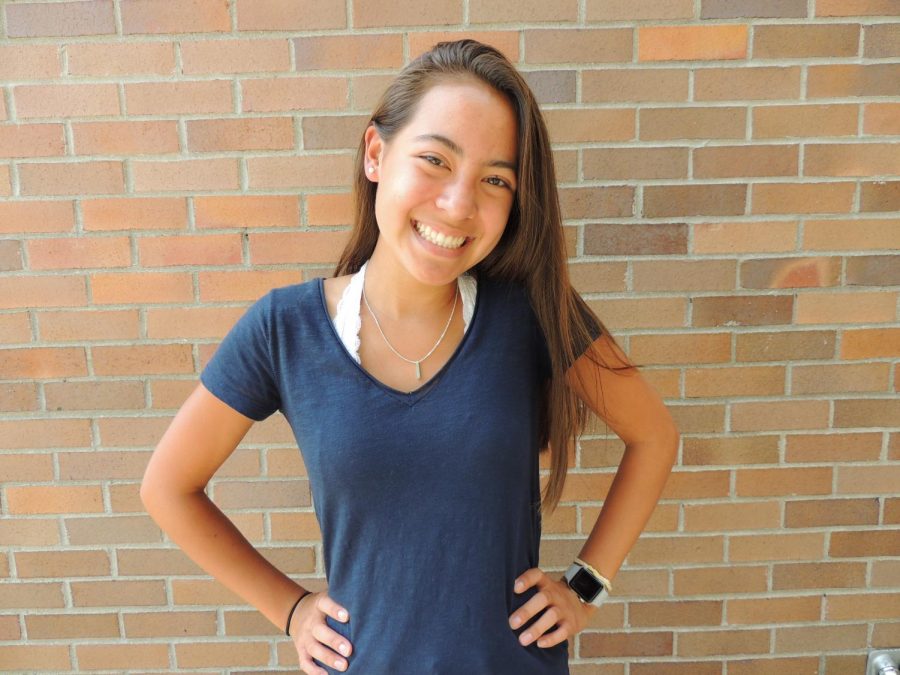 Hi! My name is Madeleine Suh and I am a sophomore at SHS. This is my second year writing for The Leaf and I could not be more excited! 
Last year, I learned to write from several different slants and angles as well as various genres. The more and more I wrote, I discovered which pieces interested me the most and throughout this process I developed my personal writing style in which I still continue to improve.
My growing love and passion for the Sports section eventually led to my position this year as Sports Chief. With this role I am responsible for editing and overseeing the pages of the Leaf belonging to the Sports section.  As a part of the editing team, I get to work collaboratively with my peers to create the Package, covering a selected main topic of each issue. S
ome of my favorite responsibilities as a high school journalist is interviewing my classmates: finding out more about them, their lives and their individual talents. Additionally, journalism is an incredible outlet for me to improve and practice my skills. For example, interviewing others, expressing creativity, and organizing research will be important tools for the rest of my life regardless of my profession.
As one in about 1,700 students at SHS, it may seem like our opinions and lives are not easily shared; however, it is quite amazing that  with The Leaf and website I am able to share articles and stories with the entire student body. 
Outside of my academics, I love playing varsity tennis and running distance track. Athletics have always been a large part of me and I am so grateful I can show that  within my writing as well. Family and friends are also a major factor of my life including my fluffy, 10-pound puppy. Also, I enjoy being involved with my community and school such as volunteering often at Matthew25 Ministries and regularly attending Young Life Sycamore.
I hope to carry my journalistic abilities into the future, possibly extending this passion to college and beyond. In addition, I look to pursue my love of science and focus on the medical field while continuing my many hobbies and voicing my Sycamore pride. 
Go Aves!
Madeleine Suh, Sports Chief
Apr 22, 2020
Sep 16, 2019

The Price of Treatment

(Story)

Sep 04, 2019

U.S. astronaut accused of first space crime

(Story)

May 23, 2019

Summit schedules events

(Story)

May 03, 2019

Jordyn Isaac, 10

(Story/Media)

Apr 03, 2019

Sophia Newberg, 11

(Story)

Mar 15, 2019

Rebanded brothers release top-streaming single

(Story)

Feb 21, 2019

Paige Ellingson, 10

(Story)

Feb 19, 2019

Shirley Anita Chisholm

(Story)

Feb 07, 2019

Keira Millerchip, 9

(Story)

Dec 15, 2018

JV boys basketball takes a shot

(Story)

Nov 29, 2018

How are you involved with winter athletics?

(Story)

Nov 01, 2018

Chess competition continues

(Story)

Oct 26, 2018

Grace Larrick, 10

(Story/Media)

May 15, 2018
May 14, 2018

Biologists display projects

(Story/Media)

May 07, 2018

Looking at early start times

(Story)

Apr 25, 2018

Alexander Karev, 11

(Story)

Apr 12, 2018

In the state of Ohio, how many school hours are required for grades 7-12?

(Story)

Apr 11, 2018

Serena Hewitt, 9

(Story/Media)

Mar 22, 2018

Undocumented immigrants live in horrific reality

(Story)

Mar 12, 2018

Parents, students 'rock 'n roll' at Odd Couples Ball

(Story)

Mar 07, 2018

Choral program sings way to state

(Story)

Mar 03, 2018

Immigration: How much do you know?

(Story)

Feb 28, 2018

Joseph and the Technicolor Dreamcoat

(Story)

Feb 02, 2018

Caroline Sack, 9

(Story/Media)

Jan 26, 2018

SHS swimmers splash competition

(Story)

Jan 25, 2018

Career and College

(Story)

Dec 08, 2017

Family History Night celebrates cultural diversity

(Story)

Oct 13, 2017

BLINK illuminates city

(Story/Media)

Oct 10, 2017

Lending a Helping Hand

(Story)

Oct 04, 2017

Athlete Profiles: Varsity Gold Tennis

(Story)

Oct 03, 2017

Senior Day calls for underclassmen costumes

(Story/Media)

Sep 19, 2017

Athlete Profiles: JV Girls Tennis

(Story)

Sep 19, 2017

HOCO Spirit Week contest

(Story)

Sep 14, 2017

What's your preference?

(Story)