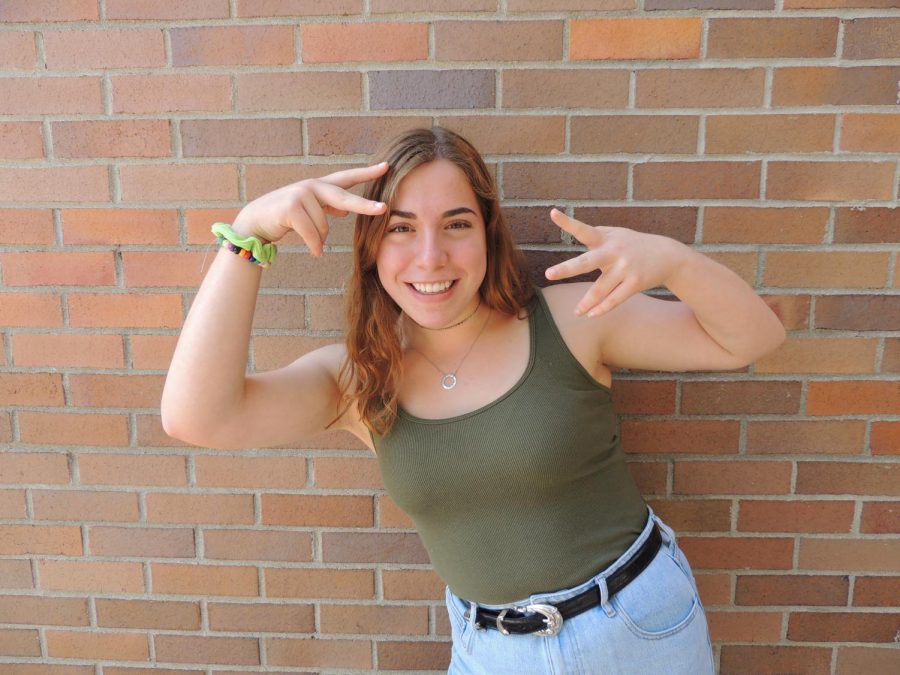 Hi! My name is Abby Lefton and this is my third year writing for The Leaf. I am a senior, and am excited to start exploring my future. I could see myself potentially going into psychology or political science in the future.I am currently the Opinion Chief which means I help the writers for my section construct articles expressing their views on a certain topic.
I am very passionate about human rights, equality, and advocacy. Because of my passion, I love journalism and strive to give a voice to those who do not have one through my work. I also enjoy putting a smile on peoples faces by doing whatever I can to make their day better.
During my free time, I love to be outside. Going on a walk or spending time in nature always seems to bring me back to earth and refresh my perspective.  My happy place is in the water so because of that, I really enjoy swimming, playing water polo, and teaching kids at our elementary school with special needs how to swim.
Two years ago I had the opportunity to go to Israel. When I was there, I got a taste of cultural diversity which stuck with me and has taught me lessons and provided me with a new perspective. 
I really enjoyed the way people choose to express themselves whether it be through clothing, art, or speech. I strive to let myself express my own character as freely and comfortably as they do. 
Ultimately, I care about bringing justice to the world and speaking up for what is right.  Social justice is an issue I interact with on a daily basis and its what motivates me to wake up every morning and express my voice through writing.
Abigail Lefton, Opinion Chief
Apr 30, 2019

Jacob Zeidenstein, 12

(Story)

Apr 11, 2019

Students provide unique opportunity to Adaptive PE Students

(Story)

Mar 29, 2019
Mar 18, 2019

Senior prepares for future

(Story)

Mar 15, 2019

Senior reflects on impressive internship with university

(Story)

Mar 06, 2019

Alexandria Ocasio-Cortez

(Story)

Mar 05, 2019
Feb 25, 2019

Mahogany L. Browne

(Story)

Feb 12, 2019

Dr. Shirley Jackson

(Story)

Dec 11, 2018

Controversial 'stand your ground' bill sparks controversy in Ohio

(Story/Media)

Nov 09, 2018

Jewish Community holds vigil

(Story/Media)

Oct 02, 2018

Player Profile: Sophie Campbell

(Story)

Sep 26, 2018

JSA club comes to life

(Story/Media)

May 21, 2018

May 2018 Columns: Contemplating summer, endorsing athletes

(Story)

May 10, 2018

Gym classes get lit

(Story/Media)

May 03, 2018
Apr 13, 2018

'My daughter Jaime was murdered'

(Story/Media)

Apr 09, 2018

Young Bin Lee, 11

(Story/Media)

Mar 30, 2018

Allison Landrum, 11

(Story/Media)

Mar 24, 2018

Reform Jews say, 'Enough'

(Story/Media)

Mar 21, 2018

Libby Van Den Brink, 11

(Story/Media)

Mar 13, 2018

L.A.S.T. lobbies Ohio legislators

(Story)

Mar 13, 2018

Students say #Enough

(Story/Media)

Mar 07, 2018

AIPAC gives students new experience

(Story/Media)

Feb 27, 2018

JV hockey skates to a finish

(Story)

Feb 26, 2018

Wrestlers place at sectionals

(Story)

Feb 23, 2018

Winter athletes advance

(Story)

Feb 22, 2018

Katie Stautberg, 12

(Story/Media)

Feb 21, 2018

Winter sports head off to competitions

(Story)

Feb 08, 2018

Which Valentine's day candy are you?

(Story)

Jan 30, 2018

Sycamore honors fall all-stars

(Story)

Jan 30, 2018

Bruno Mars sweeps competition at 2018 Grammys

(Story/Media)

Jan 25, 2018

Listen up for new releases

(Story)

Jan 11, 2018

Tackling Gender Roles with He for She

(Story)

Dec 08, 2017

Would you rather….. Exam edition

(Story)

Dec 04, 2017

Students manage with raised bar

(Story)

Nov 23, 2017
Nov 21, 2017

Boys basketball shoots high for new season

(Story)

Nov 03, 2017

Fall sports wrap up season

(Story)

Oct 23, 2017

'A challenge for you' political activism blossoms

(Story)

Oct 20, 2017

Girls water polo heads to state

(Story)

Oct 18, 2017

Things to do in Cincinnati

(Story)

Oct 04, 2017

Girls water polo drifts through season

(Story)

Sep 28, 2017

Boys JV water polo splashes into dual match

(Story)

Sep 21, 2017

Sycamore True/False

(Story)

Sep 14, 2017

Cross country runs into Mason Invitational

(Story)

Apr 26, 2017

Digging deeper into hate crimes

(Story)

Apr 19, 2017

Would you rather… Sycamore Edition

(Story)

Apr 11, 2017

How well do you know these Ohio based companies?

(Story)

Mar 13, 2017

Adaptive P.E. splashes into swimming

(Story)

Mar 07, 2017

Love changes lockers

(Story)

Feb 07, 2017
Feb 03, 2017
Dec 12, 2016

LGBTQ+ resources in the sycamore community

(Story/Media)

Nov 02, 2016
Oct 14, 2016

Shedding light on the community

(Story)