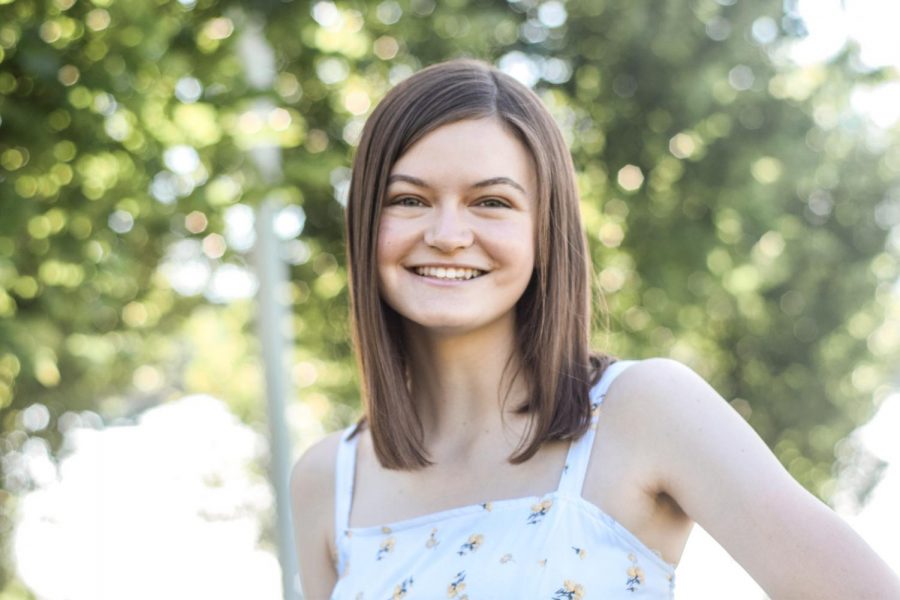 Hi! My name is Allison McElroy and I am a senior. This is my third year on the staff. I have always loved writing, so being in journalism has been one of my favorite experiences of high school! For the past two years, this program has helped me grow so much, both as a writer and as a person. I am serving as the Trends Chief this year, which means I manage all of the aspects of the Trends section of our newsmagazine, The Leaf. Since it is my second year in this role, I will also serve as a section editor mentor, which means I will help my fellow section editors whenever they have any questions. Last year, I was very grateful and proud to have one of my articles chosen for a "Best of SNO" award (you can read it
here
!) I am so excited to continue to provide amazing news coverage with our awesome staff and continue to grow as a leader and journalist during my final year in the program! 
   At school, I participate in Yoga Club. I began practicing yoga freshman year and throughout my high school career, it has been a great way to unwind and destress after a busy day at school. I am also in the OGB club, which is a club that does volunteer projects to benefit Operation Give Back. Additionally, I am in the TPA 2 class and will hopefully have the opportunity to be a student-teacher later this year in other schools in our district.
   Outside of school, one of my passions is singing in the Cincinnati Youth Choir. I have been in the choir since I was in fourth grade and it has become like a second family. Singing with my friends every Tuesday and Thursday night is always one of the best parts of my week! This year, choir is going to be mostly virtual, which is definitely not the ideal experience, but I am still excited to make the best of my last year in the organization! Singing in CYC has also given me incredible opportunities to travel to amazing places, for which I am very grateful. 
   Additionally, I love hanging out with my friends, baking, babysitting, and traveling. In the future, I hope to have a career in education, most likely as an elementary school teacher or a speech-language pathologist.
   Thanks for reading and enjoy our website! 
Allison McElroy, Trends Editor
Oct 07, 2020

TikTok remains inaccessible for deaf and hard of hearing users

(Story/Media)

May 20, 2020

COVID-19 cancelled your summer job—now what?

(Story)

Apr 25, 2020

Stella finds expression through instagram

(Story)

Apr 01, 2020

Stuck at home…far from home

(Story)

Mar 13, 2020

Behind the music: the Lynx Project's young writers

(Story)

Mar 05, 2020

Lynx Project performs Autism Advocacy concert at SHS

(Story/Media)

Feb 22, 2020

"Miss Americana": a review

(Story)

Feb 05, 2020

Remembering the nine helicopter crash victims

(Story)

Jan 28, 2020

Female directors left out of 2020 Oscar nominations

(Story)

Nov 20, 2019

Apple releases new inclusive emojis

(Story)

Nov 01, 2019

Blue candy buckets help more children enjoy Halloween

(Story)

Oct 29, 2019

Calculus students use math in real-world for tiny house

(Story/Media)

Oct 15, 2019

"Come From Away" review: kindness in the wake of 9/11

(Story)

Sep 12, 2019

Sycamore Bridges helps families in need

(Story/Media)

May 23, 2019
May 23, 2019

Must-try ice cream spots for this summer

(Story)

May 14, 2019

Adaptive PE closes out the school year

(Story)

Apr 26, 2019

Sophia Odaka, 10

(Story/Media)

Apr 25, 2019

Transition Internship Program (TIP)

(Story)

Apr 06, 2019

Sycamore graduate rocks an inclusive runway

(Story)

Mar 27, 2019

Metztle Elena, 10

(Story)

Mar 08, 2019
Feb 15, 2019

Students shave heads for awareness, hair donation

(Story)

Feb 15, 2019
Feb 06, 2019

I tried a mindfulness app for one week

(Story/Media)

Feb 01, 2019
Jan 30, 2019

Fitting relaxation into daily life

(Story)

Jan 14, 2019

Counseling center groups help students stress less

(Story)

Dec 18, 2018

Ten things to do during winter break

(Story)

Dec 07, 2018

Synnovation Lab students bake for a cause

(Story/Media)

Dec 03, 2018

What did you do over Thanksgiving break?

(Story)

Nov 26, 2018
Nov 16, 2018

Sycamore community dances for kindness

(Story)

Nov 14, 2018

Model UN starts year off right

(Story)

Oct 30, 2018

What are your Halloween opinions?

(Story)

Oct 25, 2018

Paige Ellingson, 10

(Story)

Oct 24, 2018

Baseball field gives Adaptive PE students opportunity to play

(Story)

Oct 12, 2018
Oct 08, 2018

Astronomy Club parties under stars

(Story/Media)

Oct 03, 2018

Everything you need to know about new Apple products

(Story)

Sep 27, 2018

Yoga Club helps students destress

(Story/Media)

Sep 20, 2018

Adaptive PE students prove everyone can bowl

(Story/Media)