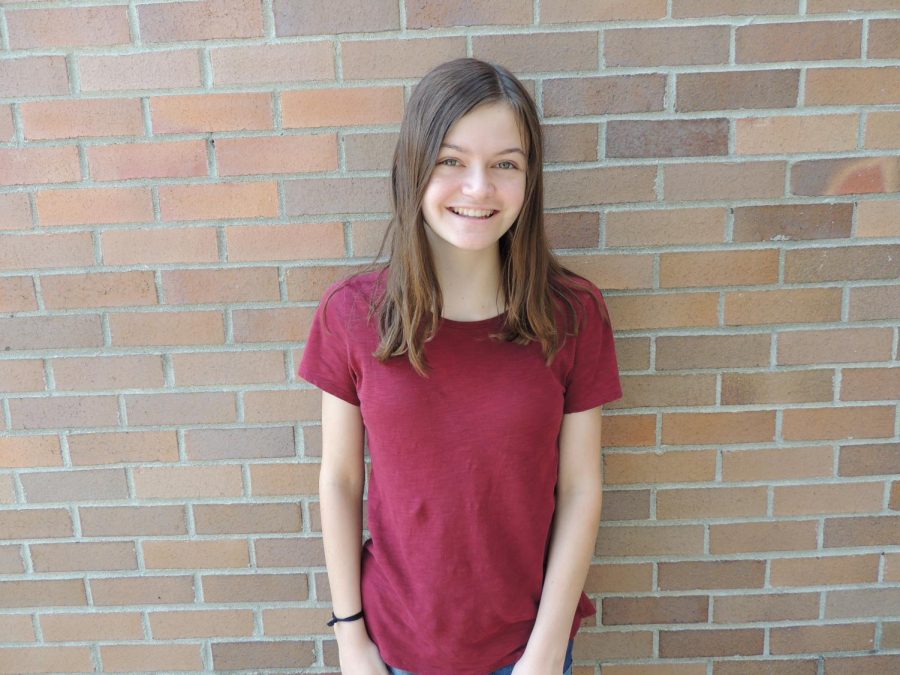 Hi! My name is Allison McElroy and I am a sophomore. This is my first year on the staff. I joined journalism because I love writing and thought this class would be a great outlet for me to do so. I hope to grow as a writer throughout the year.  I am a part of the PR team, which is a group who works to help the Leaf better target its audience. We organize and run contests and gather feedback from students.
At school, I participate in yoga club. I discovered yoga last year and it is a great way to relax after a long day! I also started working with students with special needs as a peer mentor in the Adaptive PE class this year and this brings me joy every day. I'm hoping to become involved in other clubs this year as well. 
Outside of school, one of my passions is singing in the Cincinnati Youth Choir. This year is my sixth year singing in choir. I love to sing and my choir makes me happy. Singing in CYC relieves any stress or problems I may have that day and makes me feel calm. CYC is a great community of people who come together to make beautiful music and support one another. 
Additionally, I love hanging out with my friends, baking, babysitting, and traveling.
Thanks for reading, I'm so excited to be on The Leaf staff this year!
Allison McElroy, PR Team
May 20, 2020

COVID-19 cancelled your summer job—now what?

(Story)

Apr 25, 2020

Stella finds expression through instagram

(Story)

Apr 01, 2020

Stuck at home…far from home

(Story)

Mar 13, 2020

Behind the music: the Lynx Project's young writers

(Story)

Mar 05, 2020

Lynx Project performs Autism Advocacy concert at SHS

(Story/Media)

Feb 22, 2020

"Miss Americana": a review

(Story)

Feb 05, 2020

Remembering the nine helicopter crash victims

(Story)

Jan 28, 2020

Female directors left out of 2020 Oscar nominations

(Story)

Nov 20, 2019

Apple releases new inclusive emojis

(Story)

Nov 01, 2019

Blue candy buckets help more children enjoy Halloween

(Story)

Oct 29, 2019

Calculus students use math in real-world for tiny house

(Story/Media)

Oct 15, 2019

"Come From Away" review: kindness in the wake of 9/11

(Story)

Sep 12, 2019

Sycamore Bridges helps families in need

(Story/Media)

May 23, 2019
May 23, 2019

Must-try ice cream spots for this summer

(Story)

May 14, 2019

Adaptive PE closes out the school year

(Story)

Apr 26, 2019

Sophia Odaka, 10

(Story/Media)

Apr 25, 2019

Transition Internship Program (TIP)

(Story)

Apr 06, 2019

Sycamore graduate rocks an inclusive runway

(Story)

Mar 27, 2019

Metztle Elena, 10

(Story)

Mar 08, 2019
Feb 15, 2019

Students shave heads for awareness, hair donation

(Story)

Feb 15, 2019
Feb 06, 2019

I tried a mindfulness app for one week

(Story/Media)

Feb 01, 2019
Jan 30, 2019

Fitting relaxation into daily life

(Story)

Jan 14, 2019

Counseling center groups help students stress less

(Story)

Dec 18, 2018

Ten things to do during winter break

(Story)

Dec 07, 2018

Synnovation Lab students bake for a cause

(Story/Media)

Dec 03, 2018

What did you do over Thanksgiving break?

(Story)

Nov 26, 2018
Nov 16, 2018

Sycamore community dances for kindness

(Story)

Nov 14, 2018

Model UN starts year off right

(Story)

Oct 30, 2018

What are your Halloween opinions?

(Story)

Oct 25, 2018

Paige Ellingson, 10

(Story)

Oct 24, 2018

Baseball field gives Adaptive PE students opportunity to play

(Story)

Oct 12, 2018
Oct 08, 2018

Astronomy Club parties under stars

(Story/Media)

Oct 03, 2018

Everything you need to know about new Apple products

(Story)

Sep 27, 2018

Yoga Club helps students destress

(Story/Media)

Sep 20, 2018

Adaptive PE students prove everyone can bowl

(Story/Media)