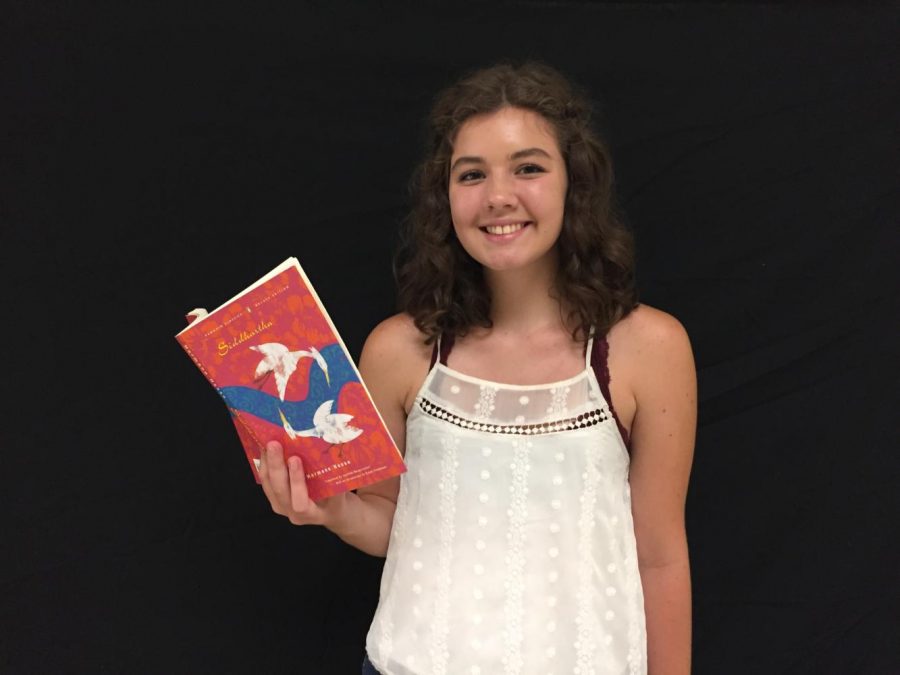 Hi,
I'm Annie Marsh! I'm a senior at SHS and I am a creative director for The Leaf. I joined the journalism team because I love to write and I love the idea of being able to broadcast my voice to the whole school. Having the means to represent my fellow students and speak out about issues has been extremely rewarding.
I am also the president of Mindfulness Group and I participate in Model UN.
I am passionate about animal rights, fashion, and creative writing, and I enjoy hiking, yoga, and going on adventures with my friends.
My favorite shows are "New Girl" and "The Office."
When I'm not enjoying free time filled with friends and shows, I am working to further my goals at school and at home.
I have learned a lot during my three years on The Leaf staff and throughout my four years in high school; building relationships with teachers and peers and broadening my view of the world have been just a couple of the rewards of being apart of The Leaf.
Also, I LOVE DOGS!!!
Anne Marsh, Creative Projects Director
May 11, 2018

Respect your Mother (Earth)

(Story/Media)

May 09, 2018

How popular are your Cincinnati opinions?

(Story)

Apr 05, 2018
Mar 17, 2018

New music, new me

(Story/Media)

Mar 13, 2018
Feb 14, 2018

The Clouds We Carry

(Story)

Feb 06, 2018

Dog flu floods Ohio

(Story/Media)

Jan 29, 2018

Seniors make splash

(Story)

Jan 23, 2018

In Memory of VINE (mockumentary)

(Story)

Jan 23, 2018

Exhibit displays victims' clothing

(Story/Media)

Jan 04, 2018
Dec 29, 2017

Merriam-Webster names 'feminism' as word of 2017

(Story)

Nov 29, 2017

How to survive winter blues

(Story)

Oct 27, 2017

Therapy animals lend helping paws

(Story)

Oct 06, 2017

Long cheers through high school

(Story)

Sep 23, 2017

Students compete in Cincinnati Zoo's art contest

(Story)

Sep 19, 2017

What should you wear to homecoming?

(Story)

Sep 15, 2017

Which Book From High School English Should You Read Again?

(Story)

May 11, 2017
Apr 28, 2017

What Dog Breed Are You?

(Story)

Apr 25, 2017

Girls try wearable makeup trends for spring

(Story/Media)

Mar 27, 2017

Spring fashion trends spring onto scene

(Story)

Mar 07, 2017

Q & A with Sherifah Shehata Aldaoushi, 12

(Story)

Feb 22, 2017

Study tips, tricks

(Story/Media)

Feb 13, 2017

Burqa ban bounces back

(Story)

Feb 02, 2017

Burqa ban sparks debate

(Story)

Feb 02, 2017
Jan 27, 2017

Women's March empowers students

(Story)

Jan 24, 2017

La La Land lassos laudation from students

(Story)

Dec 20, 2016

Fairly Odd Couples

(Story)

Dec 20, 2016

Young the Giant releases new album

(Story)

Dec 20, 2016

Young the Giant releases new album

(Story)

Dec 13, 2016

Students create memories with Memory Project

(Story)

Nov 22, 2016

Supermoon stuns students

(Story)

Nov 22, 2016

'Gilmore Girls' returns to Netflix

(Story)

Nov 14, 2016

'Haters Back Off'

(Story)

Nov 03, 2016

Japanese population decline leads to economic, cultural decline

(Story)

Nov 02, 2016

Breed ban boils over

(Story)

Nov 01, 2016

Students watch Gardening Club grow

(Story)

Sep 30, 2016

Many murdered at mall

(Story)

Sep 26, 2016

Fast fashion affects students

(Story)

Sep 12, 2016

How to make delicious, dairy-free treat

(Story)

May 09, 2016

Starbucks sued for skimping on sips

(Story)

Apr 08, 2016

Student starts Meditation Group

(Story)

Jan 27, 2016

Man's best friend reduces anxiety levels

(Story)

Dec 11, 2015

Which Hannah Montana character are you?

(Story)

Dec 11, 2015

Styrofoam-eating mealworms could reduce waste

(Story)

Nov 05, 2015

Marijuana malfunction

(Story)

Oct 30, 2015

Caught red-handed: red meat found to be cause of cancer

(Story)

Oct 28, 2015

The trouble with trick or treating: age limits established throughout the country

(Story)

Sep 09, 2015
Sep 09, 2015

A stitch in time: twentieth-century style coming to Cincinnati

(Story)