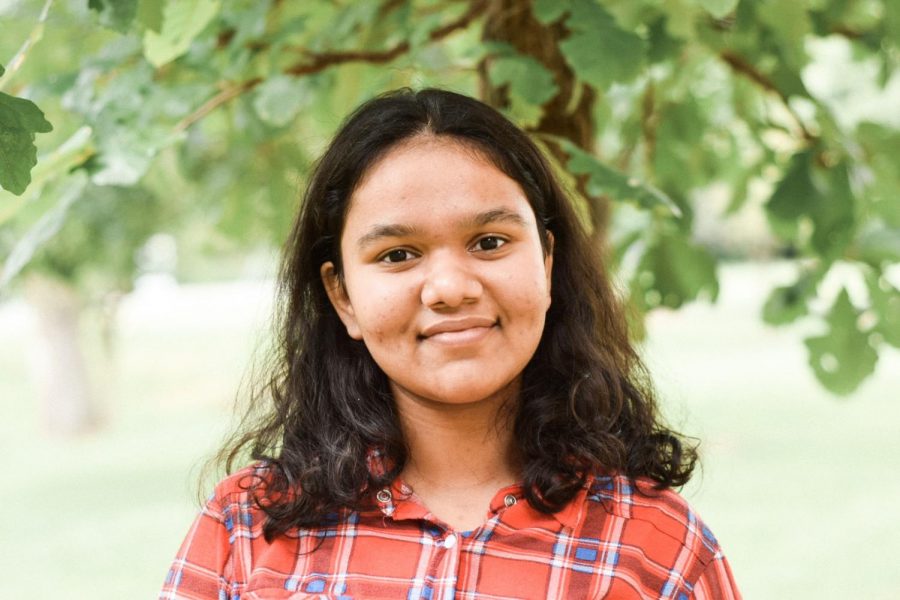 Hi! I am Bhaavya Jha, a really busy junior and this is my second year in journalism and I am super excited like literally jumping and dancing kind of excited. Why? Well, firstly, I am the broadcast editor this year, which means I will be working on podcasts and they are so much fun that I can't even describe it. Secondly, journalism has improved my communication and writing skills since the last year, so why would I not be happy to improve, right?
I don't like homework, maths, waking up late, drawing, and being bored. I do like reading, English, traveling, writing, rainy days, cozy blankets, baking, food, Korean music, K-dramas, and coffee.  Now that we're done with the basic questions, let me tell you a little about who I really am.
I am annoying, lazy, and very hard to deal with. That's what you have probably heard about me. But, I'm more than that. I am passionate about writing, enthusiastic about music, and in love with the small things in life. Most of the time, I am not a cranky person, I promise, I am a bubbly and cheerful person who absolutely adores the world. But, yes, when and if I get moody, you might want to not upset me.
I want to become a psychiatrist and help people because that is an amazing thing to do and also because it is such an intriguing subject, I love it. I am like a story you will never know the end about, but here is the essence, in my own way. Tears with a smile and love to share, I will be one you'd never forget. With untold stories and hidden truths, everyone is imperfect. Yes, as you can tell, I read and write, a lot.
Bhaavya Jha, Broadcast Editor
Sep 23, 2020

How to ace online school

(Story)

Apr 21, 2020

Staying Productive during Quarantine 

(Story/Media)

Mar 28, 2020

Getting Reliable News During A Pandemic

(Story)

Mar 09, 2020

Old memories, New music― Map of the Soul: 7

(Story)

Mar 09, 2020

Learning to love the most difficult person: yourself

(Story/Media)

Feb 06, 2020

The horror of viruses

(Story)

Jan 30, 2020

Taking care of plants in winter

(Story)

Jan 15, 2020

To Double or Not to Double

(Story)

Nov 26, 2019

Goodnight? More like good midnight

(Story)

Nov 07, 2019

SHS celebrates Diwali

(Story)

Nov 04, 2019

Should I or should I not?

(Story)

Oct 18, 2019

Hotel Del Luna brings tears and joy

(Story)

Oct 09, 2019

Will The Real Mr. Mader Please Stand Up? (Featuring Mr. Randy Lothrop)

(Story)

Sep 10, 2019

Notes on note-taking

(Story)

May 13, 2019

Rebekah Conner, 10

(Story/Media)

Apr 10, 2019

Debunking the myth between vaccines and Autism

(Story)

Apr 05, 2019

The book one shouldn't read at night

(Story)

Apr 05, 2019
Mar 12, 2019

TXT surprises audience with unique concept

(Story)

Mar 04, 2019

Dylan Connors, 10

(Story)

Feb 27, 2019

India unites in mourning, anger

(Story)

Feb 15, 2019

Welcome to the future

(Story)

Feb 06, 2019

Schooling across the globe

(Story)

Jan 18, 2019

Hea Lim Hwoang, 12

(Story)

Nov 12, 2018

Festival of lights is here

(Story/Media)

Nov 08, 2018

Brii Braziel, 9

(Story/Media)

Nov 06, 2018
Oct 30, 2018

Meghan Markle becomes expectant mother

(Story)

Oct 09, 2018
Oct 08, 2018

Do you know what is on Oct. 2?

(Story)

Sep 25, 2018

Students ace the PSAT by practicing

(Story)