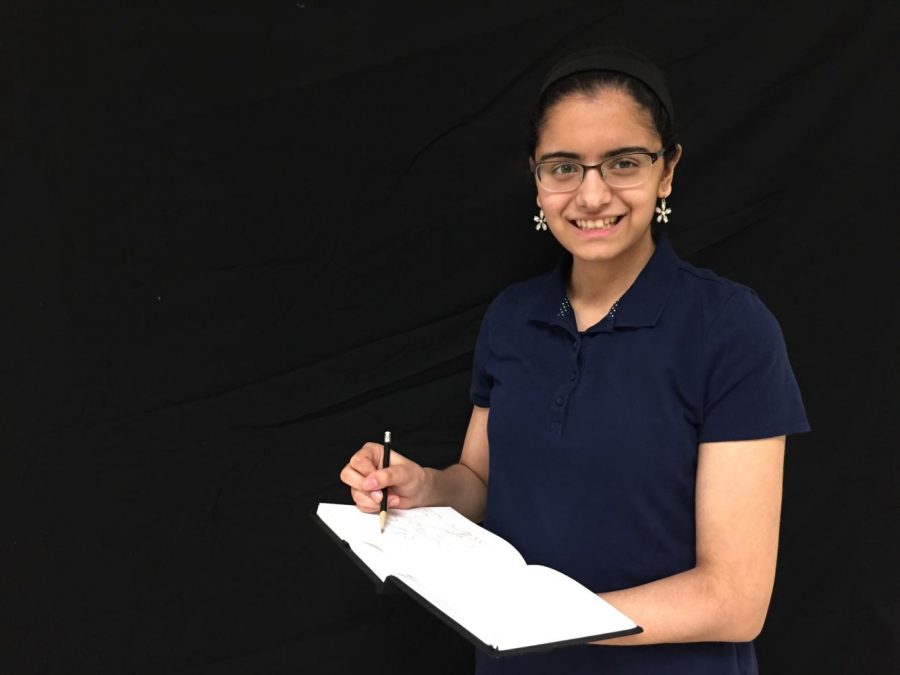 Hello! My name is Harsimran Makkad, and I am a senior at Sycamore High School. This is my fourth year in the journalism program, where I serve as Executive Web Editor-in-Chief, directing, developing, and managing the website, shsleaf.org. I believe in a hands-on approach, and my curiosity and desire to move fast often motivates me to get my hands dirty. Apart from posting articles daily, I am working to make the site more engaging to our viewers.
My exploration of various genres such as News, Feature, and Opinion has engendered a passion for social issues such as equality and women's rights. This fervor erupted into a research paper I wrote last year, which traced the fight for women's rights through the 1970s as part of the Feminist Art Movement.
Obviously, I love art of all forms: drawing, painting, sculpture, and graphic design. This is why I take pride in designing pages using software such as Adobe InDesign, Photoshop, and Illustrator. I especially enjoy formatting pieces in a web-friendly manner. My love for art also extends to the fine arts - I am currently entering my 10th year of tap dancing at the College Conservatory of Music, University of Cincinnati, where I have also furthered my vocal and acting skills.
Through my time in journalism, I have learned to appreciate, and maybe even welcome, the uncomfortable. I even enjoy taking risks and trying new things. This applies to all my classes, particularly the sciences. For the past five years, I have explored various science projects in-depth, which I presented at the school, district, and state science fairs. I have employed statistics to validate robustness of experimental data, hypothesis testing to verify soundness of results, and have used calculus, vectors, and matrices to build mathematical models.  I wish to conduct similar research in college.
My love for science extends to the medical field. Over this summer, I interned at the Cincinnati Eye Institute, where through shadowing various ophthalmologists I honed the skill of interacting with others. What was invaluable was the diversity I encountered - people of all different ages, ethnicities, and socioeconomic backgrounds. I listened to their stories and learned more about them as individuals. This experience was a self-realization: I want to make a difference in people's lives sometime in the not-so-distant future, just as these doctors did with their patients. As the poet Maya Angelou once said, "I've learned that people will forget what you said, people will forget what you did, but people will never forget how you made them feel." Thus, I hope to find a career that allows me to employ my knowledge and skills set to positively impact the world and make it a better place for all.
In addition to journalism, I take part in SHS's Book Club, Math Club, and Latin Club. I am also an active member in National Honor Society. Volunteering with younger kids comes to me naturally since every day I help my two young siblings with their school work. Furthermore, I am a leader of a team working on the development and creation of an Alumni Wall for the school.
I love to read a variety of books, whether they are novels, news articles, or 
science-related journals.  Some of my favorite books include
When Breath Becomes Air
by Paul Kalanithi,
Station Eleven
by Emily St. John Mandel, and
The Handmaid's Tale
by Margaret Atwood.
My motto is embodied by the words of Vivian Greene: "Life isn't about waiting for the storm to pass. It's about learning to dance in the rain."
Harsimran Makkad, Executive Web Editor-in-Chief
May 24, 2018

Inspiring quotes from fictional characters

(Story)

May 10, 2018

Nathalie Bonin, 11

(Story/Media)

May 07, 2018
May 07, 2018

Students display musical talents at Senior Art Show

(Story/Media)

May 04, 2018

Senior Art Show decorates lobby

(Story/Media)

May 03, 2018
May 02, 2018

Seniors pick up caps, gowns

(Story/Media)

May 01, 2018

April 2018 Columns: Remembering Columbine, paper books

(Media)

Apr 30, 2018

After Prom transforms school

(Story)

Apr 29, 2018

Aviator Chorale, Bella Voce compete at state

(Story)

Apr 29, 2018

'A Midnight in Paris'

(Story/Media)

Apr 24, 2018

Young historian advances to national competition

(Story)

Apr 19, 2018
Apr 18, 2018

Students, PTO set up After Prom decorations for weeks leading up to event

(Story)

Apr 16, 2018

Student Council, PTO prepare for Prom, After Prom

(Media)

Apr 12, 2018

Prom, After Prom tickets go on sale

(Story/Media)

Apr 12, 2018
Apr 10, 2018

Innovative students present at Buckeye Science Fair

(Media)

Apr 09, 2018

Young scientists take on competitions

(Media)

Apr 02, 2018

Melinda Looney, 12

(Story/Media)

Apr 01, 2018

Mader speaks on school safety

(Media)

Mar 31, 2018

Young mathematicians compete at state OHMIO

(Story/Media)

Mar 29, 2018

Students teeter-totter with local Argentinian children

(Story)

Mar 28, 2018

OJCL competitors bring home awards

(Story)

Mar 28, 2018

Ohio government considers action in response to gun violence

(Story)

Mar 27, 2018

Young historians honor fallen soldiers

(Story)

Mar 25, 2018

When students speak

(Story)

Mar 19, 2018

Latin scholars win numerous accolades

(Story)

Mar 16, 2018

Students call for change

(Story/Media)

Mar 14, 2018

'Enough is enough'

(Story/Media)

Mar 14, 2018

Student activists walk out for beliefs

(Story/Media)

Mar 14, 2018
Mar 13, 2018

Princess Diana of Wales

(Story)

Mar 09, 2018

February 2018 Columns: How journalists, 'Wonder' change lives

(Media)

Mar 05, 2018

Fine Arts Weekend wows community

(Story/Media)

Mar 03, 2018

Students display work in annual district art show

(Story)

Feb 26, 2018

TEAMS of young engineers achieve victory

(Story)

Feb 26, 2018

Taft ARC program opens new doors for students

(Story)

Feb 20, 2018

'More than just a drug problem'

(Story)

Feb 11, 2018

President Donald Trump's visit to Blue Ash leaves mark on area

(Story/Media)

Feb 06, 2018

Trump, Renacci navigate indefinite relationship, race

(Media)

Feb 06, 2018

SAFA Scholarship application period opens

(Story)

Feb 05, 2018

Trump speaks about tax overhaul, opioid crisis, midterm elections in meeting with local Sheffer Corp.

(Story/Media)

Feb 05, 2018

Trump speaks at Sheffer Corp.

(Story)

Feb 02, 2018

Sycamore closes schools due to president's visit

(Story)

Feb 01, 2018

Carolyn Zhang, 11

(Story/Media)

Feb 01, 2018

Bell Hooks (bell hooks)

(Story)

Jan 27, 2018

'Beyond the classroom'

(Story/Media)

Jan 25, 2018

TEAMS senior team explores Blue Ash Rec on field trip

(Story/Media)

Jan 23, 2018

Seniors share experiences, give advice to JH students, parents

(Story/Media)

Jan 19, 2018

Speaking out against sexual harassment equals catalyst for change?

(Story)

Jan 18, 2018

Preparing for adulthood

(Story)

Jan 11, 2018

Beyond numbers with #MeTooK12

(Story)

Dec 25, 2017

Poverty in India worsens

(Story)

Dec 23, 2017
Dec 07, 2017

'There is nothing either good or bad, but thinking makes it so.' -'Hamlet' by William Shakespeare

(Story/Media)

Dec 06, 2017

He For She panel empowers women, men alike

(Story)

Nov 30, 2017

National Diabetes Month raises awareness

(Story)

Nov 20, 2017

'Absolute silence leads to sadness. It is the image of death.' – Jean-Jacques Rosseau

(Story)

Nov 10, 2017

November Principal's Breakfast

(Story)

Nov 07, 2017

'Food allergies on the rise'

(Story/Media)

Oct 27, 2017

Art students write their way towards field trip

(Story/Media)

Oct 20, 2017

Just how will the end of Obamacare subsidies impact you?

(Story)

Oct 20, 2017

Students gear up for college research

(Media)

Oct 13, 2017

'Art washes away from the soul the dust of everyday life' -Pablo Picasso

(Story)

Oct 06, 2017

Long cheers through high school

(Story)

Sep 29, 2017

'I can't see it, so it must not exist, right?'

(Story)

Sep 25, 2017

Sycamore launches STEAM

(Story)

Sep 24, 2017

Aves win Homecoming game

(Story)

Sep 24, 2017

Parade showcases HOCO spirit

(Story)

Sep 17, 2017

Concern for coast mounts as two storms swirl in the Atlantic

(Story)

Sep 15, 2017

Certain Experiences Impact perspectives on future

(Story/Media)

Sep 11, 2017

Americans reflect upon 9/11

(Story)

Sep 10, 2017

'Most catastrophic storm ever seen before'

(Story)

Sep 10, 2017

Irma continues breaking records

(Story)

Sep 07, 2017

'Look deep into nature, and then you will understand everything better.' – Albert Einstein

(Story)

Aug 31, 2017

Elevator opens for first day after repairs

(Media)

Aug 28, 2017

Catastrophe strikes

(Story)

Aug 22, 2017

'Art is not what you see, but what you make others see' – Edgar Degas, French artist

(Story/Media)

Aug 18, 2017
Aug 15, 2017

Choir sings with rock band

(Story)

Aug 10, 2017

Beware of faulty eclipse-wear

(Story)

Aug 09, 2017
May 25, 2017
May 08, 2017

Sycamore students care for water sheds

(Story)

May 02, 2017
Apr 27, 2017

Artists display work, win awards

(Story)

Apr 24, 2017

'Chemistry on the brain'

(Story)

Apr 05, 2017

Check out heroin issue to raise awareness

(Media)

Apr 01, 2017

'Beh(eye)nd the scenes'

(Story/Media)

Mar 29, 2017
Mar 17, 2017

Scientists continue presentations at District Science Fair

(Story)

Mar 11, 2017

Tie-dye to die for

(Story)

Feb 27, 2017

Mathematicians participate in OCTM

(Story)

Feb 27, 2017

Check out SHS diversity for Diversity Week

(Media)

Feb 15, 2017

Natasha Trethewey

(Story)

Feb 15, 2017

Blood drive saves multiple lives with just one pint

(Story)

Feb 15, 2017

Fashion for the Cure walks down runway

(Story)

Feb 15, 2017

Baking beyond basics

(Story)

Feb 10, 2017

My Furry Valentine

(Story)

Feb 10, 2017
Feb 10, 2017

Checklist for New Adopters

(Story)

Feb 10, 2017
Feb 07, 2017
Feb 02, 2017

Early spring or six more weeks of winter?

(Story)

Jan 31, 2017

Science fair erupts with new ideas

(Story)

Jan 25, 2017

Chinese Kunqu Opera Troupe to visit

(Story)

Jan 17, 2017

Animal activists applaud

(Story)

Dec 13, 2016

Young students engage in physics

(Story)

Dec 09, 2016

OSU attack impacts beyond campus

(Story)

Dec 08, 2016

'Around the world' in 15 years

(Story)

Nov 22, 2016

Three viruses, one mosquito

(Story)

Nov 11, 2016

Marching Band gives back to community

(Story)

Nov 09, 2016

Varsity football to play against Mason

(Story)

Nov 09, 2016

Collegiate recognition for athletes

(Story)

Nov 03, 2016

'Lights, drama… zombies?'

(Story/Media)

Oct 25, 2016

Striking up the band for hunger

(Story)

Oct 22, 2016

Senior Halloween Rules

(Story)

Oct 10, 2016

Upcoming senior events

(Story/Media)

Oct 10, 2016

EpiPens cost more than just money

(Story)

Oct 07, 2016

French Club collects donations to help Haiti

(Story)

Oct 05, 2016

Mitch Radakovich receives perfect score on ACT

(Story)

Oct 03, 2016

Spirit Week begins

(Story/Media)

Sep 10, 2016

Pulitzer Prize winner plans to speak with students

(Story)

Sep 06, 2016

How to register to vote

(Story)

Aug 31, 2016

August Leafs to be distributed during ACE

(Media)

Aug 22, 2016

Hochstrasser wins national award

(Story)

Aug 18, 2016

Bridge Closure Schedule

(Media)

Aug 18, 2016

Extended ACE bell schedule

(Media)

May 26, 2016

Raising awareness about mental health

(Story/Media)

May 20, 2016
May 17, 2016

New room, new place, no sleep

(Story)

May 13, 2016

Eight seconds

(Story/Media)

May 03, 2016

Gender equality in military, combat

(Story)

Apr 29, 2016

Opinions about retiring Latin instructor

(Story/Media)

Apr 29, 2016

Q & A with Magister Torlone

(Story/Media)

Apr 28, 2016

Earth day brings hope for future

(Story)

Apr 21, 2016

Reporters receive Pulitzer Prize

(Story/Media)

Apr 18, 2016

Antibiotic threat

(Story)

Apr 06, 2016

Sophomore debates approach

(Story)

Apr 01, 2016

Blood tests may now detect concussions

(Story)

Mar 18, 2016
Mar 11, 2016

'Feet on' experience

(Story)

Mar 04, 2016
Mar 01, 2016
Feb 10, 2016

Hurts when it hits home

(Story)

Feb 01, 2016

Cruzed or Trumped?

(Story)

Jan 07, 2016

Effects of El Nino on weather

(Story)

Dec 10, 2015

El Nino's Impact on the United States

(Story)

Nov 24, 2015

Attacks serve as 'game-changer' for world

(Story)

Nov 19, 2015

Understanding El Nino

(Story)

Nov 18, 2015

Dumbo to the rescue

(Story)

Nov 18, 2015

Paris attacks strike home

(Story)

Nov 17, 2015

Teenage Fatalities in Motor Vehicle Crashes

(Story)

Nov 06, 2015

Current influenza vaccine found effective

(Story)

Oct 29, 2015

Halloween Superstitions

(Story)

Oct 27, 2015

Star Wars and moles

(Story/Media)

Oct 26, 2015

Artificial intelligence makes it mark

(Story)

Oct 21, 2015

'Diamonds are a girl's best friend'

(Story)

Oct 08, 2015

U.S. gun crime in 2015

(Story)

Oct 02, 2015
Oct 01, 2015

Sexual assaults on college campuses

(Story)

Sep 22, 2015

Mexican cucumbers sicken people across country

(Story/Media)

Sep 16, 2015

Walking to freedom

(Story)

May 28, 2015

Too hot for summer

(Story/Media)

May 21, 2015

Common core testing nationwide

(Story)

May 18, 2015

Raising awareness

(Story)

May 07, 2015

Giving congratulations to new inductees

(Story/Media)

May 06, 2015

Looking for your own Romeo or Juliet

(Story/Media)

Apr 23, 2015

'Shrek the Musical' captivates young audience

(Story/Media)

Apr 20, 2015

Just great…

(Story/Media)

Apr 14, 2015
Apr 09, 2015

Ethics vs. greater good

(Story)

Apr 08, 2015
Mar 27, 2015

'I travel the world and the seven seas'

(Story)

Mar 25, 2015

On my own, all alone

(Story)

Mar 20, 2015

Women's History Month- Ada Lovelace

(Story)

Mar 12, 2015

Powerful message released from controversial dress

(Story/Media)

Mar 12, 2015

Circuses under bar

(Story)

Mar 05, 2015

Losing time

(Story/Media)

Feb 26, 2015

Another outbreak… this time closer to home

(Story)

Feb 12, 2015

'Washington's Birthday' celebrates all presidents

(Story)

Feb 10, 2015

Juggling, singing, dancing… Oh my!

(Story)

Feb 10, 2015
Feb 05, 2015

Preparing for new school year

(Story)

Feb 03, 2015

Lost honor leads to imperialism

(Story/Media)

Jan 29, 2015

Pick and choose reasonably

(Story)

Jan 26, 2015

Finding material without getting lost

(Story)

Jan 09, 2015

'Story of my life'

(Story/Media)

Dec 04, 2014

Guest speaker talks to students about Ebola

(Story/Media)

Dec 01, 2014

Sales, sprees, there are tons of these

(Story)

Dec 01, 2014

Mock Trial releases audition information

(Story/Media)

Dec 01, 2014

'Row of lights' light up sky

(Story)

Dec 01, 2014

Classroom fun equals more work

(Story/Media)

Dec 01, 2014

'He is no lawyer who cannot take two sides'

(Story)

Dec 01, 2014

Tracing back lines

(Story)

Nov 10, 2014

Commemorating those who have served before Thanksgiving

(Story)

Oct 27, 2014

Giving cheers for Homecoming Day

(Story)

Oct 16, 2014

Class novel ends in upcoming weeks

(Story/Media)

Oct 07, 2014

French salons now in style

(Story)

Sep 19, 2014

Rules, requirements for NHS available for juniors

(Story)