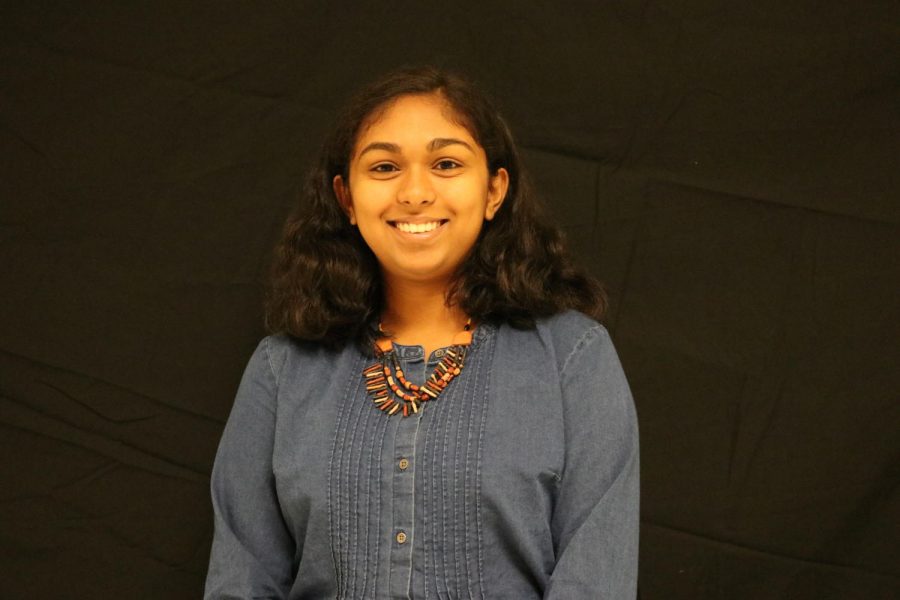 Hello!
My name is Adhiti Chundur and I am a senior at Sycamore High School. This is my fourth and final year in the journalism program, and I am returning as the Associate Editor and as a Print Editor-in-Chief, which means I work on editing and designing pages for our news magazine, The Leaf.
In my time in room 115, I have learned about my love for advocacy and the world around me. Writing stories about issues both close to home and about the world around me has allowed me to form a better perspective. Additionally, I cultivated a love of social issues, especially women's/civil rights and education. I hope to find a career that allows me to utilize my knowledge and skills to make a positive impact in the world.
In connection with my interest in advocacy, I take part in The Memory Project Club, where we create portraits of children in third world countries who have lost parents or faced abuse and neglect. We send the portraits to them, and they serve as a personal memento that shows they are valued and cared for. I feel that if I can use art to help others and make them feel valued, that is the best use of my skills and talents.
I also love art in any form: drawing, painting, and graphic design. I spend a lot of time outside of academics deepening my learning and skills by exploring new mediums and techniques. I enjoy connecting what I learn from art to other areas in my life. Exploring the intersection of different modes of thinking and creating is what I would love to carry through my life.
Additionally, journalism has expanded my boundaries in creating. In this class, I have become proficient in Adobe InDesign, Illustrator, and Photoshop, which in turn allows me to broaden my scope of mediums and art forms.
My love of art also extends to music-for the past 10 years, I have been learning classical piano at the Toedtman School of Music. My two favorite composers are Beethoven and Chopin.
I also love to read a variety of books, whether they be novels, news articles, or comedical biographies. Some of my favorite books are Cat's Cradle by Kurt Vonnegut, Jane Eyre by Charlotte Bronte, and Holy Cow by David Duchovny.
In addition to journalism, I take part in the SHS Book Club and The Memory Project Club, and I pursue art outside of school.
A quote to live by: "We learn more by looking for the answer to a question and not finding it than we do from learning the answer itself." -Alexander Lloyd, author.
Adhiti Chundur, Associate Editor
May 23, 2018

What's at the bottom of the ocean?

(Story)

May 17, 2018
May 16, 2018

100 years from now

(Story)

May 03, 2018
May 01, 2018

Senior signs say goodbye

(Story)

May 01, 2018

From flaws to flawless

(Story)

Apr 26, 2018
Apr 24, 2018

Why do we love dogs?

(Story)

Apr 12, 2018
Apr 10, 2018

Restaurant Reviews: Mazunte Taqueria, Archa 9 Thai Kitchen, Miguels Pizza

(Story)

Apr 03, 2018
Mar 30, 2018

Florence Griffith Joyner

(Story)

Mar 20, 2018

When students speak up

(Story/Media)

Mar 20, 2018

Psychology of fear

(Story)

Mar 15, 2018

Things you shouldn't do in high school

(Story)

Mar 12, 2018
Mar 09, 2018
Mar 08, 2018

'The Mona Lisa: Why do her eyes follow you?'

(Story)

Mar 08, 2018

International Women's Day

(Story)

Feb 28, 2018
Feb 26, 2018

Young Feminists celebrate International Women's Day

(Story)

Feb 13, 2018

Lavanya Konda, 12

(Story/Media)

Feb 09, 2018

Thurgood Marshall

(Story)

Feb 07, 2018

A Breakdown of the GOP Tax Plan

(Story)

Jan 21, 2018

Join Computer Science!

(Story)

Jan 18, 2018

Wave of activism lies ahead in new year

(Media)

Jan 17, 2018

What can fit in a locker?

(Story)

Nov 17, 2017

New Vincent Van Gogh biopic awes audience with gorgeous animation

(Story)

Nov 08, 2017

Controversial white nationalist speaker ignites backlash over University of Cincinnati appearance

(Story)

Nov 01, 2017

Coping with distress

(Story)

Oct 06, 2017

AP Artists explore TAFT ARC

(Story)

Oct 04, 2017

Gun violence in America

(Story)

Sep 25, 2017

High School Nation rocks SHS

(Story)

Sep 24, 2017

What Americans can learn from controversy over confederate statues, Charlottesville

(Story)

Sep 20, 2017

Local artist visits classes

(Story/Media)

Sep 13, 2017

Accomplished music student wins note-worthy award

(Story)

Aug 31, 2017

Taste of Blue Ash serves up fun

(Story)

Aug 21, 2017

Artists discover identity alongside clowns, textiles, instruments

(Story)

Aug 21, 2017
Aug 16, 2017

First day fun

(Story/Media)

Aug 11, 2017

Mixed Greens try tumbling

(Story)

May 12, 2017

Sycamore Pancake Day

(Story)

May 12, 2017

Artists prepare for SOS exhibition

(Story)

Apr 24, 2017

Cincinnati marches for science

(Story)

Apr 21, 2017

What do you know about immigration and the United States?

(Story)

Apr 06, 2017

Heroin treatments

(Story)

Apr 05, 2017

Generation of addicts emerges

(Story)

Apr 03, 2017

Cincinnati Exchange Project

(Story)

Mar 17, 2017

Causes of Climate Change

(Story)

Mar 11, 2017

Refuge for refugees

(Story)

Mar 08, 2017

International Women's Day

(Story/Media)

Mar 01, 2017

Q&A with Cincinnati Women's March Organizer Billie Mays (Part 2)

(Story/Media)

Feb 24, 2017
Feb 23, 2017
Feb 16, 2017

Q&A with Cincinnati Women's March Organizer Billie Mays (Part 1)

(Story/Media)

Feb 15, 2017

Natasha Trethewey

(Media)

Feb 10, 2017
Feb 07, 2017

Mixed Greens try bubble tea

(Story)

Feb 07, 2017

Mixed Greens Intro

(Story)

Jan 25, 2017

Signs of change

(Story/Media)

Jan 24, 2017

Women's March Cincinnati

(Story)

Jan 24, 2017

All you need is love

(Story/Media)

Jan 24, 2017

Pretty in Pink

(Story/Media)

Dec 13, 2016

Students create memories with Memory Project

(Media)

Nov 22, 2016
Nov 22, 2016
Nov 07, 2016

Year of Female Voter:

(Story)

Nov 07, 2016

Canvas of Compassion:

(Story)

Nov 04, 2016

What it means to inspire

(Story)

Nov 04, 2016

Black Lives Matter

(Story)

Nov 02, 2016
Oct 26, 2016

Gun control policies

(Story)

Oct 18, 2016

9/11 In Remembrance

(Media)

Sep 19, 2016
Sep 12, 2016

Students use summer to plan for future

(Story)

Aug 31, 2016

August 2016 Staff Editorial: Reflecting on 9/11

(Media)

May 10, 2016

'Monument'-al mayhem

(Story)

Apr 27, 2016

New money, no problems

(Story)

Apr 20, 2016

Q & A with sophomore Lavanya Konda

(Story)

Apr 11, 2016

Fundraising for education

(Story/Media)

Apr 07, 2016

Learning to learn

(Story)

Apr 06, 2016

Service learning club plans ahead

(Story/Media)

Apr 05, 2016

Benefits of being multilingual

(Story/Media)

Mar 28, 2016

Bayan Mahmoud al- Zahran

(Story/Media)

Mar 25, 2016

What the recent terror attacks mean for the world

(Story)

Mar 09, 2016
Mar 08, 2016

International Women's Day

(Story)

Mar 06, 2016

Art opportunities arise for high schoolers

(Story/Media)

Mar 04, 2016

Skating for a Cause: Cincinnati Icebreakers

(Story)

Feb 26, 2016
Feb 18, 2016
Feb 17, 2016
Feb 04, 2016
Feb 03, 2016
Feb 01, 2016

Martin Luther King Jr.

(Story)

Jan 20, 2016

An "ode" to African- American History Month

(Story)

Jan 19, 2016

'Then they came for me'

(Story/Media)

Jan 06, 2016

Climate change catastrophe

(Story/Media)

Dec 08, 2015

Media misrepresents minorities

(Story)

Nov 15, 2015

Paris reels from terror attacks

(Story)

Nov 04, 2015

What is free speech?

(Story)

Oct 28, 2015

Sleep deprivation

(Story)

Oct 27, 2015

Service learning at SHS

(Story)

Oct 10, 2015

Price gouging: pharmaceuticals take advantage of American system

(Story)

Oct 07, 2015

Hillary Clinton vs. Bernie Sanders

(Story)

Sep 30, 2015

Books promote new ideas, not conform to old ones

(Story/Media)

Sep 22, 2015

Equal pay for equal work?

(Story)

Sep 18, 2015

September Literacy Month 

(Story)

Sep 16, 2015

September Literacy Month

(Story/Media)

May 17, 2015

Breaking Gender Stereotypes

(Story)

May 11, 2015

Armenian Genocide marks 100th anniversary

(Story)

May 01, 2015

Armenian Genocide

(Story)

Apr 30, 2015

Freeman Hrabowski

(Story)

Apr 28, 2015
Apr 27, 2015
Apr 23, 2015
Apr 23, 2015

Video shows ISIS destroying ancient city

(Story)

Apr 22, 2015

Marjorie Lee Browne

(Story)

Apr 13, 2015

Hubble celebrates 25th anniversary since launch

(Story)

Apr 13, 2015

Rhetoric inspires: the power of speech

(Story)

Apr 09, 2015

Misconceptions of feminism: we can educate ourselves better

(Story)

Apr 07, 2015
Mar 27, 2015
Mar 27, 2015

Women's History Month- Dorothy Thompson

(Story)

Mar 26, 2015

Women's History Month- Lilly Ledbetter

(Story)

Mar 25, 2015

Women's History Month- Emmy Noether

(Story)

Mar 23, 2015

Women's History Month- Malala Yousafzai

(Story)

Mar 18, 2015

Women's History Month-Cecilia Payne-Gaposchkin

(Story)

Mar 13, 2015

Rape documentary stirs up controversy

(Story)

Mar 07, 2015

Is math memorization not necessary?

(Story)

Mar 05, 2015

Finding true meaning behind introversion and extroversion

(Story/Media)

Mar 05, 2015

War on vaccinations

(Story)

Feb 27, 2015

SEE1 prepares for upcoming concert

(Story)

Feb 11, 2015

Charlie Hebdo: Where do we draw the line?

(Story)

Feb 02, 2015

Art of not giving up: Learning patience and discipline takes time

(Story/Media)

Feb 01, 2015

Fighting for rights globally

(Story)

Feb 01, 2015

Art competitions in and around Cincinnati

(Story)

Jan 29, 2015

Decoding the art of handwriting

(Story/Media)

Jan 22, 2015

Sometimes surfaces still matter

(Story/Media)

Dec 17, 2014

Paint, dance, sing, act

(Story)

Dec 17, 2014

Peaceful paradise

(Story)

Dec 04, 2014

Different art mediums bring unique benefits

(Story/Media)

Dec 04, 2014

Making a splash into a new unit

(Story/Media)

Dec 03, 2014

Reading rate of teenagers drop

(Story/Media)

Dec 02, 2014

High school starts early

(Story/Media)

Oct 13, 2014

Navratri Golu comes to a close

(Story/Media)

Sep 30, 2014

Freshmen are encouraged to join Art Club

(Story/Media)

Sep 18, 2014

Time spent on a job may not be worth it

(Story)