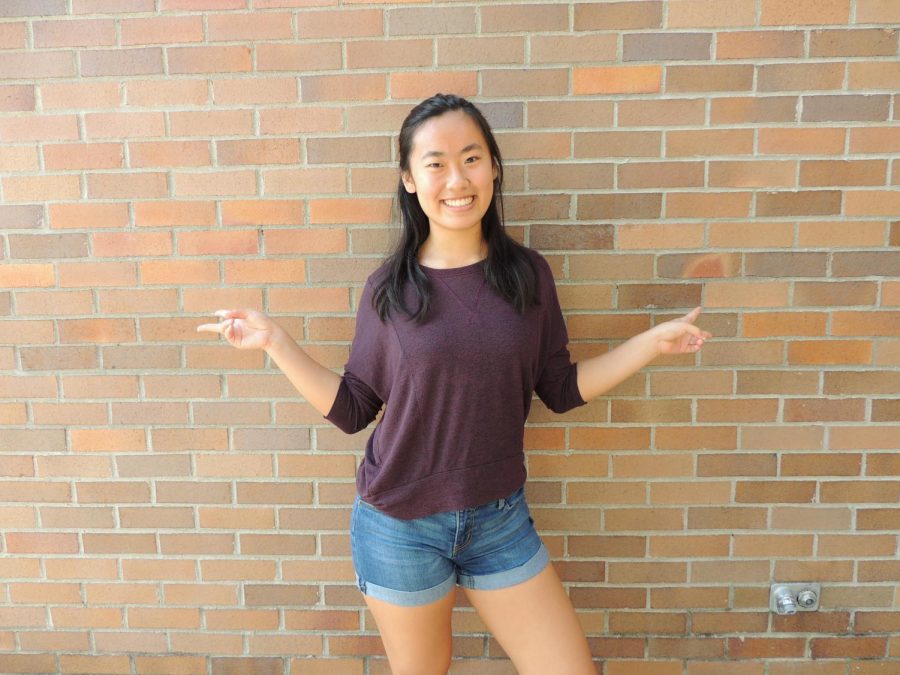 Hello friend! 
After all of the writing, editing, filming, and so on in this class, I still have yet to figure out what to say about myself. But I guess I will start with my name and grade. I cannot mess that up, right? My name is Jessica Lu, and I'm a senior at this wonderful school.
For the past two years, I have been a staff writer, and this year I am the Social Media Director. As part of my job, I run The Leaf's Twitter and Instagram. (Insert shameless plug to follow both of our accounts.) In the quick-paced and ever-changing place known as the Internet, I love capitalizing on new trends and experimenting with different approaches to bolster our online presence.
Last year, I've become fascinating with video-making. While written word offers its own unique way to tell someone's story, adding visual and audio components make a story more compelling and more real. Hopefully, you will be seeing more videos from me this year! 
Outside of journalism, I am the co-event lead of the Relay For Life in the Montgomery Area. I have been involved with Relay since I was a freshman, and it's been the most incredible experience. I hope that by getting our students and neighboring schools involved, we can raise money that can fund more research and patient-care services.
I also tutor at Operation Give Back. The kids are so sweet, and they never fail to make me laugh. Just recently, one of the fifth graders told me she would never need to learn how to do mental math because her future self was obviously rich. And I competitively swim year-round. Practice is extremely challenging (especially when you have exercise-induced-asthma), but if you join swim team, you will meet the most amazing and determined people. Swimming is always mistaken for an individual sport when the team spirit is the best out of any other sport I have played before. (Not to mention my entire swim lane has formed an asthma camaraderie.) 
And despite my teasing of my friend with vegan memes, I am the vice president of her club Colorful Eats. Colorful Eats is a vegan and allergy-friendly cooking club. While my friend likes to joke that all she eats is ice, the club has really opened my eyes to how many delicious vegan options there are that you can easily make. 
If you want to know some random facts about me: I love making people laugh. Taro bubble tea is my favorite drink. I believe memes are crucial to building friendships. I definitely think it's possible that aliens are real. I always sing in the shower. And I love trying new food.
So let me end with a part of my bio from last year: 
Are you ready to get funky? Because I am!
Jessica Lu, Social Media Director
Apr 12, 2019

Kyra Fales, 12

(Story/Media)

Mar 24, 2019

Diversity Week Day One: Religious Diversity

(Story)

Mar 13, 2019

Ellie Ekstedt, 12

(Story)

Feb 26, 2019

Samieva places first in fashion competition

(Story)

Feb 19, 2019

Closer to $20,000: Kling moves on

(Story)

Jan 29, 2019

Alejandro Bresolin, 12

(Story/Media)

Jan 28, 2019

Covington Catholic incident creates uncertainty

(Story)

Jan 21, 2019

Congressman punished for racist remarks

(Story)

Jan 11, 2019

Relay For Life approaches fast

(Story)

Dec 19, 2018

Emma Stemen, 11

(Story/Media)

Dec 15, 2018

Review: Netflix's 'Dumplin'

(Story)

Dec 06, 2018

SHS students swap gifts

(Story/Media)

Dec 03, 2018

Favorite holiday foods poll

(Story)

Nov 18, 2018

Democrats win more than just House

(Story)

Nov 14, 2018

Megan Long, 12

(Story/Media)

Nov 14, 2018

Model UN starts year off right

(Media)

Nov 09, 2018

SHS watches Pureval, Chabot race

(Story)

Nov 07, 2018

Benjamin Lu, 9

(Story/Media)

Oct 17, 2018

Annette Lee, 12

(Story/Media)

Oct 11, 2018

Homecoming spirit week poll

(Story)

Oct 06, 2018

Homecoming contest poll

(Story)

Oct 03, 2018

Cosby sentenced three to ten years

(Story)

Sep 25, 2018

The Leaf Tries: Water polo

(Story)

Sep 17, 2018

Takezo Kelly, 12

(Story/Media)

Sep 10, 2018

Cincinnati celebrates LGBT pride

(Story)

Aug 22, 2018

Journalists explore Detroit

(Story)

May 18, 2018

Seniors celebrate end of year, exploring the grad party tradition

(Story)

May 14, 2018

'This is America': The trending music video's hidden meaning

(Story)

May 02, 2018

Montgomery Area relays for life

(Story/Media)

Apr 29, 2018
Apr 25, 2018

Dr. Joseph Horrigan

(Story)

Apr 20, 2018

Shsleaf.org wins online Pacemaker award

(Story/Media)

Apr 20, 2018
Mar 28, 2018

Luis Pereda, 11

(Story/Media)

Mar 23, 2018
Mar 14, 2018
Mar 07, 2018

Spanish students learn to dance

(Story)

Mar 02, 2018

SHS swims against state

(Story)

Feb 28, 2018

'Little fish, big pond'

(Story)

Feb 26, 2018

Juniors tackle ACT

(Story/Media)

Feb 23, 2018

Annette Lee, 11

(Story/Media)

Feb 15, 2018
Feb 05, 2018

GMC Recap: Aquatic version

(Story)

Feb 02, 2018

Swimmers buy baby gifts

(Story/Media)

Jan 26, 2018

SHS sweeps competition

(Story/Media)

Jan 23, 2018

More than just a stereotype

(Story)

Jan 12, 2018

Swimmers meet 'hell week'

(Story)

Jan 01, 2018

What news does not tell you

(Story)

Dec 05, 2017
Dec 05, 2017

Tips to stay healthy this season

(Story)

Nov 15, 2017

Trump Administration decision revokes residency

(Story)

Nov 03, 2017

Swimmers dive into tryouts

(Story)

Oct 31, 2017

Students warm up to colder days

(Story/Media)

Oct 20, 2017

Name that pop song!

(Story)

Oct 13, 2017

'Racist Dove ad' taken out of context

(Story)

Oct 09, 2017

'Sisters' bond beyond court

(Story)

Oct 02, 2017

Saudi Arabia drives in new direction

(Story)

Sep 26, 2017

Enforced gender roles lead to dire consequences

(Story)

Sep 21, 2017

'Hollywood is racist'

(Story)

May 18, 2017

Bump, set, spike!

(Story)

May 17, 2017

No stain, no gain

(Story)

May 12, 2017
May 09, 2017

Apple sells less for more

(Story)

Apr 27, 2017

Restaurant review: Uncle Yip's

(Story/Media)

Apr 24, 2017

Snapchat introduces 3D filter

(Story/Media)

Apr 13, 2017

What kind of diet can you try?

(Story)

Apr 06, 2017

Court says 'no' to discrimination based on sexual orientation

(Story)

Apr 03, 2017

One trick helps with avoiding nighttime bathroom breaks

(Story)

Mar 29, 2017

Parents ditch cribs for baby boxes

(Story)

Mar 13, 2017
Mar 03, 2017
Feb 23, 2017

Q&A with Riley Shanks

(Story)

Feb 21, 2017

PewDiePie's jokes offend companies, crowds

(Story)

Feb 13, 2017

France bans unlimited soda refills

(Story)

Feb 01, 2017
Jan 27, 2017

Rallying for Relay

(Story)

Jan 20, 2017

Say (No)tella for different reasons

(Story)

Jan 20, 2017
Jan 12, 2017

National Security Council member steals words

(Story)

Jan 11, 2017

Diving into swim season

(Story)

Dec 02, 2016

Mock Trial assembles team

(Story/Media)

Nov 11, 2016

Bernie Wong returns to instruct JV team

(Story/Media)

Nov 01, 2016

Stepping Out Club steps into Halloween

(Story)

Oct 28, 2016

First-time advisor heads first-time club

(Story/Media)

Oct 27, 2016

5 Drinks to keep you warm this winter

(Story)

Oct 04, 2016

Mock trial sees new changes, new season

(Story)

Sep 29, 2016

Q and A with Stepping Out Club advisor Lindsey Collins

(Story)

Sep 22, 2016

FBLA hits off year with high hopes

(Story/Media)

Sep 16, 2016

Q and A with sophomore class sponsor Laura Newton

(Story)