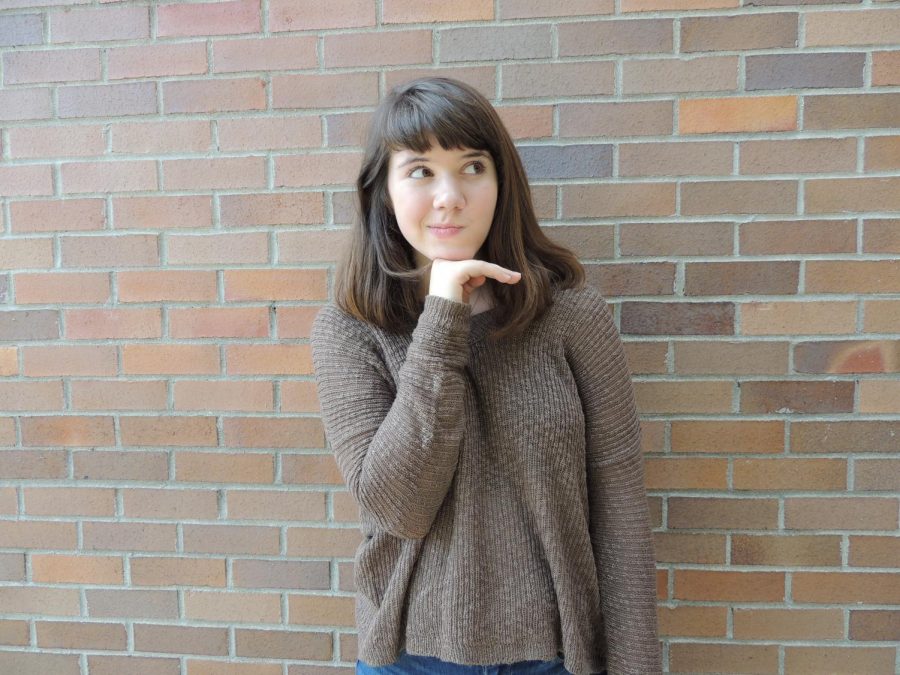 Hello! My name is Allyson (Ally) Bonhaus and this is my fourth and final year on the staff of The Leaf. This year I am the Editor in Chief, which means I oversee everything that goes on basically and gives me an excuse to learn about managing a paper and a website, drawing people to read your material, and much more. I am fueled by my desire to publish the best paper, but also by the inspiring individuals on staff who make up a better staff than I could dream up. Last year we won the National PaceMaker Prize and have been a SNO Distinguished Site for many years running. I have been taught how to be a part of a functioning team, as well as become versed in using Adobe InDesign, Photoshop, and Illustrator. My experiences as a part of this stellar staff have taught me many things about myself and the world. Before entering the hollowed door of room 115 I did not concern myself much with current events and now a day is not complete without checking the news. Through this class, I have developed my sense of the world and my passion for being an involved citizen. My convictions in politics and social issues was found and grew in room 115. These passions were further cultivated at Women Writing for a Change. This organization sparked my personal growth as a feminist and helped me grow into the adult that I am today. Graduating the Young Feminist Leadership Academy (YFLA) last year was a huge growing moment for me into my identity as a feminist and leader. Taking part in YFLA with some of my role models was a great experience on my path of intersectional feminism. Furthermore, as you may guess from the title of Women Writing for a change, my interests in writing extend past journalism. I have been pursuing creative writing since I was a child.
As for my other interests, I would be remiss without mentioning mock trial. I have been a part of the team since my freshman year, serving as both witness and attorney. At the start of this school year I competed in the Empire Mock Trial competition in Atlanta, Georgia which was an emotionally trying time but also some of the most fun I have had with my fellow mockers. Mock trial has been a third parent (or maybe fourth after journalism) helping me in public speaking and understanding complex cases and case law. 
Trying to fill the most enormous shoes, I am President of Book Club, which the last Executive Editor founded (aka the person with huge feet). Through this experience I have learned (and am learning) how to entice people to read with food. (It was also the founder of this club who taught me that Chipotle is excellent to pair with sending the paper to the publisher.) Through my high school years, this club has broadened my taste in books and my overall knowledge as we dealt with some heavy reading. I have learned, not unlike a teacher, how to prompt discussions along and stretch horizons with books out of the norm. I would include some of my favorite books but then this profile may never end. Additionally, I am a part of the Ambassadors Club (we volunteer at school events) and National Honor Society.
Finally, I have learned, as you might expect in the publishing business, that "success is not final, failure is not fatal: it is the courage to continue that counts." Winston Churchill's words ring even in room 115. Thank you and congratulations to all who reached the end of this profile.
Allyson Bonhaus, Editor in Chief
Apr 29, 2019

Anushri Menon, 12

(Story)

Apr 12, 2019

Seniors: Fill out survey for the Senior Leaf

(Story/Media)

Apr 08, 2019

John Elder Robison

(Story)

Mar 29, 2019

Trilogy opens window to Asian wealth

(Story)

Mar 28, 2019
Mar 22, 2019

Future lawyers look to appeal

(Story)

Mar 13, 2019

What do you know?

(Story/Media)

Mar 04, 2019
Feb 27, 2019

Q&A with Young Scholars

(Story)

Feb 19, 2019

Nandita Kulkarni, 12

(Story)

Feb 15, 2019
Feb 11, 2019

Relationship between news and Black History Month: the good, the bad, the ugly

(Story/Media)

Jan 17, 2019

Book club members on how to read for pleasure

(Media)

Jan 11, 2019

Swati Bhageria, 12

(Story/Media)

Dec 17, 2018

Ohio House Bill 258

(Story/Media)

Dec 03, 2018

Chess season hits timer

(Story)

Nov 27, 2018

Ginevra Pascale, 10

(Story)

Nov 19, 2018
Nov 07, 2018

Country comes to no consensus

(Story/Media)

Nov 05, 2018

Future lawyer deliberate on season start

(Story)

Oct 16, 2018

Seniors serve Blue Ash Elementary

(Story)

Oct 06, 2018

City relabels controversial holiday

(Story)

Oct 04, 2018

Senator clarifies vote after hearing stories of sexual assault

(Story)

Sep 12, 2018

Cincinnati tries to recover

(Story)

Sep 11, 2018

Miriam Chowdhury, 12

(Story/Media)

Sep 06, 2018

Emma Brown, 11

(Story/Media)

Aug 31, 2018

Nation honors John McCain

(Story)

Aug 30, 2018

Coffee fanatic drinks in city

(Story)

May 24, 2018

Girls lacrosse faces old rival

(Story)

May 23, 2018

Ohio plants idea to legalize marijuana

(Story)

May 22, 2018

Why do we go to school?

(Story)

May 18, 2018

Seniors receive recognition, scholarships

(Story)

May 16, 2018

Staff shakes up school culture

(Story/Media)

May 10, 2018

Adaptive PE takes on field day

(Story)

May 09, 2018

Future teachers adapt games for peers

(Story/Media)

May 04, 2018

Pulsera bracelets help world community

(Story)

May 01, 2018

April 2018 Columns: Remembering Columbine, paper books

(Story)

Apr 27, 2018

Set up for AfterProm lights up SHS

(Story/Media)

Apr 24, 2018
Apr 19, 2018

Volunteers serve 'InReturn'

(Story)

Apr 18, 2018

Sia Sindhwani, 9

(Story/Media)

Apr 12, 2018

Anniversary of Columbine highlights concerns about school safety

(Story/Media)

Apr 11, 2018
Apr 11, 2018

What internal temperatures are dangerous for humans?

(Story)

Apr 09, 2018

Young scientists take on competitions

(Story)

Apr 04, 2018

Scholars receive nominations

(Story)

Mar 30, 2018

Administration reflects on walkout

(Story/Media)

Mar 26, 2018

March 2018 Columns: Advocating for DACA recipients' integration, improvement of book-to-movie adaptations

(Story)

Mar 25, 2018

When students speak

(Story)

Mar 21, 2018

Grief calls for action

(Story/Media)

Mar 16, 2018

Banzhaf soars through competition

(Story/Media)

Mar 14, 2018

'Enough is enough'

(Story/Media)

Mar 13, 2018

The 'F' Word

(Story/Media)

Mar 09, 2018

Simran Bhola, 11

(Story/Media)

Mar 09, 2018

February 2018 Columns: How journalists, 'Wonder' change lives

(Story)

Mar 08, 2018

Students sign up for fairly odd dance

(Story)

Mar 05, 2018

Mr. and Mrs. Sycamore supports survivor

(Story)

Mar 02, 2018

Sabrina Pasterski

(Story)

Feb 21, 2018

Students fight to make schools safe

(Story)

Feb 15, 2018

Mallory Comerford, 11

(Story)

Feb 15, 2018
Feb 14, 2018

Students save lives

(Story)

Feb 14, 2018

The Clouds We Carry

(Story)

Feb 12, 2018
Feb 11, 2018

President Donald Trump's visit to Blue Ash leaves mark on area

(Story/Media)

Feb 09, 2018

Students take on French

(Story)

Feb 06, 2018

Students gather to share political views

(Story)

Feb 06, 2018

January 2018 Columns: Taking action to combat sexism, looking at TV locations that exist in real life

(Story)

Jan 29, 2018

Society faces feminism

(Media)

Jan 19, 2018

People demand equality

(Story/Media)

Jan 18, 2018

Preparing for adulthood

(Story)

Jan 11, 2018

Actors push for reform

(Story)

Dec 21, 2017

2017 Year In Review

(Story)

Dec 19, 2017

December 2017 Columns: Stigma around rape victims, Netflix versus Hulu

(Story)

Dec 13, 2017

Polls determine Republican majority strength

(Story)

Dec 07, 2017

Students check off this season

(Story)

Dec 05, 2017
Dec 01, 2017

November 2017 Columns: Expanding scope by accepting disabilities, recognizing other holidays

(Story)

Nov 28, 2017

Staff help students communicate

(Story)

Nov 13, 2017

Writers form community

(Story/Media)

Nov 09, 2017

October 2017 Columns: Benefits, consequences of attending board meetings, watching horror movies

(Story)

Nov 06, 2017

Women demand voices be heard

(Story)

Nov 01, 2017

Future lawyers get ready for season

(Story)

Oct 20, 2017

Students gear up for college research

(Story)

Oct 19, 2017

Student promotes healthy options

(Story)

Oct 09, 2017

September 2017 Columns: Looking at issue over Confederate statues, new movies, TV shows

(Story)

Oct 05, 2017

Soccer kicks into gear

(Story)

Sep 27, 2017

Writers chase time

(Story/Media)

Sep 21, 2017

Students revive school spirit

(Story)

Sep 17, 2017

Forests going up in flames

(Story)

Sep 15, 2017

Students translate out of class

(Story/Media)

Sep 05, 2017

August 2017 Column: Opioid epidemic rages as debates over use of Naloxone continue

(Story)

Aug 24, 2017

Golfers swing into year

(Story)

May 25, 2017

May 2017 Columns: Reflecting on necessity of passes, track season wrap-up

(Story)

May 12, 2017

Students drink up caffeine on weekends

(Story/Media)

May 12, 2017
Apr 28, 2017

April 2017 Columns: Airline overbooking, winning streak

(Story)

Apr 26, 2017

How much do I know about SHS?

(Story)

Apr 24, 2017

Latin Club represents at Ohio Junior Classical League

(Story/Media)

Apr 19, 2017

Students take stage

(Story)

Mar 13, 2017

Students sleep through mornings

(Story/Media)

Mar 10, 2017

Rita Levi-Montalcini

(Story)

Mar 09, 2017

Madeleine Albright

(Story)

Feb 27, 2017
Feb 16, 2017

Writing through class

(Story/Media)

Feb 10, 2017

Stretching through afternoons

(Story/Media)

Feb 09, 2017
Feb 06, 2017

Latin students seize their days

(Story/Media)

Feb 03, 2017
Jan 10, 2017

Both genders fighting for equality

(Story)

Dec 16, 2016

Attorneys objecting through mock trial

(Story/Media)

Dec 12, 2016

Flipping the pages

(Story)

Dec 07, 2016

Tracking the right books

(Story)

Dec 07, 2016

Testing for allergies

(Story)

Nov 22, 2016

Homecoming creates memories

(Story)

Nov 16, 2016

Busting out Caesar

(Story/Media)

Nov 11, 2016

Taking the classroom around the world

(Story/Media)

Nov 04, 2016

Jamming to music

(Story/Media)

Nov 03, 2016

Heads pounding through headaches

(Story)

Nov 01, 2016

Heading into school time

(Story/Media)

Oct 21, 2016

Busting out earbuds between bells

(Story/Media)

Oct 12, 2016

Taking technology to classrooms

(Story/Media)

Oct 04, 2016

Writing through stress

(Story/Media)

Sep 15, 2016

Calling all students for Latin Club

(Story)

May 26, 2016

Students sing the night away with Cabaret

(Story)

May 25, 2016
May 04, 2016

Favorites for reading about past

(Story)

Apr 25, 2016

Thou villainous malmsey-nosed minnow

(Story)

Apr 20, 2016

Here come the new freshman

(Story/Media)

Apr 13, 2016

Why ban 'Hunger Games?'

(Story)

Apr 08, 2016

April brings rain, rhymes

(Story/Media)

Mar 30, 2016
Mar 30, 2016
Mar 07, 2016

Margaret Hamilton

(Story)

Mar 03, 2016

Honoring the famous author

(Story)

Feb 15, 2016

Executing prison policies

(Story)

Feb 10, 2016

Where can I find the beasts?

(Story)

Feb 02, 2016

Why should you travel?

(Story/Media)

Feb 02, 2016

W.E.B. Du Bois

(Story/Media)

Jan 27, 2016

"Facilis descensus Averno"

(Story)

Jan 13, 2016

Freshman explore their history

(Story)

Dec 11, 2015

What does Latin Club do?

(Story)

Dec 10, 2015

Students share opinions on ACE Bell

(Story/Media)

Dec 09, 2015

Is the "Lord of the Flies" still the Lord?

(Story)

Dec 01, 2015

Looking ahead at new books

(Story/Media)

Nov 30, 2015

Flying over break

(Story)

Nov 10, 2015

Q & A with freshmen Dylan Whittemore

(Story/Media)

Oct 30, 2015

Author continues to write in debut series

(Story/Media)

Oct 26, 2015

David Arnold speaks out to readers

(Story)

Oct 21, 2015

Older books coming out with new covers

(Story)

Oct 21, 2015

How Learning Communities will shape the future of SHS

(Story/Media)

Oct 01, 2015

Walking to End Alzheimer's at Sawyer Point

(Story)

Sep 23, 2015

Is the ACE Bell really working for students and teachers?

(Story)