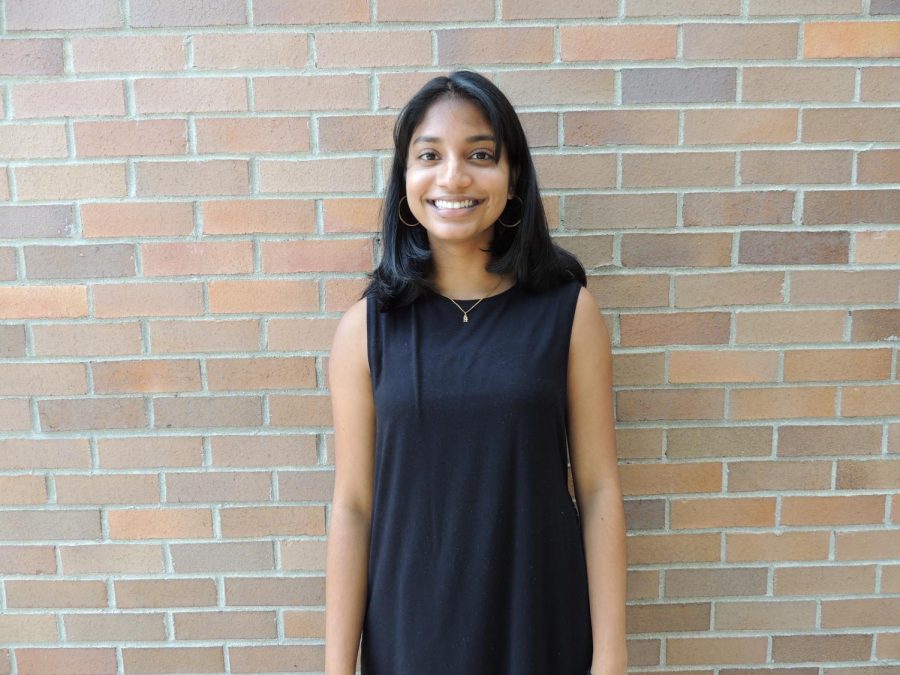 Hi there! 
My name is Harsitha Kalaiarasan and this fall marks my second year on staff. Out of curiosity, I decided to gloss over my profile from last year and took a few moments to marvel at how inaccurately my words would describe me in the present. This reflection greatly comforts me, as I have come to know how effective a teacher change proves to be. I hope this year, along with myself, our award-winning publication continues to evolve and prosper.
I truly rediscovered my love for writing as a first-year staffer. I loved the excitement and intensity of deadline week, and on bad days, how to rationalize my stress. There was- and still is- an enthusiasm within me for reporting the unheard and unnoticed. But I also take pleasure in the writing of less weighty things that characterize my community. Through hurricanes, shootings, politics, pep rallies, dances, football games, the significance of awareness emerged clear to me. Therein lies the importance of journalism: getting the facts out to the people, so they can be well informed global citizens with developed opinions (and hopefully empathy as well).
Last year I entered as a staff writer. This year I am the feature chief, and in charge of determining the articles that will appear in my section, as well as the designing and formatting of said page in The Leaf. I also am an art/photo editor, available to aid in developing the package in anyway I can.
Outside writing, I am a passionate tennis player, a yellow belt in Taekwondo, a (newly) avid reader, and a lover of the Spanish language. Tennis has been the biggest influence throughout my life, and has extensively molded my personality. One of my idols is Serena Williams, a strong competitor who has inspired me since childhood. As for reading, my taste lies mostly in classics; I am plowing through Jane Eyre as of the now and have Sherlock Holmes in sight for my next read. I love learning Spanish. Speaking the language has furthered my goals of studying abroad in a Spanish speaking country in hopes of becoming a fluent speaker.
Thank you for stopping by to learn a little more about me, I am beyond excited to embark on the journey that is sure to be this year with all my fellow staffers.
Harsitha Kalaiarasan, Feature Chief
Apr 08, 2020

What quarantine has taught me about setting boundaries

(Story/Media)

Mar 12, 2020

Fashion for the Cure

(Story)

Feb 27, 2020

Netflix Sequel Lacks Luster

(Story/Media)

Feb 12, 2020

Concert season peeks around the corner

(Story)

Jan 28, 2020
Oct 30, 2019

Athlete reflects on season 

(Story)

Oct 15, 2019

Injury shapes state-bound athlete

(Story)

Sep 17, 2019

Sustainability veers off course

(Story/Media)

Sep 05, 2019

Harte stays true to self

(Story)

May 24, 2019

Romanian project promotes global connection

(Story)

May 17, 2019

Max Bath, 9

(Story/Media)

May 06, 2019

Conservation reaches SHS

(Story/Media)

Apr 16, 2019

Anupama Narayana, 11

(Story/Media)

Apr 05, 2019

Netflix originals aim to please

(Story/Media)

Mar 12, 2019

Melville's epic adventure entices readers

(Story/Media)

Mar 08, 2019

Reagan Becker, 10

(Story)

Feb 11, 2019
Jan 28, 2019
Jan 15, 2019

Simple, at home vegan mug cake

(Story)

Dec 18, 2018

Helen Sotropa,12

(Story/Media)

Nov 20, 2018

French Club encourages conversation

(Story)

Nov 19, 2018

Athletes sign for future

(Story)

Nov 15, 2018

Catherine Hanisch, 11

(Story/Media)

Oct 11, 2018

Grace Berlier, 11

(Story/Media)

Oct 02, 2018

Grace Mirande, 11

(Story/Media)

Sep 28, 2018

The duty to understand both sides of the Native American story

(Story)

Aug 22, 2018

Girls Varsity Gold Tennis Team aces competition

(Story)

May 24, 2018

Tennis individuals head into state

(Story)

May 23, 2018

What's at the bottom of the ocean?

(Story)

May 14, 2018

Sophomores challenge themselves through debates

(Story)

May 14, 2018

Fighting smart phone addiction

(Story)

May 03, 2018

Mayu Fukuda, 10

(Story/Media)

Apr 20, 2018

Shsleaf.org wins online Pacemaker award

(Story)

Apr 11, 2018

Rural Puerto Ricans face ongoing effects of hurricane

(Story/Media)

Apr 10, 2018

Innovative students present at Buckeye Science Fair

(Story)

Mar 20, 2018
Mar 14, 2018
Mar 07, 2018

Brinkman shines on stage

(Story)

Feb 23, 2018

Varsity Girls Basketball: Looking back on season

(Story)

Feb 14, 2018

Gretchen Stommel, 10

(Story)

Feb 05, 2018
Feb 03, 2018

Q&A: Bao writes her way to recognition

(Story)

Jan 22, 2018

Young experimenters dabble in real world science

(Story)

Jan 18, 2018

Wave of activism lies ahead in new year

(Story)

Jan 15, 2018

Homeless Care Club vs. Period Stigma

(Story)

Dec 22, 2017

Teens traverse globe

(Story)

Dec 08, 2017

Puerto Rico fights uphill battle

(Story)

Dec 01, 2017

Black Friday heads in new direction

(Story)

Nov 14, 2017

Lady Ave swimmers plunge into new season

(Story/Media)

Oct 20, 2017

Team atmosphere replaces solitude in individual sports

(Story/Media)

Oct 19, 2017

Puerto Rico cries for help

(Story)

Oct 16, 2017

New skincare replenishes teens

(Story)

Oct 11, 2017

Aves tennis builds one program

(Story)

Sep 26, 2017

One student embodies versatility

(Story)

Sep 20, 2017

SHS says 'hola' to culture

(Story/Media)