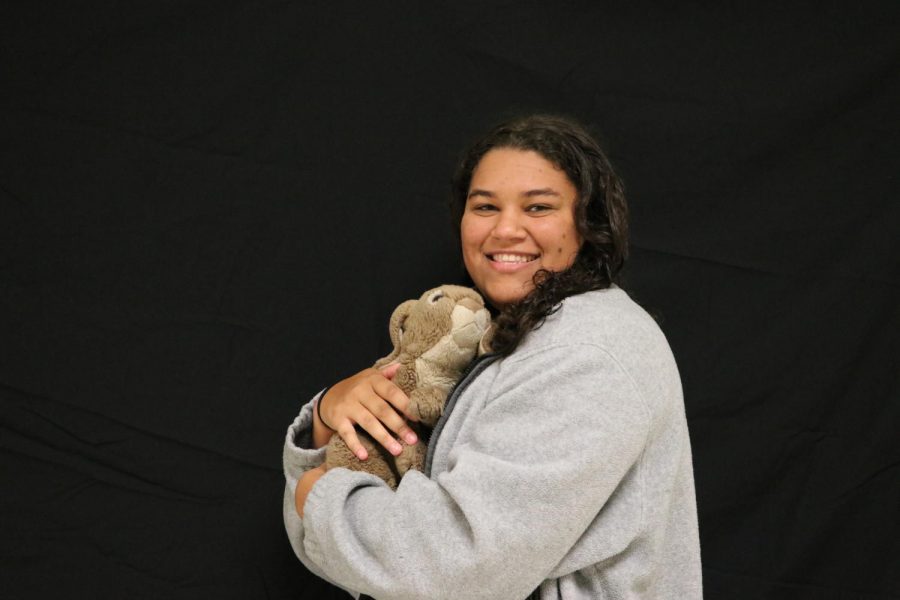 Hello!
My name is Sydney Evans, and I am a fourth-year member of SHS's journalism program. I was originally introduced to this class by my sister and after my freshman year, I fell in love.
Since my freshman year, I have been a leader in the class, taking on the role as an editor my sophomore year. I have been an editor for the website, The Leaf, and finally The Leaflet. I absolutely love to design and create cool, new infographics and learn new techniques on the Adobe programs.
I am also a Varsity water polo player and have been for the past two years, which is coincidentally also the same amount of time I have been playing the sport.
In my free time, I love to draw and have even been able to incorporate this passion into my journalism career as the staff cartoonist.
I also love working with my older sister, Taylor, to make drawings of characters and scenes from her novel to help promote her work and inspire others to be creative.
I hope to have a career in astrophysics after graduating college and I look forward to my senior year and everything I will get to experience afterward!
Sydney Evans, Leaflet Editor-in-Chief
May 21, 2018
May 15, 2018
May 09, 2018
May 04, 2018

Shruti Mishra, 12

(Story/Media)

Apr 27, 2018
Apr 06, 2018

Upcoming senior dates

(Story)

Apr 05, 2018

What 2000's T.V. show describes your life?

(Story)

Apr 04, 2018
Apr 02, 2018

Animals and Plants

(Story)

Mar 30, 2018

When I was young I wanted to be a…

(Story)

Mar 29, 2018

How can YOU help make the world a greener place?

(Story)

Mar 27, 2018
Mar 26, 2018

Are you smarter than a 4th grader?

(Story)

Mar 23, 2018

March 2018 Staff Editorial: Making your voice heard

(Media)

Mar 21, 2018

Why does orange juice taste awful after brushing one's teeth?

(Story)

Mar 19, 2018

Alex Kross, 10

(Story/Media)

Mar 15, 2018

Cincinnati teams play in March Madness

(Media)

Mar 15, 2018

March Madness begins

(Story)

Mar 04, 2018

February 2018 Staff Editorial: Feminism is more than just a word

(Media)

Feb 23, 2018

Black History Month assembly overview

(Story)

Feb 16, 2018

Michael Xiang, 12

(Story/Media)

Feb 06, 2018
Feb 05, 2018

Trump speaks about tax overhaul, opioid crisis, midterm elections in meeting with local Sheffer Corp.

(Story)

Feb 05, 2018

Trump speaks at Sheffer Corp.

(Story/Media)

Feb 01, 2018

Controversial racial issue persists in Mason

(Story)

Feb 01, 2018

January 2018 Staff Editorial: Mental health is important to discuss

(Media)

Jan 30, 2018

'Once in a super blue blood moon'

(Story)

Jan 26, 2018

Preparations for Black History Month celebration come underway

(Story/Media)

Jan 17, 2018

What can fit in a locker?

(Story)

Jan 02, 2018

Seniors hope for change in Aviator Bell

(Story)

Dec 26, 2017

Where did collaboration Wednesdays go?

(Story)

Dec 18, 2017

December 2017 Staff Editorial: Evaluating 365 unique experiences

(Media)

Nov 30, 2017

November 2017 Staff Editorial: Giving thanks to SHS's hidden heroes

(Media)

Nov 27, 2017

Robotics Club enjoys 're-engineered' classroom

(Story/Media)

Nov 24, 2017

Should you join the SHS Robotics Club?

(Story)

Nov 07, 2017

October 2017 Staff Editorial: Taking action in wake of tragedies

(Media)

Oct 30, 2017

Your vote counts: Learn who you can elect for your school board

(Story/Media)

Oct 17, 2017

Together we are strong

(Story)

Oct 05, 2017

Senior Athlete Profiles: Boys Water Polo

(Story)

Oct 04, 2017

September 2017 Staff Editorial: Giving aid to those in need

(Media)

Oct 04, 2017

Senior Athlete Profiles: Girls Golf

(Story)

Sep 20, 2017

High School Nation comes to SHS

(Story/Media)

Sep 13, 2017

Senior Athlete Profiles: Water Polo

(Story)

Sep 01, 2017

August 2017 Staff Editorial: Welcome back to a new school year!

(Media)

Aug 16, 2017

Author Visit: Taylor Evans

(Media)

Aug 11, 2017

Mixed Greens try tumbling

(Story)

May 25, 2017

May 2017 Staff Editorial: Saying goodbye and looking forward to new changes next year

(Media)

May 19, 2017

Physics students have electrifying final day of class

(Story)

May 12, 2017

Arrive Alive demonstration

(Story/Media)

May 08, 2017

Contemporary novel fosters new academic involvement

(Story)

May 03, 2017

Playing through pain

(Story)

Apr 28, 2017

April 2017 Staff Editorial: Immigration is about people

(Media)

Apr 13, 2017

How much do you know about the impact of heroin on Ohio?

(Story)

Apr 10, 2017

Physics projects launch to success

(Story/Media)

Apr 07, 2017

AP Art History offers unique, exciting curriculum

(Story/Media)

Apr 03, 2017

Heroin death in Ohio counties from 2010 to 2015

(Story)

Mar 29, 2017

March 2017 Staff Editorial: Taking action to combat climate change

(Media)

Mar 16, 2017
Mar 14, 2017
Mar 06, 2017
Mar 04, 2017

Listening, learning

(Story)

Mar 01, 2017

Q&A with Cincinnati Women's March Organizer Billie Mays (Part 2)

(Story)

Feb 22, 2017

Katherine Johnson

(Story)

Feb 20, 2017

February 2017 Staff Editorial: Overcoming technology addiction by increasing human interaction

(Media)

Feb 16, 2017

Q&A with Cincinnati Women's March Organizer Billie Mays (Part 1)

(Story)

Feb 10, 2017

Becoming an Evans

(Story/Media)

Feb 07, 2017

Mixed Greens try bubble tea

(Story)

Feb 07, 2017

Mixed Greens Intro

(Story)

Jan 25, 2017

Signs of change

(Story/Media)

Jan 25, 2017

January 2017 Staff Editorial: The importance of being truthful in media

(Media)

Jan 24, 2017

Women's March Cincinnati

(Story)

Jan 24, 2017

All you need is love

(Story/Media)

Jan 24, 2017
Jan 10, 2017

Spreading love: students promote positivity

(Story/Media)

Dec 09, 2016

December 2016 Staff Editorial: Reflecting on the past year, looking on to the next

(Media)

Nov 28, 2016

November 2016 Staff Editorial: Everyone has a story

(Media)

Nov 02, 2016
Oct 31, 2016

October 2016 Staff Editorial: Voicing opinions in election

(Media)

Oct 29, 2016

Q&A with Officer Paul Payne

(Story)

Sep 30, 2016

September 2016 Staff Editorial: Combating heroin

(Media)

Sep 14, 2016

French society debates burkinis

(Story)

May 23, 2016

Controversy over Trump's actions spreads

(Story)

May 05, 2016

Oshkosh flying top summer vacation

(Story)

Apr 28, 2016

AP Euro final creeping up

(Story/Media)

Apr 21, 2016

Q&A with Anita Pan about Relay For Life

(Story)

Apr 19, 2016

How much technology is too much technology?

(Story)

Apr 05, 2016

Q&A with Jaslyn Davis-Johnson

(Story)

Mar 17, 2016

Pi proves math can be fun

(Story/Media)

Mar 14, 2016
Mar 03, 2016

Upcoming movies of 2016

(Story)

Feb 29, 2016

52 countries in SHS

(Story)

Feb 26, 2016
Feb 08, 2016
Feb 02, 2016

ACE bell changing in response to student unrest

(Story/Media)

Jan 22, 2016

Winter temperatures rolling in

(Story)

Jan 14, 2016

Q&A with Sarita Evans

(Story)

Jan 12, 2016

Civil War: New villains arise in Marvel Universe

(Story/Media)

Dec 07, 2015

Bowling on and off the lanes

(Story/Media)

Nov 23, 2015

Rolling into a new season

(Story/Media)

Nov 11, 2015

Earlier exams: hurtful or helpful for students

(Story/Media)

Oct 30, 2015

Bomb Threats In Ohio

(Story)

Oct 30, 2015

Sycamore by the Numbers

(Story)

Oct 12, 2015

How to write an essay

(Story)

Oct 12, 2015

What's up with the Leaf?

(Story)

Oct 02, 2015

Running through summer, ready to race

(Story)

Jun 03, 2015

Cats of Denfur 18

(Story)

May 13, 2015

Cats of Denfur 17

(Story)

Apr 28, 2015

Photo of the Day- April 28, 2015

(Story)

Apr 16, 2015

Cats of Denfur 16

(Story)

Mar 27, 2015

Cats of Denfur 15

(Story)

Mar 26, 2015

Cats of Denfur 14

(Story)

Mar 25, 2015

The Cats of Denfur 10

(Story)

Mar 25, 2015

The Cats of Denfur 13

(Story)

Mar 25, 2015

The Cats of Denfur 11

(Story)

Mar 25, 2015

The Cats of Denfur 12

(Story)

Dec 10, 2014

The Cats of Denfur 9

(Story)

Dec 10, 2014

The Cats of Denfur 8

(Story)

Dec 10, 2014

The Cats of Denfur 7

(Story)

Nov 25, 2014

The Cats of Denfur 6

(Story)

Nov 25, 2014

The Cats of Denfur 5

(Story)

Nov 06, 2014

The Cats of Denfur 4

(Story)

Nov 06, 2014

The Cats of Denfur 3

(Story)

Nov 05, 2014

The Cats of Denfur 2

(Story)

Oct 14, 2014

Spirit marches on

(Story)

Oct 09, 2014

The Cats of Denfur 1

(Story)

Oct 07, 2014

The Adventure of Sir Nacho and Mr. Cheeseles: Based on a True Story

(Story)

Sep 26, 2014

New club offers opportunities for future engineers

(Story)