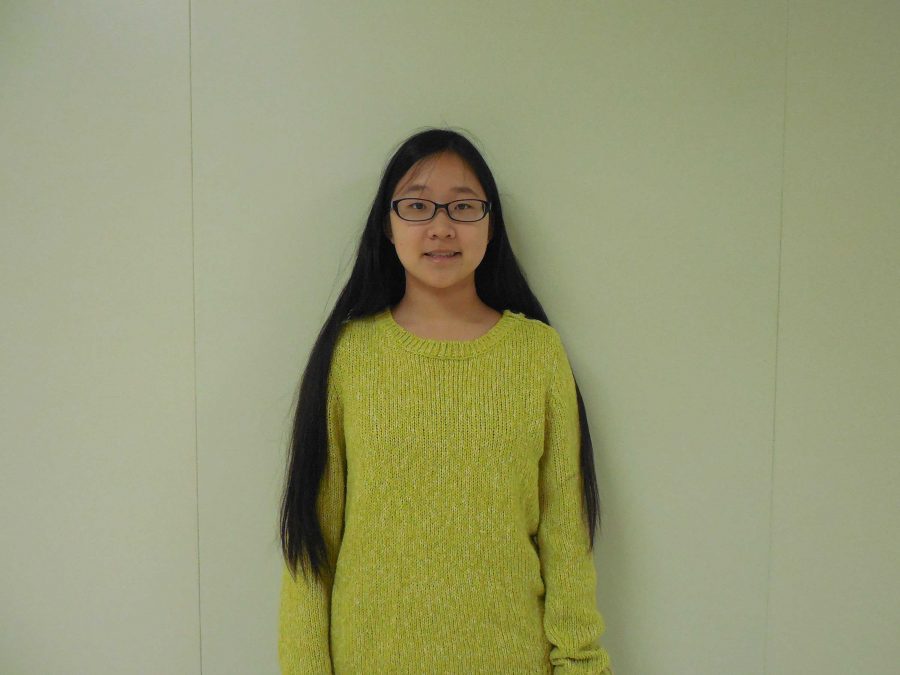 If I could meet up with any historical figure, I would get Japanese food with Stalin, Jesus, or Siddharta Gautama (Buddha), preferably all three together (and before you jump to conclusions, I am Chinese, not Japanese). Now that I have your attention: my name is Jenna Bao (as you can see above). I'm a sophomore and this is my second year on staff, my first acting as an associate editor of the Leaf. I love writing of all kinds, from essays to journalistic writing to my favorite of all, creative writing (short stories; I somehow managed to lose the ability to write long in seventh grade). I also play the violin and participate in mock trial (because I can't really do sports, and I get to use my premature birth as an excuse for my pitiable cardiovascular fitness and lack of balance).
  Other unnecessary but fascinating (I hope) facts about me include: I enjoy Korean dramas (even though I don't know Korean) and Asian pop culture in general, have terrifyingly eclectic taste in music (my favorite songs include "How to Save a Life," "Haru Haru," a Korean song, and symphonies from the Classical period). Finally, if I were made principal for a day (disregarding the fact that a day wouldn't be nearly enough to actually achieve anything), I would establish a spy system- not unlike that of the Qin Dynasty.
  If you have actually read this entire profile, I commend and thank you.
Jenna Bao , Associate Editor
May 22, 2018

Food forges friendship

(Story)

May 10, 2018

Government Action

(Story)

Apr 27, 2018

Pep rally celebrates winter/spring sports

(Story)

Apr 26, 2018
Apr 17, 2018

Kevin Mercurio, 10

(Story)

Apr 17, 2018

Can TV characters afford their houses?

(Story)

Apr 16, 2018

Student Council, PTO prepare for Prom, After Prom

(Story)

Apr 10, 2018

Popular Childhood Books

(Story)

Apr 03, 2018

Bhageria receives national service recognition

(Story)

Mar 22, 2018

Prom fair shows off style

(Story)

Mar 21, 2018

Dr. Virginia Apgar

(Story)

Mar 19, 2018

U4U delivers Diversity Week

(Story)

Mar 07, 2018

Winter track crosses finish line

(Story)

Mar 02, 2018

Winter track takes off to state titles

(Story)

Feb 23, 2018

Fashion for the Cure cuts hair for awareness

(Story)

Feb 14, 2018

SEE1 rocks concert

(Story)

Feb 09, 2018

Athletes sign on Feb. 9

(Story)

Feb 07, 2018

First lady visits Children's, update on Hamilton County heroin

(Story)

Feb 05, 2018

Samantha Fernandez, 11

(Story)

Feb 02, 2018

President Donald Trump to visit Blue Ash

(Story)

Feb 02, 2018
Jan 27, 2018

Mock trial rests case at districts

(Story)

Jan 09, 2018

Mock trial (U)sees results

(Story)

Dec 05, 2017
Dec 05, 2017

'Justice League' delivers mediocre story, super entertainment

(Story)

Nov 30, 2017

Student Council cancels winter dance

(Story)

Nov 08, 2017

Athletes sign on futures

(Story)

Nov 08, 2017

'Polling' our weight

(Story)

Oct 31, 2017

Which public Ohio college is best for you?

(Story)

Oct 17, 2017

'Give back to the community that supported us'

(Story)

Oct 12, 2017

October Principal's Breakfast

(Story)

Oct 09, 2017

'Mosquitoland' author discusses book, writing

(Story)

Oct 05, 2017

Las Vegas shooting prompts inaction

(Story)

Sep 23, 2017

Pep rally pumps up HOCO spirit

(Story)

Sep 19, 2017

National Merit Semifinalists 2017

(Story)

Sep 13, 2017

Senior 'calls' for old phones in zoo challenge

(Story)

Sep 11, 2017
Sep 08, 2017

PTO provides senior treat

(Story)

Sep 01, 2017

SHS supports seniors with cookout

(Story)

Aug 31, 2017

Taste of Blue Ash serves up fun

(Story)

Aug 23, 2017

August update from Principal Doug Mader

(Story)

Aug 11, 2017

Mixed Greens try tumbling

(Story)

May 25, 2017
May 12, 2017

Troubles melt away at Scrumbles Cafe

(Story)

May 08, 2017

Sycamore Justice League overcomes 'super' challenges

(Story)

May 03, 2017
Apr 24, 2017

Cincinnati marches for science

(Story)

Apr 24, 2017

Cincinnati marches for science

(Story)

Apr 21, 2017

March for Science promotes policy, research

(Story)

Apr 12, 2017
Apr 10, 2017

What's the best book you've read at SHS?

(Story)

Mar 17, 2017

Historically good time

(Story)

Mar 06, 2017
Mar 01, 2017

Engineering TEAMS achieve victory

(Story)

Feb 21, 2017

Unity in Diversity: Language

(Story)

Feb 14, 2017

Mock trial rocks regionals

(Story)

Feb 09, 2017

Chinese school 'sings' in new year

(Story)

Feb 07, 2017

Mixed Greens Intro

(Story)

Feb 07, 2017

Mixed Greens try bubble tea

(Story)

Feb 06, 2017
Feb 02, 2017

AQT buzzes with success

(Story)

Jan 20, 2017
Jan 19, 2017

Learning more about the R-word

(Story)

Jan 12, 2017

U 'see' progress for mock trial

(Story)

Dec 15, 2016

Miami Mockhawk tournament sparks season

(Story)

Dec 13, 2016
Dec 08, 2016

Fun, feasting with French Club

(Story)

Dec 07, 2016
Dec 06, 2016

French succeeds supporting Haiti

(Story)

Dec 05, 2016

Starting from scratch

(Story)

Nov 18, 2016

Cincinnati 'Tensing' after mistrial

(Story)

Nov 11, 2016

Book Club comes to 'Cat's Cradle' conclusion

(Story)

Nov 04, 2016

Our Voices, Their Visions

(Story)

Nov 03, 2016

Exploration excites Camp Enterprise

(Story)

Oct 12, 2016

Protect people, not pride: Anthem protest spreads to high schools

(Story)

Oct 04, 2016

Debate drives direct discord

(Story)

Sep 15, 2016

Ba-'guette' to French Club for picnic

(Story)

Sep 09, 2016

New year starts first chapter

(Story)

Sep 02, 2016

Making music magic

(Story)

May 06, 2016

Orchestra arrives at finale

(Story)

Apr 21, 2016

April brings fresh AIR

(Story)

Apr 14, 2016

Book club turning new page

(Story)

Apr 11, 2016

Panama papers punish powerful

(Story)

Mar 18, 2016

English 10 classes fly through 'The Kite Runner'

(Story)

Mar 10, 2016
Mar 04, 2016

Safety shot into perspective

(Story)

Mar 04, 2016

Diversity and Chinese Education

(Story)

Mar 04, 2016
Feb 25, 2016

Orchestra anticipates state competition

(Story/Media)

Feb 18, 2016

SEE1 great rock show

(Story)

Feb 12, 2016

Frederick Douglass

(Story)

Feb 05, 2016
Feb 02, 2016

Oscars so white, also not the point

(Story)

Jan 19, 2016

Orchestra shines in senior spotlight

(Story)

Jan 14, 2016

Mock trial 'appeals': UC competition, second chance

(Story)

Dec 11, 2015

Mock try-als out competition

(Story)

Nov 18, 2015

Orchestra memorizes Christmas rock

(Story)

Nov 14, 2015

Orchestra winter concert approaching

(Story)

Nov 04, 2015

A few good sophomores

(Story)

Oct 29, 2015
Oct 27, 2015

Russia, US, avoiding each other in Syria skies

(Story)

Oct 16, 2015

Speaking mind, not speaking wise

(Story)

Oct 14, 2015

Orchestra picnics at park

(Story)

Oct 10, 2015

Orchestra meets new members

(Story)

Oct 08, 2015

Senior Spotlight Concert

(Story)

Sep 21, 2015

Religion vs. rights: Kentucky clerk refuses gay marriage licences

(Story)

Jun 01, 2015

Classical meets rock

(Story)

May 29, 2015

Expert advice for exam excellence

(Story)

May 19, 2015

Comparing Nepal earthquakes

(Story)

May 01, 2015

Arms drawn at Mohammed drawing contest

(Story)

May 01, 2015

Measuring marriage equality

(Story)

Apr 29, 2015
Apr 21, 2015
Apr 13, 2015
Apr 10, 2015
Mar 27, 2015

Moot Court not moot point

(Story)

Mar 19, 2015

Le concours national: French classes compete

(Story)

Mar 14, 2015

Terror organizations unite: Nigerian terrorist group joins ISIS

(Story)

Mar 07, 2015

Supreme Court accepts gay marriage case

(Story)

Mar 05, 2015

Preparing to play at Pancake Day

(Story)

Mar 05, 2015

Burning excitement for class read

(Story)

Feb 27, 2015

Sycamore rocks out to SEE1

(Story)

Feb 03, 2015

Anime draws in American crowds

(Story)

Nov 25, 2014

US extends Chinese student and tourist visas

(Story)

Nov 10, 2014

Creative writing club pens NaNoWriMo novels

(Story)

Nov 03, 2014

Malala wins Nobel Prize

(Story)

Oct 15, 2014

Seniors shine in orchestra concert

(Story)

Oct 14, 2014

German alcoholics 'Pick Up' trash for beer

(Story)

Oct 07, 2014

Self-made internet tycoon currently richest man in China

(Story)