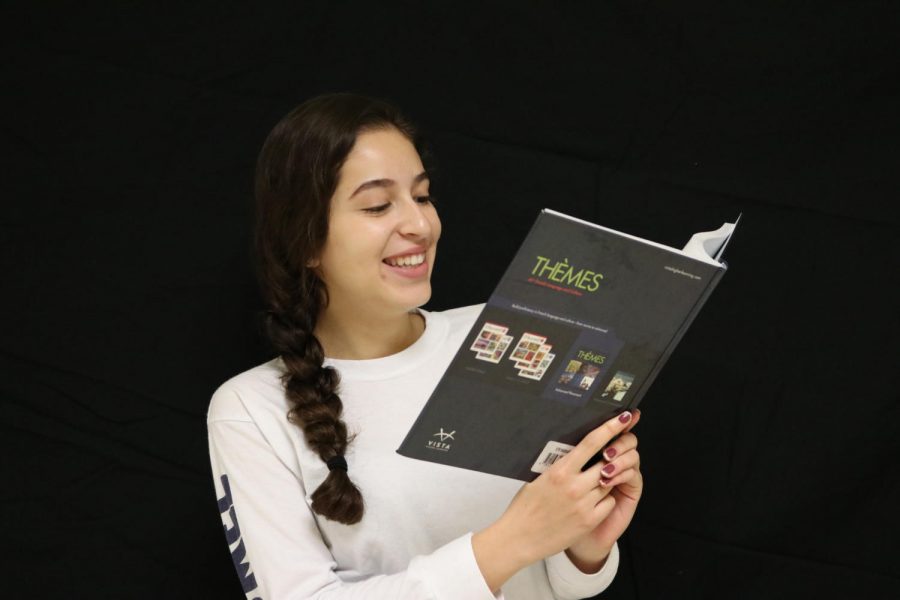 Hello!
My name is Yasmine Guedira and I have been serving as the News Editor of our news magazine. I love having a first hand view of all the events at Sycamore. From the corners of the music department to the accomplishments of the athletics I love finding these stories and showcasing the accomplishments of all our students.
We start off with blank pages and after a bright idea and some illustrations we have compiled an issue full of inspiring ideas.
Outside of journalism I am involved in other activities in the community. After winning the sophomore debate tournament my team decided to start up the debate team at Sycamore! We will be representing Sycamore for the first time in the Ohio Speech and Debate Association.
Also, I am a student representative for Sycamore Advisory Commission which is an organization comprised of the school board, the PTO, and community members that helps to communicate the goals of the district.
I have been involved in the French Club for all four years of high school and I will be helping out in French classes with the Alliance Francaise.
I am looking forward to one more year of fun and excitement with my class.
Go Aves!
Yasmine Guedira, News Chief
Jan 21, 2018

Join Computer Science!

(Story)

Jan 16, 2018

Snow day opinions

(Story)

Dec 21, 2017

2017 Year In Review

(Story)

Dec 11, 2017

Coders explore AP assignments

(Story/Media)

Dec 05, 2017
Oct 21, 2017

Leaders behind curtains

(Story/Media)

Oct 17, 2017

Sounding it out

(Story/Media)

Oct 05, 2017

Senior Athlete Profiles: Boys Water Polo

(Story)

Oct 04, 2017

Senior Athlete Profiles: Girls Golf

(Story)

Sep 12, 2017

French Club kicks off new year

(Story)

Sep 12, 2017

Freshman's guide to homecoming

(Story)

May 23, 2017

Underclassmen win awards

(Story)

May 19, 2017
May 11, 2017

Fun Locations Around Cincinnati

(Story)

Apr 18, 2017

Celebrate Earth Day!

(Story)

Mar 15, 2017
Mar 11, 2017

Refuge for refugees

(Story)

Mar 01, 2017

Finding new world

(Story)

Feb 27, 2017
Dec 08, 2016
Nov 07, 2016

Stephanie swims to victory

(Story)

Nov 07, 2016

Q and A: Matthew McMurry Assistant Professor of Psychology, Miami University

(Story)

Nov 07, 2016

DECA prepares for competition

(Story)

Oct 26, 2016

Petanque fun for French Club

(Story)

Oct 01, 2016

Homecoming festivities await

(Story)

May 17, 2016

Singing loud, celebrating proud

(Story)

May 10, 2016

Anticipation rises for sophomore debates

(Story)

Apr 29, 2016

Choirs walk on to state

(Story)

Apr 22, 2016

Hamilton turns tide

(Story)

Apr 11, 2016

Q&A with Stephanie Hong

(Story)

Apr 07, 2016

Students 'Bring It On!'

(Story/Media)

Mar 18, 2016

Choirs celebrate success

(Story)

Mar 03, 2016

Choir sings in fine arts concert

(Story)

Mar 02, 2016

Academic Quiz Team

(Story)

Feb 25, 2016
Feb 18, 2016

Cultural appropriation or appreciation?

(Story)

Feb 03, 2016

Come SEE1 great concert

(Story)

Feb 01, 2016
Jan 15, 2016

Where does ISIS get its money?

(Story)

Jan 12, 2016

Silencing voice of ISIS journalist

(Story)

Dec 18, 2015

Winter Safety Tips

(Story)

Dec 08, 2015

How to survive exam week

(Story)

Nov 24, 2015

Black Friday overshadows Thanksgiving

(Story)

Nov 15, 2015

Global citizens unite

(Story)

Nov 04, 2015

No accommodations for disabled man

(Story)

Oct 28, 2015
Oct 27, 2015
Oct 12, 2015

Current SAT vs. Redesigned SAT

(Story)

Oct 09, 2015

Terrific Theatre Travels: New York and DC

(Story)

Oct 07, 2015

A Day in the Life of a SHS Student

(Story)

Oct 02, 2015

Increasing pressure for theatre freshmen

(Story/Media)

Oct 01, 2015