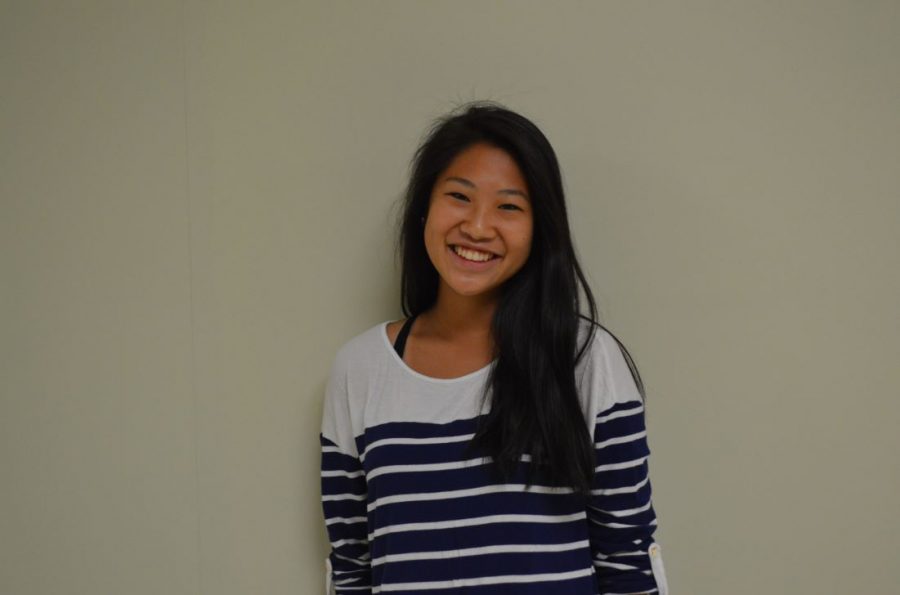 Hi! My name is Caroline Gao and I'm a senior here at Sycamore High School. This is my fourth year on staff. As a part of The Leaf, our national award-winning, student-run publication, I hold the position of Executive Editor-in-Chief. My duties include overseeing the production of all four of our platforms: print newsmagazine, online magazine, website, and broadcast department. I enjoy exploring multiple genres and thus have written a multitude of articles including feature, opinion, news, and sports.
I also take great pride in designing pages [Adobe InDesign, Photoshop, Illustrator] and editing/shooting videos [Windows Movie Maker and Adobe Premiere]. I can't wait for another amazing year with my fellow journalists!
More about myself:
I find volunteering to be extremely rewarding: I play piano as a volunteer musical therapist at Bethesda North Hospital and am the Treasurer for Sycamore's National Honor Society, the largest organization at the high school. I am also a mentor for my school's Fast Track tutoring program!
In addition to volunteering, I also captain Sycamore's Varsity A tennis team, and in the offseason, play at a local club and in USTA tournaments. This past season, our team placed as State Runners-up in the OHSAA State Team Tournament! I also really enjoy music- especially the piano.
Quote to live by: "No one ever achieved greatness by playing it safe" - Harry Gray.
Caroline Gao , Executive Editor-in-Chief
May 04, 2016

To vote or not to vote

(Story)

Mar 14, 2016

Varsity tennis cheers teammates

(Story)

Mar 03, 2016

Community colleges reduce costs

(Story)

Feb 25, 2016

The Green Initiative

(Story)

Feb 24, 2016
Feb 04, 2016

Discouraging diagnoses

(Story)

Feb 04, 2016

Attention spans shorten significantly

(Story)

Jan 21, 2016

Chinese New Year sparks excitement

(Story)

Jan 19, 2016

Healthy lunches mean healthy students

(Story)

Dec 17, 2015

Millennials make changes

(Story)

Dec 11, 2015

Climate change changes perspectives

(Story)

Nov 24, 2015

National Honor Society promotes recognition

(Story)

Nov 11, 2015

Technology comes with consequences

(Story)

Nov 01, 2015

Varsity tennis continues conditioning

(Story)

Oct 21, 2015

Varsity Gold Tennis secures state runners-up

(Story)

Oct 07, 2015

Quality sleep impacts performance

(Story)

Oct 05, 2015

Varsity tennis sustains success

(Story)

Sep 30, 2015

Fighting flight or fight responses

(Story)

May 13, 2015

Students seek online advantages

(Story)

May 06, 2015

Students seek extracurricular activities

(Story)

Apr 29, 2015

Vegetarian numbers rapidly rising

(Story)

Apr 22, 2015

Music makes mood changes

(Story)

Jan 09, 2015

Varsity Green Girls tennis team finishes season with success

(Story)

Oct 16, 2014

Girls Varsity Gold Tennis serves up success

(Story)

Oct 15, 2014

Sleepy teens tire out minds

(Story)

Sep 26, 2014

Love locks Cincinnati locals together

(Story)

Jun 03, 2014

Careful students stopping injuries

(Story)

May 15, 2014

Students struggle with end of school

(Story)

May 02, 2014

Extracurricular activities bring opportunities

(Story)

May 01, 2014

Procrastination proves as negative

(Story)

Apr 25, 2014

Springing into cheerful spring

(Story)

Apr 17, 2014

Cramming for tests proves unhelpful

(Story)

Apr 10, 2014

Memory loss affects abilities

(Story)

Mar 03, 2014

Heavy backpacks break backs

(Story)

Feb 27, 2014

Snoring causes more than scares

(Story)

Feb 16, 2014

Students seek social media for news reports

(Story)

Feb 14, 2014

Overture Awards bring opportunities

(Story)

Feb 14, 2014

Beauty-sleep proves useful

(Story)

Feb 13, 2014

Extracurricular activities bring opportunities

(Story)

Jan 16, 2014

Netflix doubles new content

(Story)

Dec 05, 2013

Varsity Gold tennis prepares with mile

(Story)

Nov 11, 2013

Varsity Gold Tennis aces to train

(Story)

Oct 30, 2013

Superstorm Sandy residents recover

(Story)

Oct 16, 2013

Varsity Gold tennis serves up success

(Story)