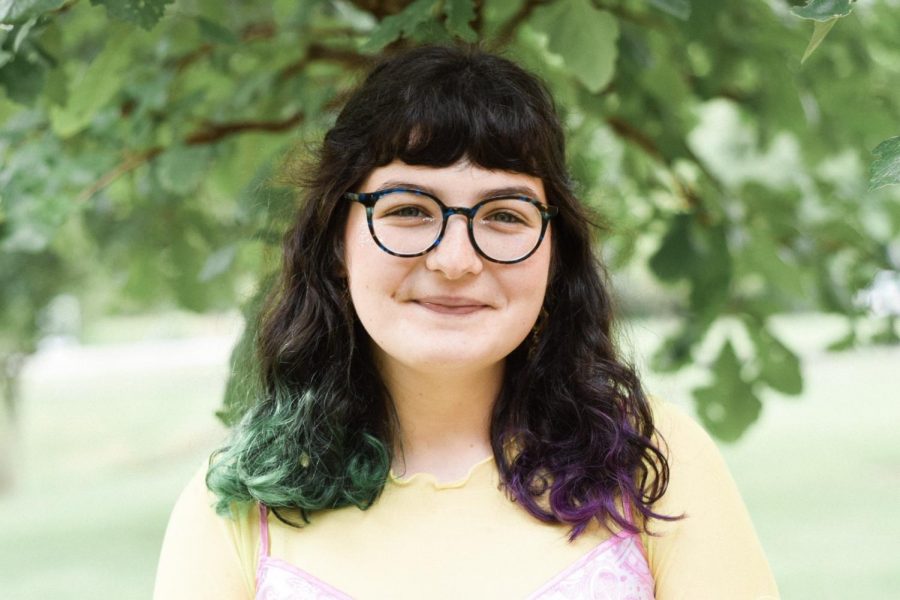 Hello online reader! My name is Lindsey Brinkman and I am a senior, thus making this my fourth and final year on the Leaf staff. 
I currently hold the position of one of the two Managing Editors and I am also the Package Chief, which basically means I help design, edit, and fix pages for our news magazine. Over the course of my time in the journalism program, I have learned to use Adobe InDesign, Illustrator, and Photoshop, but I have found every day I learn something new!
Even though I have spent most of my high school life doing something involved with journalism, I have made sure to get involved with other activities too. Currently, I am apart of the color guard, winter guard, and the fencing club. As well as those few commitments, I have played the cello for eight years now, and I am a part of the school Symphonic Orchestra. In orchestra, I hold the position as Vice President! This is my first year in this position, and I have enjoyed every aspect of it so far. As well as holding a position with the Orchestra Council, I am also part of the marching band Leadership Team.
 All in all, thank you for stopping by and supporting The Leaf! I hope you can find something that sparks your interest! And, I hope you have a happy and positive day!
Lindsey Brinkman, Managing Editor
Apr 13, 2020

Connected in quarantine

(Story)

Nov 20, 2019

Band brings ends and beginnings

(Story)

Nov 06, 2019

Menstrual products make way for movement

(Story)

Oct 07, 2019

Taking on the impossible burger

(Story)

Sep 09, 2019

Sustaining your personal slant

(Story)

May 15, 2019

Katherine Shi, 11

(Story)

Apr 29, 2019

Marching band makes magic

(Story)

Apr 15, 2019

Patrick Ma, 10

(Story/Media)

Mar 29, 2019

'Five Feet Apart' hits theaters

(Story)

Mar 27, 2019
Mar 11, 2019

Shruthi Chidambaram, 11

(Story)

Mar 05, 2019

Student finds foreign object in food

(Story/Media)

Feb 26, 2019
Jan 25, 2019

Sophia Taylor, 11

(Story/Media)

Jan 14, 2019

Students start to prepare for solo, ensemble

(Story)

Dec 14, 2018

Erin McDonough, 11

(Story/Media)

Nov 13, 2018

Emil Barr, 11

(Story/Media)

Nov 08, 2018

Band, orchestra play music with magic

(Story/Media)

Oct 29, 2018

Marching Band pushes through windy weather

(Story/Media)

Oct 16, 2018

Matthew Silverstein, 9

(Story/Media)

Sep 21, 2018

Support the marching band

(Story)

May 22, 2018

What your favorite color says about you

(Story)

May 21, 2018

Theo Eborall, 10

(Story/Media)

May 09, 2018

SHS orchestra concert

(Story)

Apr 25, 2018

Color Guard clinics captivate new members

(Story)

Apr 23, 2018

Alice Lundgren, 10

(Story/Media)

Apr 09, 2018

Marching Band marches into season

(Story)

Mar 23, 2018

Winter guard, winter drumline holds community performance

(Story)

Mar 06, 2018
Mar 05, 2018

How much do you know about SHS fencing?

(Story)

Feb 23, 2018
Feb 16, 2018

Which movies do you plan on seeing?

(Story)

Jan 29, 2018

To AP or not to AP

(Story/Media)

Jan 21, 2018

Emphasizing self-expression

(Story)

Jan 19, 2018

Practice makes perfect

(Story/Media)

Jan 12, 2018

Winter guard works together

(Story/Media)

Dec 08, 2017

All play for annual concert

(Story/Media)

Dec 06, 2017

Students figure out fencing

(Story/Media)

Nov 06, 2017

Band helps with hunger

(Story)

Oct 27, 2017

Band crescendos into end of season

(Story)

Oct 05, 2017

Soccer spirit supports multiple sclerosis

(Story)

Oct 04, 2017

Band has break from making music

(Story)

Sep 08, 2017

Band balances out

(Story)

May 25, 2017
May 12, 2017
Jan 27, 2017

Club spinning into season

(Story)

Jan 13, 2017

Preparing for performance

(Story)

Dec 20, 2016

Teamwork makes dream work

(Story)

Dec 14, 2016

Mastering memorization

(Story)

Nov 22, 2016

Color Guard competes collectively

(Story)

Nov 21, 2016

Bringing music across country

(Story)

Nov 07, 2016

Color guard adds volume to Vortex

(Story)

Nov 03, 2016

Show spirals to a stop

(Story)

Nov 03, 2016

Group works to finish, not diminish

(Story)

Nov 03, 2016

Concert uncovers senior competence

(Story)

Sep 22, 2016

Color guard displays delightful visuals

(Story)

Sep 19, 2016

Rain forces first competition indoors

(Story)

Sep 09, 2016

Marching Band competes for first time this year

(Story)