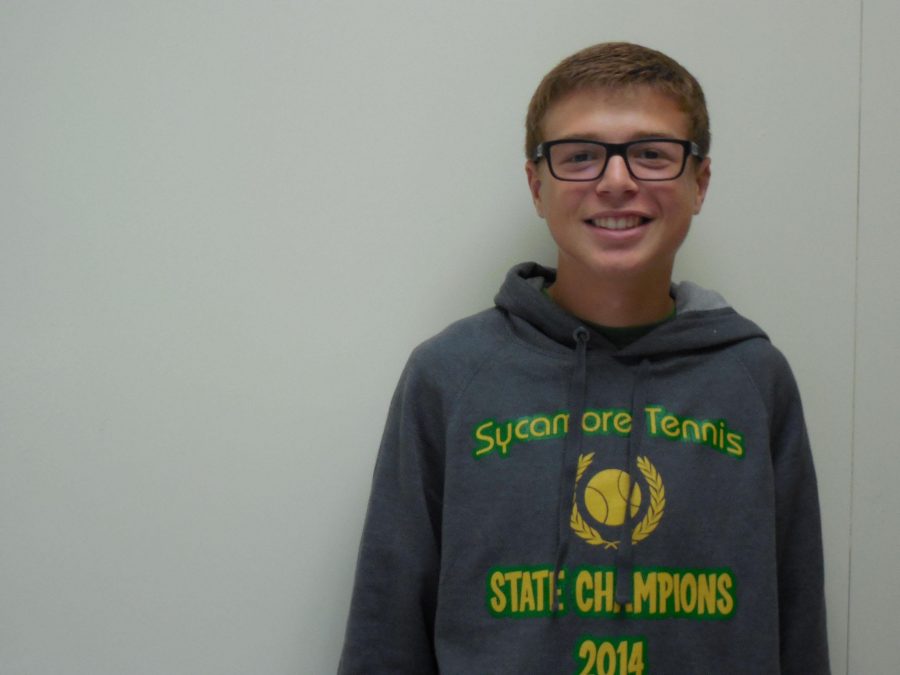 I am a senior on
the Leaf
Staff and I hold the title of sports chief. I manage the Sports Center section on shsleaf.org and help design and write for the number one high school newspaper in Ohio,
The Leaf.
I am an avid sports fan. I love following and watching my favorite teams play, such as the Indiana Pacers, the Cincinnati Reds and the Bengals, and the New York Yankees. My idol is
Derek Jeter
. I strive to be like him and model my life as he lives his. I also love to play tennis. I was a part of the 2014 State Championship tennis team. It is my biggest accomplishment in sports so far, and I recently signed to play college tennis at Marian University in Indianapolis.
Alex Wittenbaum, Sports Chief
May 27, 2015

Tennis looks repeat at State tournament

(Story)

May 06, 2015

Varsity Gold Boys Tennis

(Story)

Apr 23, 2015

Tennis set to compete at Coaches Classic

(Story)

Apr 16, 2015

Hill leaves lasting legacy

(Story)

Apr 09, 2015

Tennis opens season with five wins

(Story)

Mar 26, 2015

Hill appears on "The View"

(Story)

Mar 19, 2015

Hill keeps fighting

(Story)

Mar 15, 2015

Tennis ranks first in preseason polls

(Story)

Mar 10, 2015

Basketball blocked by Moeller in playoffs

(Story/Media)

Feb 26, 2015

Tennis season set to begin

(Story)

Feb 12, 2015

Hill presented with honorary doctorate; continues to battle cancer

(Story)

Feb 05, 2015

Athletes sign to continue careers

(Story/Media)

Feb 05, 2015

Stepp, Cobbs sign with collegiate football teams

(Story)

Jan 29, 2015

Basketball shoots to end season on high note

(Story)

Jan 22, 2015

Students reflect on Buckeye's big win

(Story)

Jan 09, 2015

Tennis team hopes to repeat

(Story)

Dec 12, 2014

Leaf launches sports Twitter page

(Story/Media)

Dec 04, 2014

Seniors kick for Nasty Boys

(Story)

Nov 30, 2014

Norris signs with Ohio State

(Story)

Nov 30, 2014

Bonner nominated for 'Player of Year'

(Story)

Nov 30, 2014

Hockey releases 'Hype' video

(Story/Media)

Nov 24, 2014

Lay-ups for Lauren comes to SHS

(Story/Media)

Nov 20, 2014

Basketball set to tip off season

(Story)

Nov 14, 2014

Tennis teams active in offseason

(Story/Media)

Nov 06, 2014

Ioas scores first team All State

(Story)

Oct 30, 2014

Aves set to 'battle for skies'

(Story)

Oct 24, 2014

Boys tennis conditioning swings into session

(Story)

Oct 21, 2014

Jeter 'did it his way'

(Story)

Oct 16, 2014

Narendran to become Blue Jay

(Story)

Oct 09, 2014

Indrakanti commits to Williams

(Story)

Sep 25, 2014

Football looks to recover from fumble against Oak Hills

(Story)

Sep 15, 2014

Football team fumbles at Trotwood

(Story)

May 15, 2014

Gold tennis aces Greater Miami Conference Title

(Story)

May 09, 2014

Varsity Gold tennis continues strong season

(Story)

May 02, 2014

Gold team ties for first at Coaches Classic

(Story)

Apr 25, 2014

Gold Tennis ranked first in State

(Story)

Apr 17, 2014

Gold tennis off to a fast start

(Story)

Apr 09, 2014

Tennis team ready for competition to begin

(Story)

Apr 06, 2014

Varsity Tennis aces Cleveland

(Story)

Mar 18, 2014

With March comes madness

(Story)

Mar 17, 2014

11th graders delve into 'The Great Gatsby'

(Story)

Mar 06, 2014

Tennis tryouts to be held at Lindner Family Tennis Center

(Story)

Mar 03, 2014

Top four mobile applications for sports fans

(Story)

Feb 21, 2014

Flappy Bird knockoffs take over App Store

(Story)

Feb 18, 2014

Morning conditioning helps players prepare for upcoming season

(Story)

Feb 08, 2014

Basketball wins back to back

(Story)

Feb 05, 2014

Tennis player battles back from injury

(Story)

Feb 04, 2014

New app's craze causes students to rage

(Story)

Dec 21, 2013

Winter Mile serves as practice for spring tennis season

(Story)

Dec 09, 2013

Sophomore strives to help basketball team rebound

(Story)

Nov 16, 2013

Tennis teams experience conditioning

(Story)

Nov 07, 2013

All Sports Award within reach

(Story)

Nov 07, 2013

Tennis players experience morning conditioning

(Story)

Oct 30, 2013

New courts begin to take shape

(Story)

Oct 10, 2013

Tennis swings into offseason

(Story)

Sep 25, 2013

What's your favorite thing about Sycamore?

(Story)