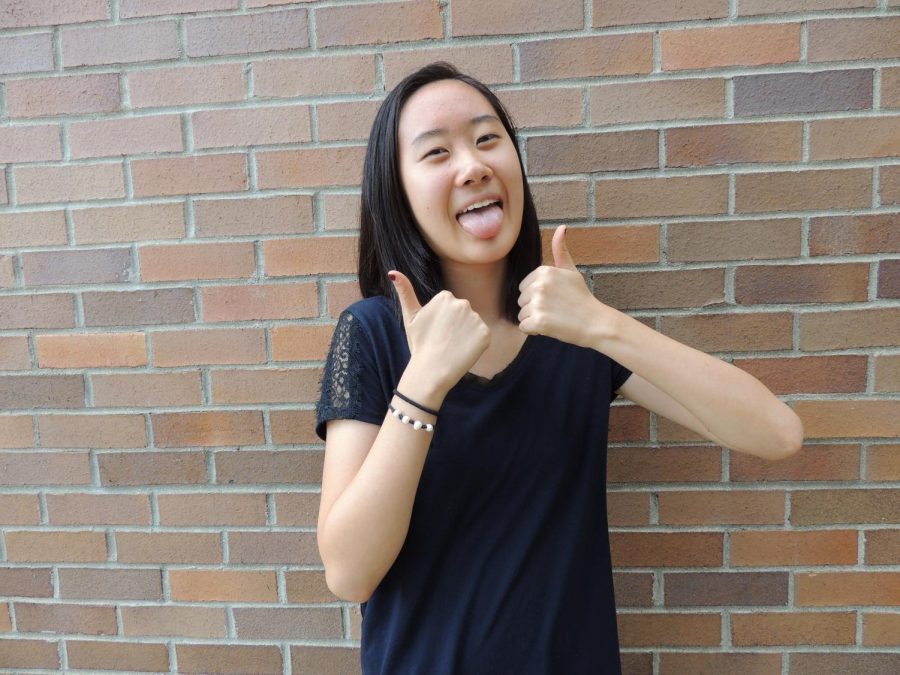 Hi, welcome to my bio! 
My name is Hannah Lee and I will be serving as Copy Editor and part of the Business Staff. I am a senior and this is my third and final year in the journalism staff. I am excited to see what this year will bring for The Leaf!
As part of the Business Staff, I handle all the demands and sales for the Leaf news magazine, organize local advertisements on the Leaf pages for funds, and more. (Another thing I get to do that I love is design and coordinate Journalism t-shirts this year!) As Copy Editor, I edit weekly beats and issue stories of fellow writers, so that all writings for the Leaf magazine and website are written according to par. 
I am also part of Unified for Uganda (U4U) as a Sponsorship Coordinator, which is important in connecting Ugandan children who are in need with locals who want to help them. U4U at SHS is the second largest chapter and hold large responsibilities to help destitute children in Uganda have the basic necessities, including education.
In addition, I am Secretary of Chinese Club. I took Mandarin Chinese from level one in seventh grade to AP Chinese last year and gotten to love the language and the memories I've made in that familial class.
Also, music has always been a large part of my life since I was little. I played piano since I was young, taking lessons and having recitals. Since fifth grade I took up the clarinet in the school band. Now I am principal clarinetist in the school concert band, and take part in my church orchestra, and local honor bands. This year I am in the top Cincinnati Youth Wind Ensemble (the top group was made this year, prior it was just one ensemble). 
I am also bilingual in English and Korean. I use my bilingual skills to translate sermons from Korean to English for members at my church.
Some of my favorite small moments in life are car rides with the radio on, being wrapped up in thick blankets on cold days, movie/TV nights with the family, good fortune, perfect weather, laughing with someone over something stupid that we both found funny, free food, and evening walks. 
Something I try to remind myself to do is living more in the 'now' and staying positive.
Thanks for learning more about me. Now learn more about SHS and the world by clicking on the articles to the right!
Hannah Lee, Copy Editor
May 08, 2019

SHS plays concert

(Story)

Apr 24, 2019

Hard working role model

(Story)

Apr 17, 2019

Noah Kaufman, 12

(Story/Media)

Apr 09, 2019
Apr 03, 2019

Come see Mr. Sycamore

(Story)

Mar 14, 2019
Mar 14, 2019

Chem club makes soap

(Story/Media)

Feb 28, 2019

Psychology students take time to be grateful and de-stress

(Story/Media)

Feb 14, 2019

Bored? Try this

(Story/Media)

Dec 20, 2018

Heather Song, 11

(Story/Media)

Nov 22, 2018

NHS new members join the club

(Story)

Oct 18, 2018

Seniors are never too old for Halloween

(Story)

Oct 16, 2018

Seniors serve Blue Ash Elementary

(Story)

Oct 10, 2018

Early bird gets worm: applying early to college

(Story/Media)

Oct 02, 2018

Chinese Club flies kites at Miami

(Story/Media)

Sep 26, 2018

U4U makes it rain

(Story)

Sep 14, 2018
Aug 24, 2018

Smooth tips make school less bumpy

(Story)

May 21, 2018

AP Lang students flip the last page

(Story/Media)

May 21, 2018

May 2018 Columns: Contemplating summer, endorsing athletes

(Story)

May 18, 2018

Band plays at graduation

(Story)

May 08, 2018
May 05, 2018

U4U elects new officers

(Story)

Apr 06, 2018

Let poetry madness begin

(Story/Media)

Mar 28, 2018

Annie Jump Cannon

(Story)

Mar 23, 2018

Samuel Risma, 11

(Story/Media)

Mar 21, 2018

Diversity Week celebrates religion

(Story)

Mar 19, 2018

U4U delivers Diversity Week

(Media)

Mar 19, 2018

Even before I knew about major shootings

(Story/Media)

Feb 27, 2018

Colorful Eats cooks up exquisite sweets

(Story/Media)

Feb 20, 2018

Neha Sunil, 11

(Story/Media)

Feb 12, 2018

Will you be my Valentine?

(Story)

Feb 08, 2018
Feb 07, 2018

Chinese Club preps for Chinese New Year

(Media)

Jan 30, 2018

U4U searches for sponsors

(Story)

Jan 17, 2018

North, South Korea unify Olympic hockey team, future possibilities alarm public

(Story)

Jan 12, 2018

APUSH paper deadline closes in

(Story/Media)

Jan 03, 2018

Animal hybrid breeding crosses line

(Story)

Dec 13, 2017

Can you even calligraphy?

(Story/Media)

Nov 22, 2017

What's your high school story?

(Story)

Oct 30, 2017

Nishanth soars high, awarded Eagle Scout

(Story)

Oct 19, 2017

Juniors juggle jumbles of classes, clubs, extracurriculars

(Story)

Oct 18, 2017

Summit holds Halloween hangout with last movie

(Story/Media)

Oct 04, 2017

Athlete Profiles: Varsity Gold Tennis

(Story)

Oct 02, 2017

Do you koalify as an animal expert?

(Story)

Sep 27, 2017

'The more that you read, the more things you will know. The more that you learn, the more places you'll go.' -Dr. Seuss

(Story/Media)

Sep 16, 2017

Musicians bring marching into the classroom

(Story/Media)

May 12, 2017

'Tis the testing season'

(Story)

May 12, 2017

Musical makes it big

(Story)

Apr 28, 2017

How much do you know about Mr. Mader?

(Story)

Apr 25, 2017

U4U transitions for next year

(Story)

Apr 21, 2017

Social media causes depression

(Story)

Apr 12, 2017

Relay for Life resolutes

(Story)

Apr 07, 2017

No one rests during Relay for Life

(Story)

Mar 03, 2017

Making memories at Fine Arts Weekend

(Story)

Mar 02, 2017

Hailing storm causes hectic

(Story)

Feb 27, 2017
Feb 24, 2017

Architecture class constructs big dreams for tiny home

(Story)

Feb 03, 2017

"Irena's Vow" incites excitement

(Story)

Jan 23, 2017

Sophomores sample ACT

(Story)

Jan 10, 2017

Band marches in tune

(Story)

Oct 24, 2016

Wo yao ni (I want you) for Chinese Club

(Story)

Sep 27, 2016

Marching Band's second show changed to exhibition

(Story)

Sep 16, 2016

Mother Nature can not stop Marching Band

(Story)