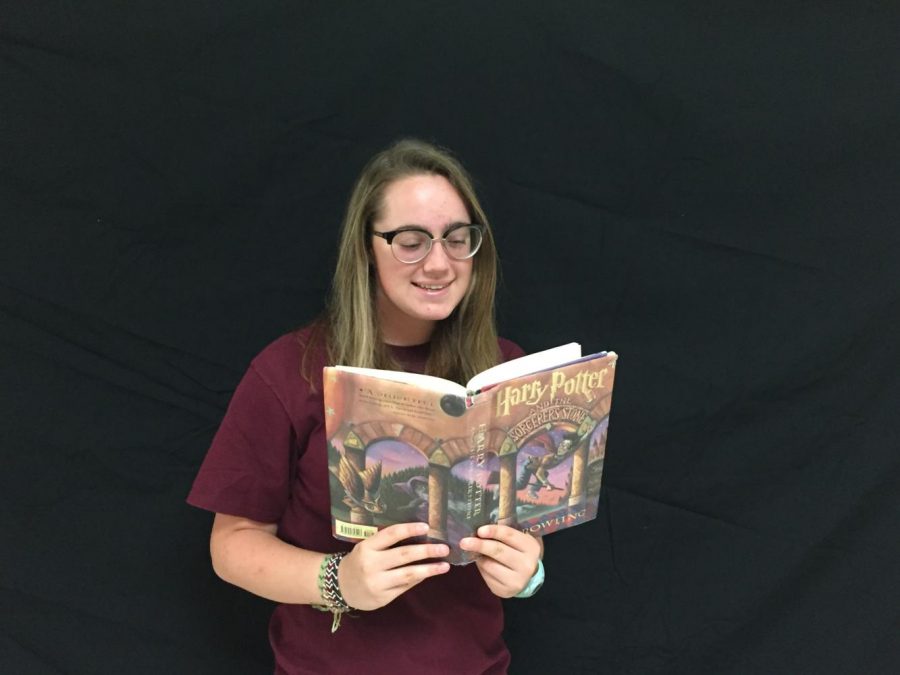 Hi! My name it Taylor Close, and this is my fourth year here in journalism. This year I am in charge of our online magazine called The Leaflet along with my other half Sydney Evans.
I can't believe that it is already senior year, it feels like yesterday I was roaming the hallways getting lost.
I have learned so much through this program, from how to write within a time constraint to how to design and use infographics, and I have found a love for graphic design along the way.
In my free time I love to be outside on hikes or just enjoying nature in general, listening to music, or reading/watching anything Harry Potter related.    I was devastated when I didn't receive a Hogwarts acceptance letter, but I guess Sycamore isn't that bad either.
Last year I took AP Biology and absolutely loved everything about it, so I am hoping to study biology in college next year.
I am interning at a neuroscience lab on University of Cincinnati's campus and it is showing me just how much I love field and lab work.
I also love traveling and seeing the rest of the world and what it has to offer.
I enjoy photography and the creativity and self expression that comes along with it. I love spending my weekends in different parks with friends and my camera just goofing around and taking photos.
Taylor Close, Leaflet Editor-in-Chief
May 24, 2018

Inspiring quotes from fictional characters

(Story)

May 18, 2018

My favorite field trip was…

(Story)

May 10, 2018

Happy Mother's Day

(Story)

May 04, 2018

30 Day Mindfulness Challenge

(Story)

May 01, 2018

From flaws to flawless

(Story)

Apr 13, 2018

Why is it so easy to remember song lyrics?

(Story)

Apr 12, 2018
Apr 09, 2018

How do we predict the weather?

(Story)

Apr 06, 2018

Climate change in media

(Story)

Apr 05, 2018

French students embrace new cultures

(Story/Media)

Mar 27, 2018

Frequently asked questions

(Story)

Mar 26, 2018
Mar 26, 2018

Allen Crimmel, 10

(Story/Media)

Mar 23, 2018
Mar 22, 2018
Mar 13, 2018

Stephanie Hong, 12

(Story/Media)

Mar 12, 2018

Cost of climate change

(Story)

Mar 10, 2018
Mar 05, 2018

Spring break trip tips

(Story)

Feb 27, 2018
Jan 30, 2018

National park advisory board resigns in protest

(Story)

Jan 15, 2018

Ski Club slides through winter

(Story)

Oct 09, 2017

Killers' new 'Wonderful, Wonderful' album debuts on top

(Story)

Aug 11, 2017

Mixed Greens try tumbling

(Story)

Mar 30, 2017

New Reds' season offers dual entertainment

(Story)

Mar 16, 2017
Mar 02, 2017

Unmasking culture

(Story)

Feb 27, 2017
Feb 08, 2017
Feb 07, 2017

Mixed Greens try bubble tea

(Story)

Feb 07, 2017

Mixed Greens Intro

(Story)

Feb 03, 2017

Diversity Week 2017- Spread The Word To End The Word

(Story)

Feb 02, 2017

Bunbury festival lineup released

(Story/Media)

Jan 13, 2017

Ski club slides into new season

(Story)

Dec 16, 2016

Ask a grown teacher: Mrs. Ferguson

(Story)

Dec 16, 2016

Ask a grown teacher: Mr. Vore

(Story)

Dec 16, 2016

Ask a grown teacher: Mr Seiple

(Story)

Dec 15, 2016

Concerts to hit stage in 2017

(Story)

Dec 13, 2016
Nov 18, 2016

French Club chews chocolate, cheese

(Story)

Nov 04, 2016

Our Voices, Their Visions

(Story)

Nov 03, 2016

Still (Ga)going strong: Lady Gaga's new album excites fans

(Story)

Oct 12, 2016

'This Town' receives outstanding praise

(Story)

Oct 04, 2016

They will not need to 'Apologize' for keeping 'Secrets' much longer

(Story)

Sep 15, 2016

Bastille's album creates 'Wild World'

(Story)

Aug 21, 2016

Views takes the world by surprise

(Story)

Apr 19, 2016

Artist lineup for festival released

(Story)

Apr 08, 2016

Debut of Lumineers latest album

(Story/Media)

Apr 05, 2016

Anticipated album achieves ambition

(Story)

Mar 17, 2016
Mar 16, 2016

Grande is becoming a 'Dangerous Woman'

(Story)

Mar 07, 2016

Countdown begins: Bunbury lineup released

(Story/Media)

Feb 25, 2016

The Green Initiative

(Story)

Feb 24, 2016

Faulty commercial endorses inaccurate performers

(Story)

Feb 23, 2016
Feb 04, 2016

Album causes Panic! (at the Disco)

(Story/Media)

Feb 04, 2016

Zayn surprises Directioners

(Story)

Feb 04, 2016

Sia's new album looks to be 'Unstoppable'

(Story/Media)

Jan 08, 2016

Perfect (North) conditions for the winter

(Story)

Dec 11, 2015

Music for the soul (and brain)

(Story)

Dec 07, 2015

Winter wonderland, where have you gone?

(Story/Media)

Dec 01, 2015

Ski club prepares to elect new officials

(Story/Media)

Dec 01, 2015

Friday the 13th popular in music industry

(Story/Media)

Dec 01, 2015

Nous sommes avec Paris

(Story/Media)

Oct 28, 2015

Album ensures band's vision

(Story/Media)

Oct 20, 2015

Skiers and snowboarders prepare to suit up

(Story/Media)

Oct 12, 2015

Youtube star gets Wild

(Story/Media)

Oct 12, 2015

French Club walks to victory

(Story)

Oct 12, 2015

Twenty-One Pilots return to their hometown

(Story/Media)

Oct 12, 2015

Snowboarder's get their head in the game

(Story/Media)

Oct 12, 2015
Oct 02, 2015

Youtube star gets Wild

(Story/Media)

May 26, 2015

Twenty-One Pilots 'Ride' in on a high

(Story/Media)

May 08, 2015

Seniors set down brushes, hang up work

(Story)

Apr 22, 2015

Sticking to the point

(Media)

Apr 17, 2015

The Wombats get glitterbugs anticipating upcoming tour

(Story/Media)

Apr 13, 2015

Bunbury brings bands back

(Story/Media)

Mar 26, 2015

Fans 'Run' to get new album

(Story/Media)

Mar 15, 2015

'Let the road' carry on

(Story/Media)

Mar 15, 2015

Our Own House is the 'Best I Can Do'

(Story/Media)

Feb 02, 2015

Skiers, boarders catch big air at competition

(Story/Media)

Jan 28, 2015

Freshmen fried after exams

(Story)

Dec 17, 2014

Paint, dance, sing, act

(Story)

Dec 10, 2014

Family history project comes to a close

(Story)

Dec 01, 2014

One Direction back with fourth album

(Story)

Nov 07, 2014

Katniss sweeps Capitol once more

(Story)

Oct 14, 2014

Walk continues for Biters

(Story)

Oct 09, 2014

Freshmen basketball players face new conditioning

(Story)

Oct 01, 2014

Cincinnati concert crowds cause chaos

(Story/Media)

Sep 18, 2014

Smart ways to choose your smartphone

(Story)