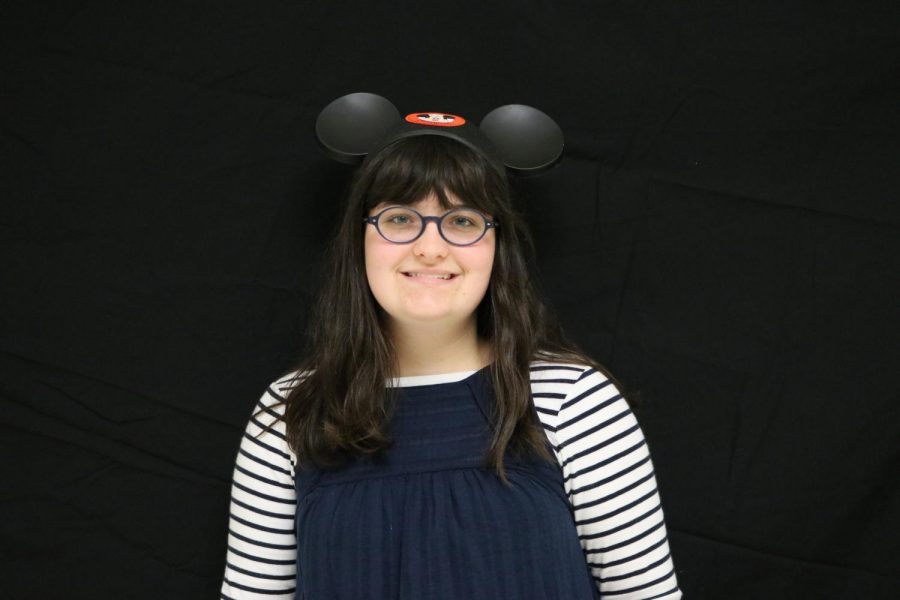 Hello virtual friend!
My name is Natalie Brinkman and I have finally made it- senior year.
My current position on staff is Print-Editor-in-Chief, which basically means I help design, edit, and fix pages for our news magazine, The Leaf.
I have been a part of Sycamore High School's journalism program for all four years of my high school career and have loved every minute of it. Journalism has taught me how to use programs such as Adobe InDesign, Illustrator, Photoshop, and Premiere Pro.
Outside of journalism, I participate in marching band, specifically color guard, and I am a mentor for a program at Sycamore called Fast Track.
All three of these activities have taught me the skills and requirements of leadership and how to step into roles of responsibility.
Some of my other passions include reading, writing, and video-making, all of which I try to squeeze into my little free time. I am also a dance and karaoke addict, but only when I am alone and with reckless abandon- which I think is the only way to do either of those aforementioned activities.
One of my favorite TV shows is "How I Met Your Mother", despite my love-hate relationship with the show's finale. Ted Mosby is my favorite character, I can both relate to him spiritually and mentally.
In conclusion and with his wise words, "The great moments of your life won't necessarily be the things you do, they'll also be the things that happen to you. Now, I'm not saying you can't take action to affect the outcome of your life, you have to take action, and you will. But never forget that on any day, you can step out the front door and your whole life can change forever."
Every step of my high school career has brought me closer to who I am today and who I want to be.
This year, I aim to cover as many voices and paths of my fellow SHS students as possible, because each of us are simply taking small steps on the journey that is life.
Natalie Brinkman, Print Editor-in-Chief
May 22, 2018

Bailey Truitt, 12

(Story/Media)

May 09, 2018

What are your summer plans?

(Story)

May 01, 2018

Winter drumline competes in championships

(Story)

Apr 24, 2018

Max Snyder, 12

(Story/Media)

Apr 19, 2018
Apr 18, 2018

Health benefits of meditation

(Story)

Apr 16, 2018
Apr 12, 2018

Senior Leaf goes on sale April 23

(Story)

Apr 10, 2018

Popular Childhood Books

(Story)

Mar 20, 2018

Dogs and their people: statistics quiz

(Story)

Mar 16, 2018

Spring festivals bloom in upcoming weeks, months

(Story)

Mar 13, 2018

Saint Patrick's Day

(Story)

Mar 09, 2018

The barrier into adulthood

(Story/Media)

Mar 07, 2018

Margaret Chase Smith

(Story)

Mar 02, 2018

The Oscars: Fast Facts

(Story)

Mar 01, 2018

Pancake Day fast facts

(Story)

Feb 19, 2018

Zora Neale Hurston

(Story)

Feb 13, 2018

Olympic Fast Facts

(Story)

Feb 09, 2018

Valentine's Day Poll

(Story)

Feb 08, 2018

'Swinging in the New Year'

(Story)

Feb 06, 2018

Adrian Oliver, 12

(Story)

Jan 22, 2018

Mock Trial: Becoming a Character

(Story)

Jan 12, 2018

YouTuber Logan Paul uploads insensitive video

(Story)

Dec 07, 2017

Ask a grown teacher: Mrs. KC Wyse

(Story/Media)

Dec 05, 2017
Nov 13, 2017

'A balancing act'

(Story)

Nov 07, 2017

Strike up the band for hunger

(Story)

Oct 27, 2017

Halloween by the numbers

(Story)

Oct 25, 2017

Can you guess your teacher by their childhood Halloween costume?

(Story)

Oct 20, 2017

'If the shoe fits'

(Story)

Oct 13, 2017

Mr. Lonnie Stover

(Story)

Oct 13, 2017

Ask a grown teacher: Mr. Tilton

(Story)

Oct 10, 2017

Lending a Helping Hand

(Story)

Sep 28, 2017

Cincinnati to commemorate Doris Day

(Story)

Sep 22, 2017

Students amaze with creative HOCO proposals

(Story)

Sep 19, 2017
Sep 15, 2017

More about Homecoming Spirit Week

(Story)

Sep 11, 2017

Libra wows at first competition

(Story)

Sep 08, 2017

Marching band performs first competition

(Story)

Aug 11, 2017

Mixed Greens try tumbling

(Story)

May 25, 2017
May 12, 2017
Apr 18, 2017

8 things to do before you graduate

(Story)

Apr 11, 2017

Walt Disney: Taking a Stand for the American Dream

(Story)

Apr 03, 2017

Marching band announces theme

(Story)

Mar 28, 2017

Musical groups attend district competition

(Story)

Mar 15, 2017
Mar 13, 2017

"The Sycamore Leaf" App!

(Story)

Mar 06, 2017

Cincinnati declares status as Sanctuary City

(Story)

Feb 23, 2017

Diversity Week Overview

(Story)

Feb 23, 2017

Bridge brings far-stretching problems

(Story)

Feb 21, 2017

Alicia Garza, Opal Tometi, Patrisse Cullors

(Story)

Feb 09, 2017

Tiny tigers take to Cincinnati

(Story)

Feb 07, 2017

Mixed Greens try bubble tea

(Story)

Feb 07, 2017

Mixed Greens Intro

(Story)

Feb 02, 2017

Baby hippo receives name

(Story)

Feb 02, 2017
Jan 13, 2017

Cookies serve as memento for celebration

(Story)

Dec 15, 2016

Ballet company takes leaps towards inclusiveness

(Story)

Dec 07, 2016
Dec 01, 2016

Painters produce murals to preserve history

(Story)

Nov 04, 2016

Guard glamorizes show for championships

(Story)

Oct 28, 2016

Marching band heads to Florida

(Story)

Oct 27, 2016

Color guard spins into season finale

(Story)

Oct 12, 2016

Band plays at homecoming

(Story)

Oct 10, 2016

Band performs under the lights

(Story)

Sep 30, 2016

Band brings spirit to competition

(Story)

Sep 27, 2016

Bands brings spirit to football games

(Story)

Sep 19, 2016

Band gains because of rains

(Story)

Sep 09, 2016

SHS Marching Band presents Vortex

(Story)

May 09, 2016

Winter guard stuns parents, friends

(Story/Media)

Apr 07, 2016

Guard gets ready for big weekend

(Story/Media)

Mar 18, 2016

Newfangled flags fly into new season

(Story/Media)

Feb 29, 2016

Chemistry classes color clothing

(Story/Media)

Feb 12, 2016

Novel touches taboo topic of mental health issues

(Story/Media)

Feb 05, 2016

Novel links photos and words for ultimate fright

(Story)

Jan 22, 2016

Book ties in two topics

(Story/Media)

Jan 15, 2016

'The Martian' skyrockets to top of book list

(Story/Media)

Dec 17, 2015

Space storms stir up issues

(Story)

Dec 07, 2015

Winter break brings bountiful times

(Story)

Dec 01, 2015

Marching band teaches important life lessons

(Story)

Nov 25, 2015

The marching band performs to help others

(Story/Media)

Nov 18, 2015

'That's a Stretch' extends to its close

(Story/Media)

Oct 14, 2015

Marching band teaches students important life lessons

(Story/Media)

Oct 12, 2015

Color guard to take on Goshen

(Story)

Oct 07, 2015

Darkness brings struggles for the color guard

(Story/Media)

Sep 30, 2015

Homecoming brings busy times for marching band

(Story/Media)

Sep 09, 2015

Color guard expands band's performance

(Story/Media)

May 27, 2015

SHS to get major changes this summer

(Story/Media)

May 22, 2015

New video embodies feminism, flames, fierceness

(Story)

May 11, 2015

Big department store prices to become discount

(Story)

Apr 29, 2015

The Winterguard stretches into spring

(Story)

Apr 23, 2015

Selfies make way into museums

(Story)

Apr 23, 2015

Blue Ash Park to get 'extreme' addition

(Story)

Apr 17, 2015
Mar 23, 2015

Things to do in Cincinnati during spring break

(Story)

Mar 15, 2015

Winter's close calls for colds

(Story)

Mar 14, 2015

Rain encroaches spring's approach

(Story)

Mar 05, 2015

Baseball brings beer to Cincinnati

(Story)

Jan 30, 2015

Sycamore graduate to launch book in February

(Story)

Jan 28, 2015

Cincinnati police officers get new view on crime

(Story)

Jan 28, 2015

Cheetah cubs to come to Cincinnati

(Story)

Jan 21, 2015

A first for new-fangled Flyerettes

(Story)

Dec 18, 2014

Winter Wonderland

(Story)

Dec 01, 2014

Four years of flags for senior Annie Schoen

(Story)

Dec 01, 2014

Magic Kingdom, Hollywood Studios, Epcot oh my

(Story)

Dec 01, 2014

Championships marks the close to Marching band season

(Story)

Dec 01, 2014

Despite frigid temperatures band brings home first place

(Story)

Dec 01, 2014

Marching band, color guard's success outshines stormy weather

(Story)

Dec 01, 2014

Color Guard makes new friends over funnel cake

(Story)

Dec 01, 2014

Rain or shine, color guard will spin on

(Media)

Oct 14, 2014

Marching band performs in Dayton regional competition

(Story)

Oct 14, 2014

Color Guard members spin, not twirl

(Story)