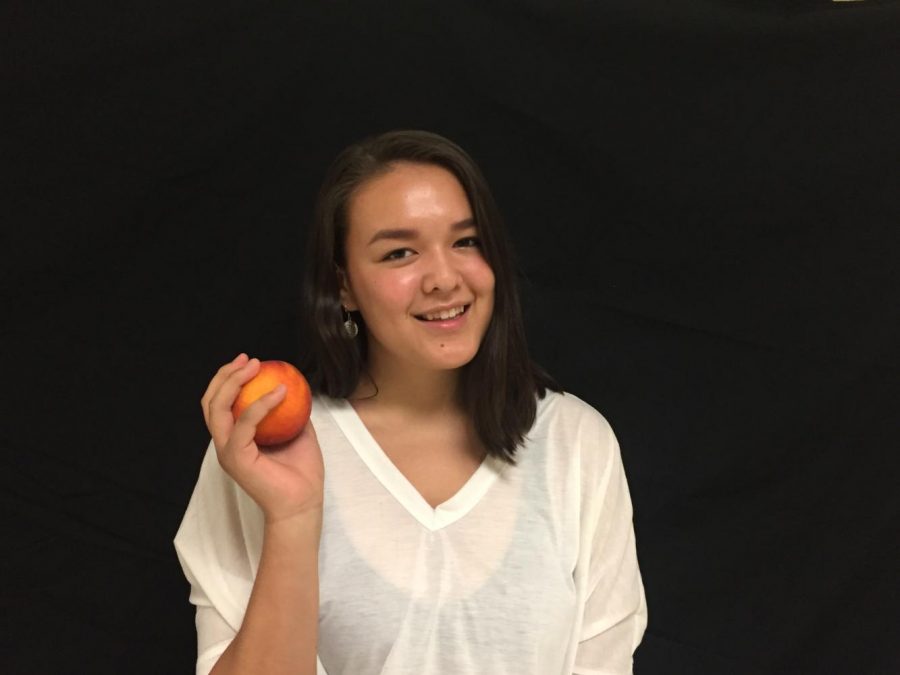 Hello! My name is Emily Chien and I am a senior at Sycamore High School.
It is my fourth year on staff of The Leaf, our national, award-winning, student-run publication.
This year, I am working alongside my friends and peers as Media Director. My duties include marketing The Leaf's social media, creating, designing and video content, and leading overall media production. I also co-produce a bi-monthly video that highlights special students around SHS. These experiences have allowed me to learn Adobe InDesign, Photoshop, and Illustrator, as well as Adobe Premiere and Final Cut Pro.
When I'm not writing, designing or editing for The Leaf, I spend my spare time running a weekly Meditation Group, negotiating in Model UN, and working tirelessly on artistic projects for AP art and more. I have quite a passion for design, and am always learning and trying new things.
The reason I participate in The Leaf and Leaflet is because of the amazing feeling completing and publishing your work gives you. The only way to achieve that feeling, however, is through hard work and dedication.
In the future, I plan on majoring in graphic design and learning how to convey messages visually, which I get a lot of practice with on The Leaf staff.
In the high school, I am able to make a difference as well as express myself through our amazing art program. So far, I have created portraits for children in impoverished countries, painted landscapes for children living at the Ronald McDonald house, and filmed videos for service .
I am also an avid traveler, as my dad currently lives in Sydney, Australia and has lived in Singapore. I believe that through travel, personal expression, and hard-work, I can make a difference.
Emily Chien, Media Director
Apr 30, 2018

Yasmine Guedira, 12

(Story)

Apr 27, 2018

Feminist music takes pop culture

(Story/Media)

Apr 12, 2018

AP Literature students ponder their existence

(Media)

Apr 11, 2018

Students plan on how to make most of summer

(Story)

Mar 29, 2018

'There will always be evil…'

(Story)

Mar 21, 2018

Walkout warriors say #enough

(Story)

Mar 16, 2018
Mar 05, 2018

Meditation group keeps students mindful

(Story/Media)

Mar 05, 2018

Fine Arts Weekend wows community

(Media)

Feb 26, 2018
Feb 21, 2018

Social media calls for action

(Story)

Feb 09, 2018

Ryan Tufts, 12

(Story/Media)

Jan 23, 2018

In Memory of VINE (mockumentary)

(Story)

Jan 16, 2018

How to make most of New Year

(Story)

Jan 05, 2018

Flight Night brings Aves together

(Story)

Nov 13, 2017
Sep 18, 2017

How well do you know pop culture?

(Story)

Mar 02, 2017
Mar 01, 2017

Diversity Week Reflections

(Story)

Feb 10, 2017

The Perfect Valentine's Day Date

(Story)

Feb 02, 2017
Feb 01, 2017

The Leaf Tries: Flyerettes

(Story)

Jan 13, 2017

Ice-melting salt dumps negatively affects environment

(Story)

Dec 20, 2016

'The Leaf' staffers work around clock

(Story)

Nov 01, 2016

Students watch Gardening Club grow

(Media)

Sep 13, 2016

Stanford rapist's release causes outcry

(Story)

May 11, 2016

Students strive to end youth homelessness

(Story)

May 03, 2016

SHS takes on the FBI

(Story/Media)

Apr 22, 2016

A day in the life of a vegan

(Story)

Apr 08, 2016

Spring break trips safely return home

(Story)

Mar 29, 2016

Sit-down with Kiri Wang

(Story)

Mar 10, 2016

Turning trash into treasure

(Story/Media)

Mar 07, 2016

Europe trip approaches, sparks excitement

(Story)

Mar 04, 2016
Feb 11, 2016

French Club deccorates masks for Mardi Gras

(Media)

Feb 05, 2016

Tides turn in case against Planned Parenthood

(Story)

Jan 26, 2016

Sophomores read into past

(Story)

Jan 15, 2016

How to make most of New Year

(Story)

Jan 13, 2016

World travel changes perspective

(Story)

Dec 15, 2015

Reduce, reuse, recycle

(Story)

Dec 09, 2015

Planned Parenthood shooting suspect brought to court

(Story)

Dec 02, 2015

French Club fondue melts hearts

(Story)

Nov 18, 2015

Instagram star quits social media, leaves 500,000 followers behind

(Story/Media)

Nov 17, 2015

Students learn to 'Respect Everyone Despite Odds'

(Story/Media)

Nov 02, 2015

Enhance high school bucket list

(Story/Media)

Oct 29, 2015

Old SAT vs. New SAT

(Story)

Oct 21, 2015
Oct 12, 2015
Oct 09, 2015

Bringing students together

(Story)

Oct 07, 2015

Windows of Hope looks toward future

(Story/Media)

Sep 24, 2015

Summit park arises from ashes of airport

(Story/Media)

Sep 11, 2015

Looking back at 9/11

(Story)

May 29, 2015

Homeless veterans fill shelters

(Story)

May 29, 2015

Chinese students celebrate senior's successes

(Story/Media)

May 15, 2015

United for Uganda benefit concert rocks on

(Story)

May 15, 2015

Baltimore Riots

(Story/Media)

Apr 25, 2015

U4U concert rocks on

(Story)

Apr 23, 2015

Struggling with a biracial identity

(Story)

Apr 20, 2015

Next year's Europe planning begins

(Story/Media)

Apr 10, 2015

Yoga Club serves up solutions for stress

(Story)

Mar 26, 2015

College credit plus offers big opportunities

(Story)

Mar 20, 2015

5K season takes flight

(Story)

Mar 12, 2015

Spring has sprung

(Story)

Feb 26, 2015

Standardized testing overloads

(Story/Media)

Feb 13, 2015

'Meninists' take over media

(Story)

Jan 30, 2015

Senior spotlight shines bright

(Story)

Dec 15, 2014

ACE bell battles alcohol abuse

(Media)

Dec 01, 2014

Suicide prevention provided in ACE bells

(Media)

Nov 24, 2014

ACE bells: beneficial or waste of time?

(Story/Media)

Nov 22, 2014

Bullying taken down through ACE

(Story)

Nov 10, 2014

Ebola jokes prove disrespectful

(Story)

Nov 07, 2014

School pride now taught in class

(Story/Media)

Nov 07, 2014

Diversity being embraced with open arms

(Media)

Nov 03, 2014

Winter break excitement begins

(Story/Media)

Nov 02, 2014

Different ALICE training brought to ACE meetings

(Story/Media)

Oct 21, 2014

BYOD helps enhance learning

(Story/Media)