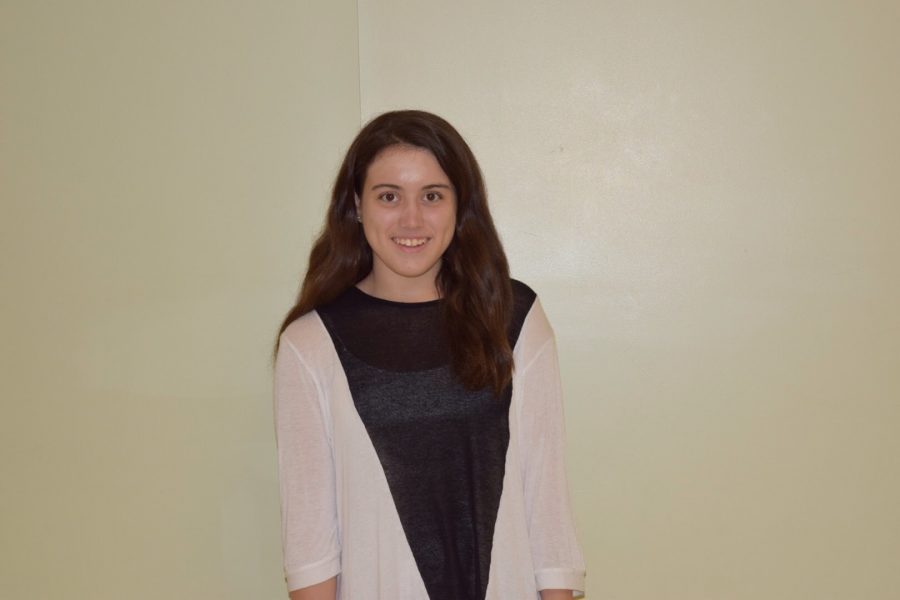 Hello, welcome to my profile! My name is Sarah Horne and I am a Creative Projects Director. This year marks my senior year at Sycamore High School and my fourth and final year on staff for The Leaf. Last year I was our program's Broadcast Editor in Chief, and still enjoy creating videos.
When i'm not working on journalism stories, you can find me competing- whether it be physical or intellectual. I'm a captain of the Lady Aves Water Polo team, and am a member of the Varsity Mock Trial team. Additionally, in my free time I created a blog that I write for called type tactics.wordpress.com, and am a leader for a Red Cross International Humanitarian Law program.
While I tend to keep busy, I do enjoy relaxing and watching Shakespeare plays with my family, playing with my dog name Sushi ( yes I named him that when I was five because he is white just like the rice on a California roll), and creating artwork.   
I hope you enjoy reading and watching all our publications here at The Leaf!
Sarah Horne, Creative Projects Director
May 12, 2017

Moot Court receives final verdict

(Story)

Apr 21, 2017

IHL tackles laws of torture

(Story)

Apr 12, 2017
Mar 17, 2017

SHS dance night away at Odd Couples

(Story)

Mar 14, 2017
Feb 23, 2017

Ask a grown teacher: Mr Hochstrasser

(Story)

Feb 20, 2017
Feb 14, 2017

Ask a grown teacher: Mr Muehlenkamp

(Story)

Jan 27, 2017

Trump transitions into White House

(Story)

Dec 20, 2016

Keeping healthy and warm in winter

(Story)

Dec 20, 2016

Single stroke opens imagination

(Story)

Dec 16, 2016

Ask a grown teacher: Mrs. Ferguson

(Story)

Dec 16, 2016

Ask a grown teacher: Mr Seiple

(Story)

Dec 16, 2016

Ask a grown teacher: Mr. Vore

(Story)

Dec 13, 2016
Nov 11, 2016

Swimmers take your mark

(Story)

Nov 04, 2016

Our Voices, Their Visions

(Story)

Nov 03, 2016

SHS water polo dominates at state

(Media)

Oct 18, 2016

9/11 In Remembrance

(Story)

Oct 14, 2016

Small acts make large difference

(Story)

Oct 14, 2016

Walking the red carpet to Fashion Club

(Story)

Oct 14, 2016

AP prepares students for college

(Story)

Sep 13, 2016

All Rise, Mock Trial begins

(Story/Media)

May 05, 2016

Students get ahead in summer

(Story)

May 04, 2016

Q & A with Esther Pittinger's band application process

(Story)

Apr 30, 2016

Advance planning for advance placement test

(Story)

Apr 21, 2016

Mixing high school, college

(Story)

Apr 11, 2016

Powering through fourth quarter

(Story)

Mar 31, 2016

Not just 'Moosing' around: Spring, summer season begins

(Story)

Mar 18, 2016

Risk of doing nothing

(Story)

Mar 08, 2016

Six left standing: Electoral race update

(Story)

Mar 04, 2016

Psychology of Sleep

(Story)

Mar 03, 2016

Barbie gets new look

(Story)

Mar 02, 2016

Academic Quiz Team

(Story)

Feb 29, 2016

Electoral race continues

(Story)

Feb 22, 2016

Clothes around America

(Story)

Feb 21, 2016

What polls really represent

(Story)

Feb 15, 2016

Choosing ACT or SAT

(Story)

Feb 03, 2016

Q & A with Emma Traylor

(Story)

Jan 22, 2016

Q&A with junior Danielle Pratt on being a member of Honor Band

(Story)

Jan 19, 2016

New year brings about new you

(Story)

Jan 05, 2016

Top of the Chart for 2015

(Story/Media)

Dec 20, 2015

The overall purpose of the Alumni Wall

(Story)

Dec 10, 2015

Secrets to Success

(Story)

Dec 09, 2015

Standing up to stress

(Story)

Dec 05, 2015
Nov 24, 2015

Key to unlocking happiness

(Story)

Nov 12, 2015

Suicide Prevention

(Story)

Oct 26, 2015

Going to state and scoring second: girls water polo team goes to state finals

(Story)

Oct 10, 2015

Four year journey: Senior Hannah Schwegmann recalls how Water Polo changed her life

(Story)

Sep 21, 2015

Variety show auditions

(Story)

Sep 15, 2015

Q&A with senior Sarah Wessinger

(Story)

Sep 01, 2015

A day in the life of Sycamore students

(Story)

Jun 06, 2015

Q&A with sophomore Sherry Chen about International Club

(Story)

Jun 03, 2015

Focused and Fast in the Fall

(Story)

Jun 03, 2015

Digital aspect of the alumni wall

(Story)

May 31, 2015

Last fIve standing in debates

(Story)

May 12, 2015

Creating the Alumni Walls

(Story)

May 12, 2015
May 06, 2015

Future improvements around school

(Story)

May 01, 2015

Operation Give Back

(Story)

Apr 23, 2015

Q&A with sophomore Maggie Busch

(Story)

Apr 23, 2015

Practicing on and off season

(Story)

Apr 23, 2015

Selecting 'The Selection'

(Story)

Apr 23, 2015

Eight fast facts about your mind when you are asleep

(Story)

Apr 23, 2015

Q&A with sophomore Ayanna Boben and Sara Lu

(Story)

Apr 23, 2015
Apr 23, 2015

Quick tips for staying awake in class

(Story/Media)

Apr 23, 2015

Q&A with freshman Sydney Bahr

(Story)

Apr 23, 2015

What to read next

(Story/Media)

Apr 23, 2015

What kind of social media are you?

(Story)

Apr 06, 2015

Q&A with sophomore Danielle Pratt

(Story)

Mar 24, 2015

Q&A with sophomore Sara Lu

(Story)

Feb 03, 2015

Five tips for having fun while studying

(Story/Media)

Feb 03, 2015

No pool, no practice, no tournament for water polo

(Story)

Dec 17, 2014

Paint, dance, sing, act

(Story)

Dec 05, 2014

Giving thanks in Palm Springs

(Story)

Nov 07, 2014

Swimming starts up with information needed to dive into the team

(Story)

Nov 07, 2014

Six years of Spanish: Q&A with senior Morgan Malof

(Story)

Nov 07, 2014

Q&A with sophomore Tasia Meaders

(Story/Media)

May 25, 2014

Taking Accelerated classes

(Story)

May 16, 2014

Q&A with Tasia Meaders, 9, on Chinese class

(Story)

Apr 25, 2014

What to do in your free time

(Story)

Mar 26, 2014

Schmid performs in Aida

(Story)

Mar 21, 2014

Putting on Aida: brief overview

(Story)

Mar 18, 2014

Numbers over knowledge: Stress placed on grades

(Story)

Mar 16, 2014

Odd Couples Dance

(Story)

Mar 03, 2014

Keeping Up with Flying Time

(Story)

Feb 28, 2014

Changing the Pep Rally

(Story)

Feb 24, 2014

Short, sweet look into Valentine's Day

(Story)

Feb 19, 2014

JV Ladies Water Polo Team

(Story)

Feb 18, 2014

JV Guys Water Polo Team

(Story)

Feb 16, 2014

Swim team closes at Copper Meet

(Story)

Feb 08, 2014

Acc Family Projects

(Story)

Feb 06, 2014

Varsity Boys Water Polo

(Story)

Feb 06, 2014

Varsity Girls Water Polo 2013

(Story)

Feb 04, 2014
Jan 15, 2014

Swim Team interviews

(Story)

Jan 13, 2014

Acting Class Interviews

(Story)

Dec 23, 2013

Forever listening

(Story)